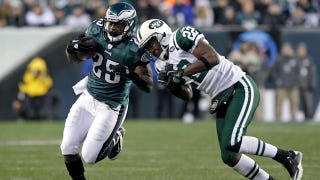 On Monday, we brought you the story of Eagles running back LeSean McCoy's supposed catch phrase. Today, we received an email from Robert Edwards of the Gloucester County Times that adds a bit more credence to the story:
I cover the Eagles for the Gloucester County Times/NJ.com in South Jersey. I
was at practice today and a reporter yelled to Shady as he was walking by,
'Hey Shady, is that McCoy-juke story true?"
LeSean, in response, made a little hitch move and whispered McCoy, McCoyyy,
a couple times before exiting with a smile.
Oh Shady, you tease.