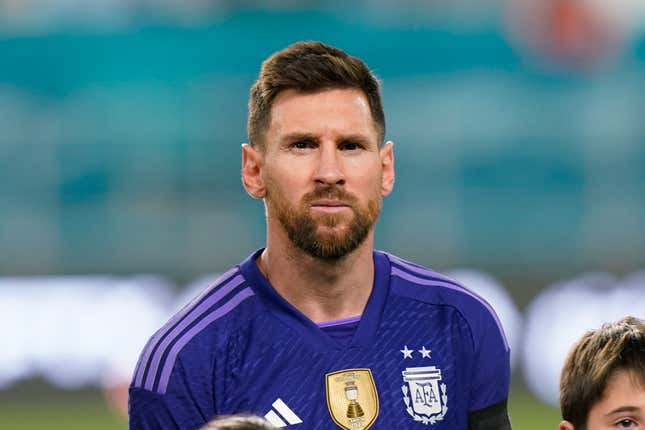 This article is a veritable dream for those enslaved (or in love) with SEO-driven content. Taylor Swift and Lionel Messi in the same headline? If I could fold in the Los Angeles Lakers, New York Yankees, and Dallas Cowboys, I'd be up for a $10 Starbucks gift card. While I'm not ruling that out — I need that nitro foam afternoon caffeine hit — today I'm here with a question: Which fanbase overpaid to idol worship in person? Is it those who spent $1,000-plus for a seat at the Eras Tour, or the Messi supporters who are about to drop $400 to $500 to see the 35-year-old jog around an MLS pitch?
France or Argentina? Who wins the FIFA World Cup? | Agree to Disagree
Messi sends Inter Miami prices into the stratosphere
According to Reuters, Inter Miami tickets jumped 1,034 percent since Messi announced his decision to come stateside. The going rate was $29, but after Wednesday, that number shot up to $329, per TickPick, a ticket app with perhaps the least thought-through name ever.
And the spike isn't just reserved for DRV PNK Stadium in Fort Lauderdale*. Coworker, and soccer scribe, Sam Fels said he bought a ticket to the Chicago Fire-Inter Miami match for face value Tuesday, and now they're retailing for $500. Eric Blum, a Deadspin writer on the East Coast, said DC United-Inter nosebleeds are $170 for a contest Messi likely won't appear in.
(*I hope the Argentine knows Inter plays in Fort Lauderdale and not Miami. Though the cities aren't even an hour apart, and basically overlap in areas, they might as well be different countries.)
The cynical part of me thinks Leo's stint in South Florida will be reminiscent of Zlatan Ibrahimović's time at LAFC, or any of the other European footballers who chose to ease into retirement via a cushy MLS gig. I hesitate to fully prescribe to that take though because it's Messi. The most casual of sports fans know who he is, and even though the World Cup winner wants to take a step out of the spotlight to be with his family, that's as feasible as LeBron James trying to remain anonymous in a major American metropolis.
Inter are going to be a traveling circus, but I don't know if fans are going to get three-ring performances.
$1,000 and your dignity for a T-Swift ticket
Swifties came out of the woodwork over the weekend in Chicago for a three-night, sold-out series at Soldier Field in Chicago. The Eras Tour was unavoidable. Sequins, band T-shirts, capes, and leotards abounded, along with adult diapers, because when you pay $2,000 to go to a concert, you have to squeeze every memory — good or foul — out of it.
The closest comparison to that I can think of is a buddy of mine who went to the Nebraska-Oklahoma Big 12 title game at Arrowhead toward the end of the Huskers' time in the conference. He didn't wear Depends, but probably wished he had because the line for the bathroom was so long that he voluntarily soiled himself and went back to his seat.
If given the choice between watching the 'Skers botch a conference title in the freezing cold with piss-drenched pants, or strapping on a diaper to stand through a bunch of T Swift fans fainting and crying, I think I'd take the urine pants. (Been a while since Nebraska was over .500 let alone playing for a Big Ten title.)
That said, today's choice is $500 to see Messi with normal shorts and boxers, or $1,000-plus for a sweaty, gross concert-going experience that only true devotees would endure. For me, it's Messi, but this is coming from someone whose Venn Diagram doesn't cross into the Taylor Swift bubble.