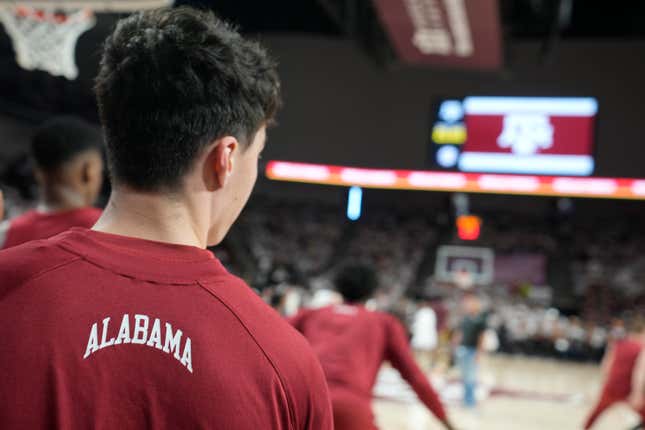 More than two months after the New York Times published a story stating Alabama basketball walk-on Kai Spears was in Brandon Miller's car during the fatal shooting of Jamea Jonae Harris in January, Spears is suing the Gray Lady.
Is Jalen Ramsey to the Dolphins the worst move in NFL free agency so far?
The Tuscaloosa News is reporting that the sophomore Crimson Tide guard is seeking $75,000 — not counting interest and court costs — and his lawyers Matt Glover and Stephen P. New's argument is on the basis of defamation/libel and false light invasion of privacy.
The March 15 story written by Billy Witz hasn't been retracted. A New York Times spokesperson told the Tuscaloosa News: "We plan to defend against the suit vigorously." Witz's story states Spears was in the car with Miller, the star player for Alabama basketball last season and a projected top-five pick in this month's NBA Draft, at the time of the shooting, with the gun being brought to the scene of the shooting in Miller's car. Former Alabama basketball player Darius Miles and Michael Davis have been charged with capital murder in the case. Miller has not been charged with a crime and didn't miss a single game due to his involvement in the incident.
What the lawsuit states
The lawsuit filed in the Northern District of Alabama states Spears and Miller were eating together during the early morning hours of Jan. 15. During the meal, teammate Jaden Bradley chatted via FaceTime with Spears and Miller to see if they wanted to go out. Spears declined, the suit states. Spears allegedly left the Tuscaloosa Strip, where the shooting took place, five minutes before any gunfire. Three minutes after the shooting, Spears allegedly returned the FaceTime to Miller and Bradley to see where they were headed before learning that gunshots had struck Miller's car.
The University of Alabama did issue a statement to the Times that Witz's story was inaccurate the day it was published — "Your story is inaccurate," an Alabama spokesperson wrote — with Spears also releasing a statement with the same sentiment the next day. Christian Spears, the athletic director at Marshall and Kai's father, also called the story "irresponsible and demonstrably false." Per The Tuscaloosa News, the lawsuit states Alabama made a written demand in March to the New York Times to retract the story, which fell on deaf ears. The story was readily available Thursday morning, the day after the lawsuit was filed.