It's no longer the baseball preseason. Time to get your ass fired up for the regular fall season of America's Pastime. Read all our playoff team previews here. Today, you're getting to know … THE TORONTO BLUE JAYS
Congratulations to the Toronto Blue Jays, a team that was 51-51 and seven games back of the division lead heading into the trade deadline and still had the stones to say, "Fuck it, let's trade for Troy Tulowitzki and David Price and go win The Whole Shit." And then they did! The Blue Jays stormed through the second half, hit like a million homers, and became the 2015 AL East champions.
Who are the Blue Jays?
The Blue Jays are the team you wish you rooted for. What team do you follow, the A's or some shit? That really sucks for you, my friend, because the A's are not the Blue Jays.
Blue Jays GM Alex Anthopoulos has spent the last few years assembling the most crowd-pleasing team in the majors. He's made smart signings and swung huge trades for the purpose of putting together a team full of dynamic players who love nothing more than to crush the shit out of the ball. Toronto leads the league in runs, home runs, and slugging percentage thanks to stellar campaigns from almost every player in the lineup. This team is fun as hell to watch; if they were characters in an action movie, they'd be the Avengers, plus Imperator Furiosa, plus John Wick, plus that really badass guy from The Raid.
What guys should you know?
There are so many guys to know. We'll start with the thumpers who populate the everyday lineup.
G/O Media may get a commission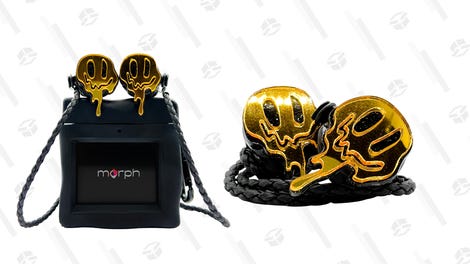 morph audio
Morph Earphones
The team's been paced by an MVP season from third baseman Josh Donaldson, whom Anthopoulos somehow pried away from the Oakland A's in exchange for human Solo Cup Brett Lawrie and some prospects. Donaldson's hitting .300/.375/.577 with 41 homers, and his 8.7 fWAR puts him behind only Bryce Harper. He's also got a flair for the dramatic, having hit three walk-off homers this season and a total of seven over the last three seasons. Over that same time period, no other player in baseball has more than three walk-off bombs.
Behind Donaldson are right fielder Jose Bautista and designated hitter Edwin Encarnacion, who have hit 40 and 37 home runs, respectively, and have been two of the premier power hitters in the game over the last few seasons. And it's not just about the bat for Bautista, he's one of those right fielders that can easily erase base runners stupid enough to try and take third base on him.
Filling out the rest of the lineup is a collection of solid-to-good players. Russell Martin has had a quietly great season at catcher, hitting 22 homers and 23 doubles, Kevin Pillar is about as exciting a defensive center fielder as there is, and even washed-out prospect Justin Smoak has chipped in with 18 homers in limited playing time. And we haven't even gotten to Troy Tulowitzki yet, the guy who hit just .232/.314/.368 with five homers since being traded to the Jays, but also just happens to be the best shortstop in baseball and one of the deadliest hitters in the league when he's on his game. He's missed most of the stretch run with an injury, but he should be ready to roll for the playoffs.
The pitching staff isn't nearly as unstoppable as the offense, but that says more about just how good the Jays' hitters are than it does about the pitchers. David Price has been precisely the kind of ace the team was looking for since coming over at the trade deadline. He's made 11 starts for the team, striking out 87 batters in 74.1 innings and cruising along with a 2.31 ERA. Behind Price are Marco Estrada, R.A. Dickey, and Mark Buerhle, all three of whom have churned through plenty of innings and put together perfectly decent seasons. A guy you really need to keep your eye on, though, is Marcus Stroman. He's a stud pitching prospect who was lined up to be the Jays' young ace in the making before an ACL tear knocked him out for almost the entire season. He's back now, though, and has looked great in his four starts, allowing just five runs in 27 innings while striking out 18.
Almost as important as how good these guys are is how compelling they are as people and players. Even the most talented team in the world can be a drag to watch in the playoffs if it is full of boring, two-dimensional players. The Blue Jays are not that team.
Donaldson and Bautista are really easy to root for, in part because both were once on the verge of falling out of baseball before saving their careers by adopting the Zen teachings of the high leg kick. Bautista's also a sharp, fiery guy who goes about his business with style and isn't afraid to talk some shit. Donaldson often comes off as slightly unhinged, and is never not playing his goddamn balls off. Dickey is one of the most thoughtful and likable players in baseball, David Price has enough energy and enthusiasm to supply a whole team, Marcus Stroman's high-fives require extra padding, and soft-tossin' Papa Buerhle is exactly the kind of grizzled vet that's fun to root for in the postseason. Edwin Encarnacion rounds the bases with an invisible parrot perched on his elbow after each home run, for chrissakes.
These are exactly the types of players—crazy, weird, talented, cocky, fun, smart—that baseball fans should want in the playoffs. The postseason can be a long slog, but it's so much more fun when players who are a lock to do and say interesting and fun things are involved.
One GIF of a Blue Jays fan
Can they beat the Cardinals?
The Blue Jays will grind the Cardinals' bones into dust and then snort that shit.
Who has the best baseball chin?
Papa Buehrle:
Why you should root for the Blue Jays
Because they are everything a fan could ask for in a team. One of the most frustrating fan experiences is rooting for a team that disguises bumbling roster management as cold-eyed aptitude. These are the teams with GMs who are more interested in keeping their jobs than winning, whose primary skill is peddling false optimism to the fanbase. These are the teams that consistently convince their fans that there are Big Plans for the future, and all they have to do is practice a little patience—How much patience? Who can say?! Don't rush these things!—in order for those Big Plans to take shape.
The Blue Jays could have easily gone down this route in 2015. Hell, teams that are .500 and more than five games out of the division race at the halfway point are supposed to start selling everyone on the future. Nobody would have blamed Anthopoulos if he'd held onto all of his prospects at the deadline and told his fans to until next year ... or maybe the year after that.
And hell, maybe the prospects the Jays traded away for Tulowitzki and Price will all turn into winning lotto tickets, and maybe Tulo will never have another healthy season, and maybe Price will bolt in the offseason, and maybe the team would have made the playoffs without those two guys, anyway. But the fact remains that the Jays did something that a lot of other teams are unwilling to do. They took their shot, and that's worth rooting for.