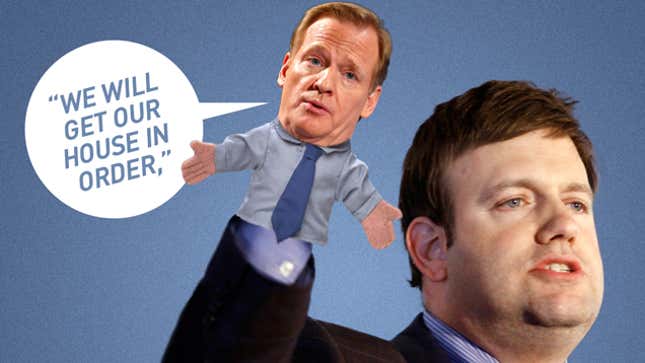 Roger Goodell was talking, but the words weren't his alone. "That speech was all Frank," says an associate of pollster Frank Luntz, lord of the dark arts of political messaging, who frequently works with Goodell and the NFL. "As soon as I heard Goodell's intro, I was laughing."
How running an NFL team is like running a restaurant | Chef Emeril Lagasse
The part that got him giggling was the line "We will get our house in order first." The NFL commissioner used that same phrase minutes later, in response to a question from a New York Post reporter about whether he would resign.
"That's textbook stuff that Frank uses all the time," says the source.
Why, yes it is: "Getting our house in order" shows up as No. 4 on Luntz's list of nine "Phrases that prioritize" from his book, Win: The Key Principles to Take Your Business from Ordinary to Extraordinary.
At various points in the conference Goodell also said, "The NFL has to take care of its house," "There are things we need to clean up in our house," and, "We are going to clean up our house."
As it happened, Luntz himself was watching the press conference, in his capacity as a Fox Sports 1 talking head (he moonlights as a Fox News commentator and analyst). Not long after the commissioner left the podium, Luntz gave his review.
"This," he puffered, "was language perfection."
Live Recording - Sep 19, 2014 4_03 PM
Good golly.
In other quarters of the media, Goodell was being fricasseed for his performance, which seemed to body forth the fecklessness of his overall response to Ray Rice's left hook. He'd been unavailable and withholding, parsing when not misleading altogether, and at the moment he took the podium the NFL's image was as tarnished as it had been since the post-JFK assassination weekend. His appearance ended the odd sabbatical, but not the criticisms. The New York Daily News gave Goodell a representative pummeling: "We waited 10 days for this?" read the lede. The piece then let various folks from the football world savage the commissioner.
Even sober-minded ESPN mainstay Bob Ley tweeted:
And yet here was Luntz, wreathing Goodell's press conference in kudos and hosannas.
"I'm supposed to be a professional," Luntz said on Fox Sports 1. "I couldn't have done it as well as he did."
Luntz did preface the hummer with a teensy critique of the commissioner. "I would have told him, 'Don't read the opening, speak from the heart,'" Luntz said. (The opening, of course, featured the Luntzian riff about housecleaning.) And he did mention getting work from the league. "I've done a number of projects with NFL teams as well as the NFL," Luntz said, "and I want the viewers to know that."
Alas, the source close to Luntz tells us that disclosure was nowhere near full. The way the associate describes things, Luntz wasn't confessing his own bias so much as misleading the audience by downplaying his personal role in shaping Goodell's words, which, per our source, are apparently far from "language perfection."
In response to a request from Deadspin for an explanation of his varnished opinions, Luntz emailed on Friday evening that it was "not a good time" for an interview because he had "to go to the hospital." On Saturday, Luntz did not respond to repeated requests for comment, though he was very active on Twitter (responding even early in the morning to somebody going by @cdz8506 who was inspired enough by the support for Goodell to call Luntz "fat fuck," "pathetic fat fuck," and "loving wife beating child beating fat fuck" in a since-deleted tweet).
The source close to Luntz did not profess to have direct knowledge of recent consultations between Goodell and the professional image crafter. And asked via email if Luntz worked with the commissioner to prepare for Friday's press conference, NFL spokesman Greg Aiello responded, "No."
But there was more than just the serial housecleaning references that convinced the associate that the commissioner leaned on Luntz before Friday's debacle.
---
Luntz, 52, made his mark conducting focus groups and crafting talking points for politicians. He is something of a pioneer in the field of political messaging. In truth, this is a little like calling someone a pioneer in the field of alchemy, but as grifts go, it's a lucrative one that ensures a long career floating along the periphery of power.
As a consultant, Luntz is probably most famous for having framed the GOP's message on the estate tax (or "death tax") and global warming (or "climate change"). His first noteworthy communications job came as a pollster for Pat Buchanan during a 1992 run at the Republican Party's presidential nomination. That campaign was one long open appeal to the racist, nativist, homophobic fringe of the right.
Luntz rebounded the next year, working with Rudy Giuliani throughout his successful campaign to unseat incumbent Democrat David Dinkins as mayor of New York. He has often said he got the gig by bringing his baseball-card collection to his first meeting with Giuliani. "My whole interview with Rudy Giuliani in 1993 lasted for 22 minutes," Luntz told Frontline in 2003, "and at least 19 of the 22 minutes was focused on baseball."
The Giuliani successes got Luntz his GOP bona fides back, and soon enough he was again on the national stage, crafting messages for Newt Gingrich during his "Contract with America" phase. It was Luntz who helped frame President Bill Clinton's federal crime bill of 1994 as "the midnight basketball bill" by having Republicans bang away on the teensy amount of money the omnibus $33 billion package had earmarked for late-night athletic programs in urban areas. "I am torn about voting against an anti-crime bill," Gingrich said during one appearance in the hinterlands that summer. "But not one that contains midnight basketball leagues."
Luntz has made his share of enemies, too. As the 2004 presidential campaign was being waged, David Brock of Media Matters blasted him for failing to disclose his employment by the GOP during appearances on MSNBC in which he plumped for George W. Bush. Luntz has also been censured at least twice by polling trade associations for his methodology, including a 1997 reprimand from the Executive Council of the American Association for Public Opinion Research for ethical violations. ECAAPOR claimed its investigation uncovered that Luntz repeatedly made unsubstantiated claims about the amount of public support for the Contract with America. "He belongs in the same breath with pieces of shit like Lanny Davis," one D.C. crisis P.R. expert told me after watching Luntz's performance on Fox Sports 1. "He gives us a bad name."
In recent years Luntz has begun to move his dial-turning focus groups into the realm of sports. The source, who says that away from work Luntz is "the nicest, most generous man you'll ever meet," claims the consultant would never work another campaign if he could get away with it.
"The way Frank sees things, he's already conquered politics, and he's tired of being this nerdy politics guy," says the source. "So now it's all about sports. Sports are really Frank's passion, and have been since he was a little kid." Guests to Luntz's home through the years have expressed surprise at the amount of sports memorabilia on display.
So what does it look like when Luntz mixes his passion and his profession? He helped NHL owners craft their propaganda during the 2012 lockout. "Shared sacrifice" was a common refrain, and during at least one session he gave a mock-speech as if he were an NHL executive. "Maybe we asked for too much at first," the speech went, "but we're willing to give. The NHLPA has to be willing to give as well, if we're going to give the fans back their hockey. There's no way we're going to do this without both sides bringing something to the table."
More recently, Luntz has done some focus-grouping on behalf of Dan Snyder during the owner's disaster of a campaign to save the Redskins nickname.
His company, Luntz Global, has also worked with the Carolina Panthers, including a campaign to enhance the image of several players and the organization. Cam Newton is among those he's counseled. "He is primed to be one of the NFL greats," Luntz Global advised the Panthers in a memo obtained by Deadspin in which the firm pitches its services to the team. "With the right language he can help cement his place in the NFL as one of the great franchise quarterbacks like Brady, Rodgers, Favre, etc."
Luntz also gave the Panthers a talking point to help market Star Lotulelei, a nose tackle out of Utah who was taken in the first round of the 2013 draft despite an exam at the scouting combine that showed he had a rare cardiac condition. Luntz suggested Carolina management refer to Lotulelei as "the heart of the team."
And the memo also contains counsel from Luntz's firm on how to handle Luke Kuechly, Carolina's star linebacker. It just seems like consultant mumbo jumbo:
Keuchly needs language to help with fan appreciation. He has the work ethic, and the skill to be compared to Ray Rice [sic] and other great linebackers. People will seek him out for interviews, and he needs to be armed with messaging that gives credit to his fellow players but also shows appreciation to the fans.
---
It's likely not a coincidence that three owners with whom Luntz has worked very closely—Washington's Snyder, Carolina's Jerry Richardson, and the Bears' George McCaskey, for whom Luntz emceed a 2012 Veterans Day event in which ex-Bears and military veterans discussed concussions and brain trauma—were among the first and few owners to publicly support Goodell after TMZ released the second Ray Rice video and put the NFL in its current state of crisis.
The source close to Luntz says no part of his professional portfolio is as underexposed as his hands-on work with the commissioner. Just like the half-full disclosures about his professional affiliations with the GOP during the '04 campaign, his description during the Fox Sports 1 appearance of his football work made no mention of working with Goodell personally. And according to the source, boosting Goodell's image has been a main mission of Luntz's for some time.
"That's his most coveted job now," says the source.
The source says the NFL pays Luntz Global "$25,000 to $30,000 a month" to keep the consultant on retainer for when Goodell needs him. Aiello of the NFL says Luntz "is one of many outside consultants and advisors that our office uses" but said that source's fee range—a nice chunk, but not an outrageous sum, given the high profiles of the employer and the employee—is not accurate. Whatever Luntz gets paid for working with Goodell, the commissioner tries to get his money's worth, according to our source.
"Whenever he's got an issue, every public statement, every time that he's speaking in public, he brings Frank in," says the source. "Frank and senior people with the NFL just pepper him with questions. Before the draft is a big time, and before the press conference he gives at the Super Bowl is another big time. The concussion memo was all Frank. Every time he's going to be in a highly visible situation, it's Frank that gets brought in and we pepper him with every question imaginable."
Goodell, says the source, needs every bit of assistance.
"Roger Goodell can not put a sentence together to save his own life," says the source. "He's awful."
The biggest impediment to becoming a decent public speaker? His attitude.
"My impression of Goodell is a guy with an ego broader than his shoulders," says the source. "Just in the way that there would constantly be pushback with everything. We'd do the talking points, and it was like he always knew he could do it better on his own than [Luntz]. But if he could do it better, if he really thought that, he wouldn't come back to the well again and again."
For all of Luntz's work, Goodell remains so inept with a microphone in front of him that the source believes the commissioner's disappearance after the Norah O'Donnell flop was due to an inability to address the issues, not an unwillingness.
"I'd bet this [the press conference] has been in the works for a while," says the source, "and that it's taken them all of these 10 days to get him ready for it. And watching him, he's still not ready."
You won't get any sense of that from Luntz's public comments on Goodell, however. On Aug. 28, Goodell announced the league's "new" domestic violence policy. That same day, Luntz tweeted out Goodell's memo, and gave a quick review of the commissioner's messaging that should ring some bells among those who heard him on Fox Sports 1 on Friday: "Roger Goodell's apology today was perfect," he tweeted.
When the best you can do on Roger Goodell's behalf is to repeat that he's perfect, perhaps it's time to rethink things a little. Even a spin doctor needs to clean up his own house.
Image by Jim Cooke