The Super Bowl was just three weeks ago but the NFL offseason is already in full swing. Thus far we've seen combine dong, Hard Knocks rumors, and the Ryan boys styling out. The draft is in two months, and teams are steady evaluating who can fill spots of need. One of those spots that could be empty: quarterback for the 49ers. New coach Chip Kelly has praised Colin Kaepernick, but Kaep's representation has reportedly asked for a trade. It appears his relationship with the organization has curdled to the point where he doesn't want to spin his wheels in a Kelly offense.

So, you know who needs a quarterback? The Browns, who are reportedly preparing to cut Johnny Manziel after a string of issues, and the Texans, whose quarterback had one of the very worst playoff games in NFL history last year. Ian Rapoport reported yesterday that the two teams were interested:
Cool, Bill O'Brien is an experienced quarterback coach, and the Browns, well, an NFL job is an NFL job. Both locations make at least some sense, if he has to move. However, reports today from Mary Kay Cabot of Cleveland.com and the Houston Chronicle's Jim McLain refuted Rapoport's claim, and said that neither quarterback-less team is interested in Kaepernick.
So there you have it. Kaepernick either is or is not going to be traded, to either the Browns or the Texans, who do or do not want him. If it was purely a football matter, there'd be no reason for Kaepernick to leave the 49ers. Their bummer of a year—where Blaine Gabbert started eight games and just about every single running back got hurt—obfuscated Kaepernick's talents, which are still tremendous. If he had a fresh start with an offense that would use his running ability properly, he could thrive.
G/O Media may get a commission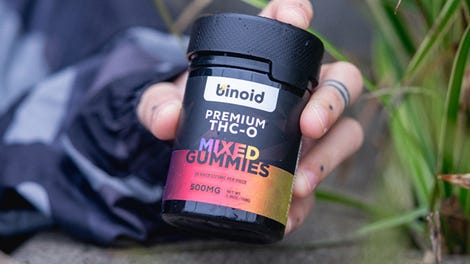 25% Off + Free Shipping
Binoid THC-O Gummies
But amongst the losses last year, a pattern emerged. The 49ers didn't let Kaepernick throw on third downs. There was reportedly a fight over him in the San Francisco locker room. Teammates were apparently turned off by his headphone-wearing. The organization lost their trust in him and started shuffling him off the stage even before his season ended with a shoulder injury. Some of it was about football, but it appeared that there was a deep rift between the personalities and tendencies of quarterback and team. I don't know if that's fixable, but I hope it is, and the 49ers should too.
If the 49ers jettison Kaep, they'll be left to pick between Blaine Gabbert and whichever of Paxton Lynch and tiny hand boy Jared Goff. Predicting professional success for college quarterbacks is notoriously difficult, and Blaine Gabbert is who he is at this point. There's an easily imaginable scenario where one or both of those college QBs becomes a star, but Kaepernick led the 49ers to a Super Bowl three years ago. His ceiling is both well established and rather lofty.
The 49ers have been depleted by a string of retirements over the past two years, and converting Kaep into a few draft picks might help them restock. But a star quarterback is the most difficult commodity to lock down in the NFL, and even if he's struggled mightily, the 49ers have someone who's shown he can be one on their roster, and they shouldn't toss him away so idly.
---
Contact the author at patrick.redford@deadspin.com.