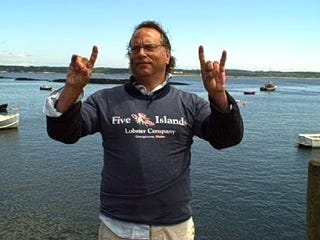 Is Buzz Bissinger missing a finger? Was that the result of the tussle with the
College World Series security beatdown
? Or is he making gang signs? Can't tell. This photo was sent to us from a reader and I'm not quite sure what it means. Either way, Roger Goodell would like to have a word with Buzz if he's going to be doing any NFL stories this year. Not the type of influence he'd want him to impress upon players. Anyway, rough week this week. 404'd out the ass. But we managed. Here are some of the stories that many of you saw; many of you did not: • The Drew brothers:
lovers
• Spain:
Funny eyes.
• Deadspin Hall of Fame:
Nominate
• College football previews:
404'd
• Madden:
Palooza'd
• Beijing Bureau:
Scalpin'
• Phelps:
Lezak'd
• Sussman:
Hannah Storm'in
• Salisbury:
Vents
That'll be all. Headed to A.C. Borgata, actually. Whores welcome. This weekend, Monday Morning Punter — or "Josh" — gets insinuated into the KOGOD weekend army. What are the chances he throws up 80 pictures of
George Bush staring at bikinis
? Enjoy your weekend, you bouncing souls. Use a mirror. knaht uoy rof ruoy deunitnoc troppus fo nipsdaed.