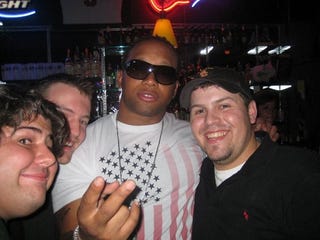 We get a massive amount of tips in our inbox each week. Some are pretty interesting, but don't get published for one reason or another.
It's usually because they're just so absurd or really lack even the most tenuous of news angles to give them the go-ahead. Other times it's because they're just absolute horseshit. But every Friday until we get sick of running them, we'll present to you some of these not-so-shiny gems. All items should be treated as [Sic'd]. Enjoy...
Dirty Birded. Again.
So when this whole Jamal Anderson blowing a guy in a bathroom stall thing came out, i turned to all of my coworkers and said see, SEE! I told them all this two years ago and now...well now I just feel like bragging. Oh, and i work at FOXSports.com, and i'm a gay, so this was all the more entertaining.