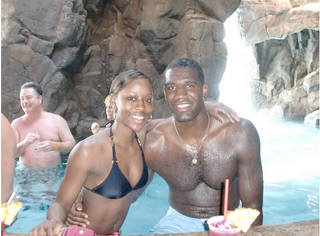 S
Got an image you'd like to see in here first thing in the morning? Send it to tips@deadspin.com. Subject: Morning crap
Besides that one internet-famous shot of the Blazers' center getting all boom-boom-in-the-zoom-zoom with one young lady, you rarely see Greg Oden pop-up in any sleazy photos. For a guy who's apparently having so much trouble adjusting to the NBA, he comes off surprisingly well-adjusted. Yes, I've based this psychoanalysis on these vacation photos, of course, because my genius is extraordinary and I can tell people's emotional intelligence quotient just by looking at shirtless photos of them holding a frozen drink under a waterfall. So there.
Let's hope he doesn't injure himself by stubbing his toe on a tiki hut or something.
PHOTOS: More at Blaze Of Love
******
Now, good morning. It's Tuesday. Exhale.