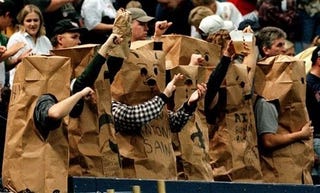 You know how fans of bad teams come to games with paper bags over their heads, because they're ashamed to admit they root for a terrible franchise? New Orleans invented that, because they root for the most terrible franchise ever.
For most of their existence the Saints were the textbook definition of lousy football. In the team's very first game in 1967, they returned the opening kickoff 94 yards for a touchdown—and never looked forward from there. They lost that game and many, many after. In their first 20 years of existence they finished exactly at .500 twice. Never better than that. No division titles. No playoff games. Zip.
It was during the midst of a 1-15 season in 1980 that local sportscaster "Buddy D." Diliberto himself dropped the S and began referring to the team as "The Aints." He also encouraged the paper bags as a show of solidarity among fans at the Superdome. The legend (of awfulness) was born.