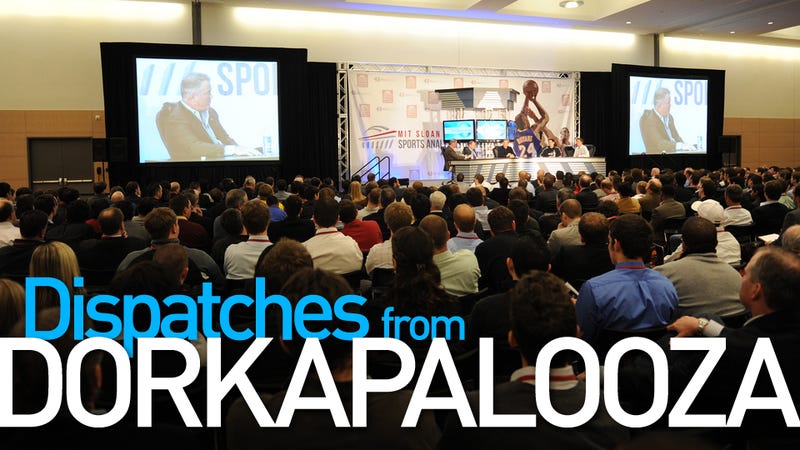 The Joke That Started It All
Shortly after 9 a.m. Friday, in a big gray conference room in a big gray convention center, 1,500 people—mostly white, mostly male, mostly clad in business suits—roar with laughter. Jeff Van Gundy, the former Knicks and Rockets coach and current ESPN analyst, has just cracked wise. Jeff Van Gundy has called Bonzi Wells fat.
Bonzi Wells played 591 NBA games, for five different teams, from 1998 until 2008. He scored 7,147 points in his career, 438 points less than Kobe Bryant scored from 2005-08. He played in 48 playoff games, and was twice traded for Bobby Jackson. And he was fat, particularly so when he signed in Houston toward the end of his NBA career.
Here is how Van Gundy puts it. He is talking about player traits in general. "He can be soft, selfish, and stupid," he says. One of those things, Van Gundy can deal with. "But not two."
Someone in the panel mentions Bonzi Wells.
"Oh," Van Gundy says, "I should add 'fat' to that list."
The room erupts. And so begins MIT's Sloan Sports Analytics Conference.
The Rise Of The White Guys In Suits
Let's just say it straight away: The Sloan Sports Analytics Conference is not a conference about sports analytics.
Rather, it is a parade of reasonably famous sports creatures, all of them rich and powerful and esteemed, and 10 years ago many of them were just like you. We've followed the rise of Theo Epstein, Jon Daniels, and, oh, Daryl Morey, who graduated from Sloan and founded the conference. We know Morey's story: went to business school, got a consulting gig, helped the Celtics' new owners evaluate their deal, joined the Boston front office, poached to run the Rockets in a few years' time. The conference might as well feature a "BEFORE" and "AFTER" photo, with a tie-wearing, droopy-eyed Daryl in the first one and Morey dunking on Rafer Alston in the second.
Analytics played a large role in their ascent, obviously, but as I will quickly learn, this conference is more about the ascent itself than the complicated and often abstruse means to achieving it. It's an MBA mixer in the guise of a statistics seminar. Everything here carries the faint air of the hustle.
And the idea is taking hold elsewhere: The Wharton School at UPenn is holding its first annual Sports Innovation Conference in April. Among the guests: Caps/Wiz owner Ted Leonsis, former Hawks and Braves president Stan Kasten, and Baseball-Reference founder Sean Forman. In other words, it's the Sloan JV team.
So this is the new thing: young white guys in suits (one calls them "dorks" at his own peril) who want to work in sports for much the same reasons that an earlier generation wanted to work on Wall Street.
Which makes it all the more delicious to think that Morey is fleecing the white guys in suits (WGS) the way he did the Spurs for Luis Scola. After all, these WGS are paying a conference registration fee of up to $400 to audition for a tiny pool of low-paying jobs, many of which go to former athletes anyway. (Put in terms they can understand, the number of dorks working in sports will grow only logarithmically from here on out. The second derivative of the dorks is negative in 2011.)
It seems more likely, though—and this is worse—that all of these WGS inevitably will take over professional sports, not just front offices but the teams themselves, and they will do nothing but make the money-sucking monoliths even more ruthless and efficient. Prepare for the continued rise of the cult of cost efficiency.
Oh, And The Sports Fella Is The Daryl Morey Of Journalism
Bill Simmons, the Sports Fella, is a brand somehow still swelling. He was the star of the conference he dubbed "Dorkapalooza," even though he has no background in sports management, science, or statistics, and even though he published (while at the conference!) a delightful parable decrying the greed of NFL owners that one day will be abetted by the very WGS in attendance here in Boston.
And guess what? He's on the hustle, too, but not like the dorks. We will get to that in a moment.
Big Time
This is the fifth annual Sloan conference, its second time in the sprawling Boston Convention and Exhibition Center (the first three were on the MIT campus), and its first time as a two-day event. Mike Zarren, the Celtics' assistant executive director of basketball operations, says that the faces in the Sloan crowd have changed—93 percent of the first conference's attendees wore pocket protectors, he jokes. The WGS don't wear pocket protectors. They wear cologne.
And unlike the first conference, which was headlined by JP Ricciardi (now special assistant to the Mets GM) and Jamie McCourt (who will soon own exactly half of the Los Angeles Dodgers), this thing is star-studded: twice I ran into Nuggets GM Masai Ujiri (who was a paying attendee, not a panelist) in the bathroom, and quasi-celebs like Michael Wilbon and Mike Leach could be found milling around in the lobby.
More sightings:
• Eric Mangini in the panelist room asking nicely for an MBA student to find him a Diet Coke.
• Jim Caldwell, Indianapolis Colts, conference attendee, not speaker. None of the panels I attended, though, focused on "Why Not To Take A Timeout With Your Opponent Trailing, On The 32-Yard Line And 29 Seconds Left."
• In the agenda insert: "'The Decision' panel: Bill Polian will no longer be able to participate. Donny Marshall has been added as a panelist." Not even Donyell Marshall. Donny Marshall. Maybe not everyone was a star.
• Andrea Kremer, intrepid chronicler of Deadspin, who led the weekend's most lively panel, on the business of sports.
• Rob Neyer, rocking one hell of a Hawaiian shirt.
• This guy, playing what I'm nearly certain is World of Warcraft: