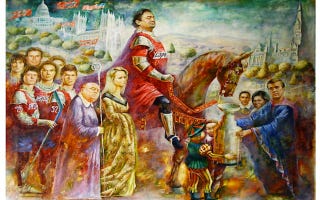 Your morning roundup for April 26, the day we called a truce with the jellyfish kingdom.
•Memphis might totally win this series, you guys. They've got three more chances after blowing out San Antonio in the second half for an 18-point win. We can criticize the Spurs for playing boring basketball, but even the Showtime Lakers would pale in comparison to whatever unholy Mike Conley/Darrell Arthur-led offense the Grizz were running last night.
•After Mark Cuban told the bandwagoners to hop off the bandwagon, the Mavericks took care of business. Tyson Chandler took over down the stretch, and Dallas takes a 3-2 lead back to Portland. Maybe Cubes can find room for the bandwagoners? If football is indeed coming back, Metroplex residents can't keep pretending the Cowboys are good.
•Stayin' alive: the Nuggets. An insurmountainable lead, indeed.