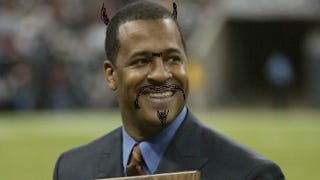 Maybe you heard about the stunning display of asshattedness last week by Redskins proto-flack Tony Wyllie. The occasion: A University of Maryland College of Journalism "ethics in sports media" panel, to which Wyllie arrived late. Dan Snyder's dumbass libel suit came up, at which point Wyllie offered an equally dumbass geopolitical metaphor:
All we wanted was the truth, the same thing you heard up in Egypt where people were trying to find one thing — people getting hurt and beat up for one thing — the truth. And that's what this is all about.
Those "people" up in Egypt to whom Wyllie refers had been exploited for years by an unctuous greedhead who robbed them as thoroughly as possible and stifled any dissent. A Redskins fan might point out that the similarity here is not the one Wyllie identifies. Wyllie, however, would have you believe that it's Snyder down in Tahrir Square battling the corrupt elite, which is represented in his mind by a small, historically cash-strapped alt-weekly. Consider, for a moment, what type of person references a populist revolution against a dictator to advance the public relations goal of defecating all over the First Amendment. That is a stupid man. Let's look at the evidence.
The better portion of Wyllie adult life has been spent crafting messages to stuff into the mouths of more powerful people. He was hired last year by the Redskins and brought "more than 17 years of NFL PR experience with six different teams to Washington," according to a press release. This is commendable? Disinformation merchants like Wyllie get paid to massage reality. Often trained in business schools, these types now outnumber journalists by more than three-to-one. They are better funded and have a near-pathological lust to refashion the world into the amusement parks their brains inhabit. Case in point from the same press release about Wyllie: "He spent 1993 as an intern in the PR department with the Dallas Cowboys, earning a Super Bowl ring...." He earned a Super Bowl ring as an intern. Maybe there was a lot of photocopying that season.
I mention all this only to note that it is both predictable and discouraging that Wyllie would preach about truth and pure motives in Dan Snyder's bullying lawsuit. Lesson one in agitprop: If you repeat something enough, the gullible will believe it. Alas, that's not all Wyllie said while sitting on a journalism ethics panel:
'Well, are you firing a warning shot to other members of the media?' And I'd probably say, 'yes.'
Followed by:
We're not trying to be bullies...we're not trying to make anyone afraid.
Anyone who utters two such contradictory statements in the span of seconds might be something more than just stupid. He might also be duplicitous. You'll find an unconscionable number of these types in PR. Many of them are wannabe journalists who couldn't make it as journalists, whether owing to a lack of ability, desire, or ethics. No surprise, then, to learn that Wyllie has a journalism degree from Texas Southern University.
But Wyllie isn't the only failed journalist Dan Snyder has on his payroll. His lawyer David Donovan is one such failure. The best thing Donovan has ever written is a laughable, cock-swinging letter to some people who finance journalists. And one mustn't forget that to aid his cause Dan Snyder has now taken to summoning — or rather having lobbyist Lanny Davis (father of Seth Davis, incidentally) summon — the ghost of Snyder's dead journalist father: