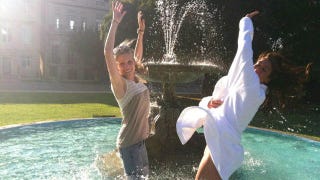 Your p.m. roundup for Aug. 10, the day we wish we had never heard of subway parties. Photo via @hopesolo, who's apparently posing nude for ESPN The Magazine's "Body Issue." Got any stories or photos for us? Tip your editors.
What we're watching (all times EDT, unless noted): There's baseball, of course. Big-league-wise, ESPN has Angels-Yankees at 7, while WGN is carrying Nationals-Cubs at 8. In the Little League category, ESPN2 has a World Series regional semifinal between Tampa and Mobile (Ala.) that starts at 7. But there's also soccer, with ESPN2 showing USA-Mexico — Jurgen Klinsmann's coaching debut — live from Philly at 9.
Read Me: Today's Story That Doesn't Suck
We're guessing most hip-hop careers didn't start out like Tommy Hilfiger's kid's did: "It's a style he's developed over 10 years, when his infatuation with the lifestyle began in Greenwich, Conn. Rich's parents have always been supportive of his rap efforts. They allowed him to take formative weekend trips to Philadelphia at age 15 with the family bodyguard to visit friends he'd made in the hip-hop community." [New York Observer]
This Date In Deadspin History
Aug. 10, 2007: Will They Make It Rain On Pac-Man's Face?