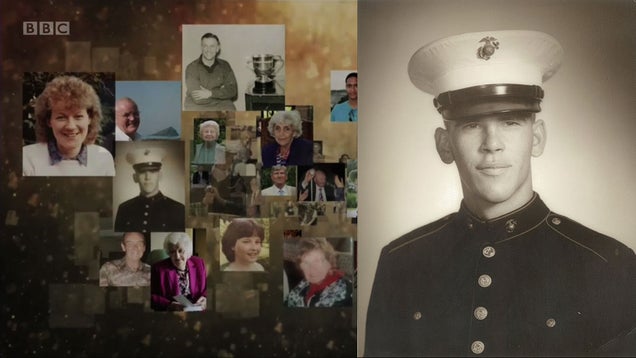 S
Three weeks ago we brought you the story of U.S. Air Force Academy cadet Andrew Chin. Chin's friends and family submitted his photo to be included in a memorial segment of the London Olympics opening ceremony, only for them to realize when the program aired on NBC in tape delay that the memorial segment had been edited out. (NBC claims they didn't know there was a memorial; below, we'll show they did.)
We noted in that piece another U.S. serviceman, a Marine, could be seen in the Wall of Remembrance section and that we were working to identify him. Today, we can, as well as identifying another American NBC cut out of the opening ceremony broadcast in the name of "tailoring programming to its American audience." Rob Smith was an Olympic volunteer and submitted the photo; it's his Uncle Jack, and here's Jack's story.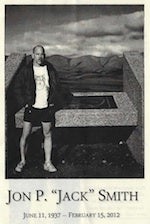 Born June 11, 1937, Master Sergeant Jon P. "Jack" Smith served in the U.S. Marine Corps from 1954 through 1956 and in the Marine Corps Reserve through 1998. Following his active-duty years, Smith earned a bachelor's in elementary education and a master's in outdoor ed; he then spent 33 years teaching at-risk kids in the Willingboro, NJ school system. His passion was exposing inner-city youth to outdoor skills, taking thousands of kids rock climbing, canoeing, and backpacking. He had five children of his own, and was featured on Disney Channel's Bug Juice reality show about outdoor camp life. Jack died on February 15, 2012.
As an Olympic volunteer performer (and Paralympic volunteer) Rob Smith received the letter from opening ceremony director Danny Boyle soliciting photos for the memorial wall segment. (See the actual letter here.) That letter went out on July 14th, nearly two weeks before the Olympics started, and thus NBC's claims that they didn't know about a memorial segment are bunk.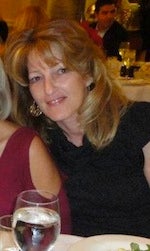 Rob also let me know about another American featured in the memorial wall: Rose Wilkinson, a Philadelphia and New Jersey paramedic who died suddenly on June 18th of this year. She's survived by a 7 year old son and was engaged to be married. (Rob's sister-in-law was a colleague of Wilkinson's.)
There were probably other Americans featured in the opening ceremony memorial whose friends or family eagerly gathered to see their departed loved one, only to have NBC cut the minute-long segment out in order to make room for a Ryan Seacrest interview of Michael Phelps. If you know them, tell us their story.
Previously
• Here's The Opening Ceremony Tribute To Terrorism Victims NBC Doesn't Want You To See
• Opening Ceremony Choreographer "Disheartened And Disappointed" NBC Cut His Entire Performance Out Of Their Broadcast
• NBC Responds: We Removed The Opening Ceremony Memorial To Terrorism Victims Because The Tribute Wasn't About America
• NBC Also Edited Out A Tribute Featuring Two Dead U.S. Servicemen From Their Opening Ceremony Broadcast
• NBC Says They Cut Memorial Tribute To Save Time, But They Replaced It With Something Two Minutes Longer