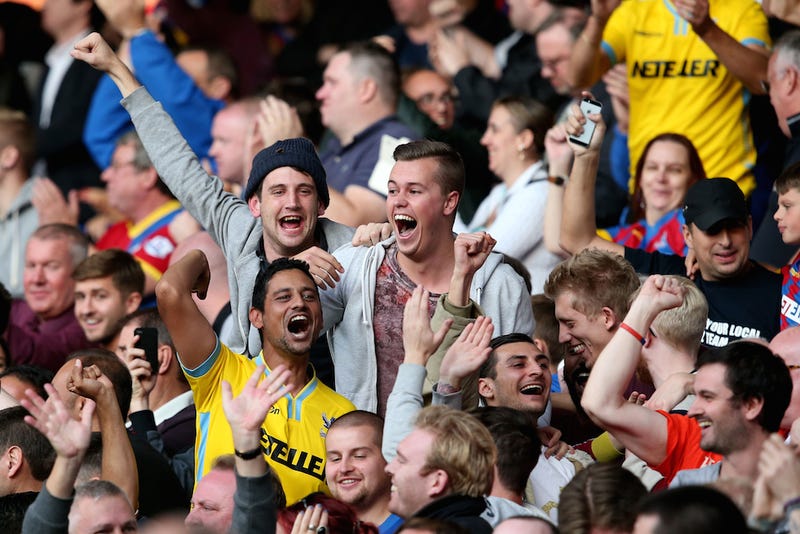 Towards the tail end of this past World Cup, more than a few readers emailed us looking for guidance on how to become a soccer fan. Never ones to disappoint our adoring readership, we've now obliged. Here's how we imagine that conversation would go.
Hey guys, I really liked your soccer coverage during the World Cup, and I realized I actually like soccer now. But I need some help learning how to follow the sport. What say you?
Let me guess: you found yourself lounging around this summer, probably on school break, with your TV parked on ESPN per usual while you surfed the internet, and at some point you looked up and the shouting heads were gone. In their place was a bunch of grass and some miniature sprites skittering about while men with British accents narrated the proceedings.
Now, maybe you weren't planning on watching soccer. After all, you weren't a soccer fan, thinking of it more as an endurance contest than a real sport, filled with diminutive South Americans our football players could muscle to the ground with little more than a shrug of the shoulder.
Instead of changing the channel, though, you stuck around, and you noticed something funny. Soccer was actually fucking awesome. The players may not have been as physically imposing as those in the NFL and NBA, but watching them dart their way past multiple defenders rivaled any stuttering crossover into the lane or shimmying of the shoulders that freezes a defensive back. The sport wasn't as high scoring as, say, basketball, but every time the ball even got close to a dangerous area you felt yourself creeping toward the edge of your couch, just waiting to explode should one of the attackers hoof the ball into the net. At every turn, what was supposedly so bad about soccer was exposed as a lie, and you now knew why the rest of the world loves this sport. You were hooked, and now you want more.
Well, some of your details are off there, but yeah, soccer is dope!
Yes, that's the important part.
So where do I go from here?
Straight to your TV, naturally. Soccer is basically a year-round sport, and things are already well underway—happily, all the big leagues are still very early in their seasons, so you haven't missed too much. Those leagues started up in late August, typically have the week's round of matches every Saturday and Sunday, and wrap up in mid-to-late May. At this point in the season, teams have only played about four or five of their nearly 40-game seasons. In NFL terms, we're basically heading into Week 3.
What you're going to want to do is latch on to either a team playing in one of the five best leagues in Europe, or just to one of the leagues.
Europe? Why not MLS?
Good one! As I was saying, the best soccer week in, week out is played in those top five leagues. They are: England's Premier League, Spain's La Liga, Germany's Bundesliga, Italy's Serie A, and France's Ligue 1.
Jesus, there are that many leagues?
You'll soon find out that the abundance of leagues makes things all the more exciting, since between the five there will be a handful of prime matchups every weekend. Think of it like college basketball, with each league as a different conference, each with its own comparative strengths, weaknesses, and stylistic nuances.
Like how?
England's Premier League is widely acknowledged as the world's best. That's because it has the most competitive title race, a very deep midtable, and even the dregs aren't as bad as what you'll find elsewhere. The play there is lightning quick, privileging brawn, high-end speed, quick passing, and immaculate first touch to parry an opponent's attack and get the ball to one of your guys, who can then capitalize on the space available and bomb towards goal.