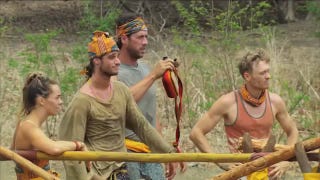 As ready-made Survivor villains go, John Rocker was always a bit too good to be true. A beefy dude with a hot temper, a notorious past, an empty head, and a (presumably) well-stocked bank account? Fans might have been rooting for him to stick around for hate-watching purposes, but there was no way he was going to…
Miami Marlins president and inveterate asshole David Samson failed to make it through even one evening of this new season of Survivor without being eliminated after his tribe voted overwhelmingly to eject the smarmy thug from the program.
The last time we checked in with budding reality TV star Jeff Kent, he was kicking off his appearance on this season of Survivor in a truly inauspicious manner. Since then, he's managed to keep his head in the game. Tonight, though, the dream suddenly died for Kent, who was voted off the island in what host Jeff…
You can thank CBS for bringing together two things you probably haven't thought about in nearly a decade: Survivor and Surly Former Second Baseman Jeff Kent™. The show has already filmed, and Kent is back from the Philippines, but since it doesn't premier until next week Kent can't talk about what went down, or how…
If you've been walking around all day thinking that nobody in America cares about Survivor (now in its 24th season!) anymore, and that there couldn't possibly exist a frighteningly thorough fan site dedicated to the show, you'd be dead wrong.