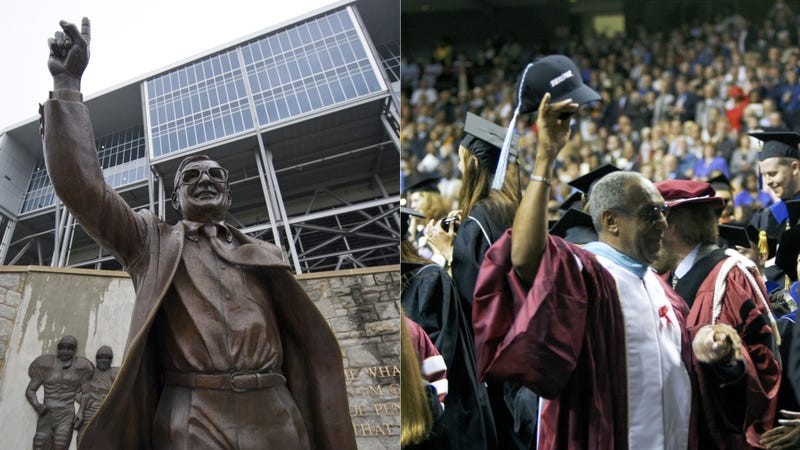 The Penn State defense is so well-practiced, so perfected, that by now you can practically write it yourself. The accusations are unsubstantiated; too much time has passed; nobody remembers; there are no records. The language changes from email to email and statement to statement as the university blasts them out to alumni and supporters, but the logic never changes: The truth will never be known, so why not trust us?

At Penn State, the full truth will never be known about Jerry Sandusky because for too long men in power refused to protect vulnerable children. And when there's next to no paper trail to trace the outlines of that refusal—few reports to police, no calls to abuse hotlines—the denials practically write themselves. The lack of public information has been aided in recent years by a different strategy: sealed settlements. As Dan Wetzel notes over at Yahoo, the millions paid out and the assumptions that come with them have been worth it from the university's perspective, given how they've helped stop "the slow churn of horrific details affecting enrollment, endowment and reputation."
Across Pennsylvania, leaders at Temple have become adept at a defense of their own, continuing to insist that there was no problem when a member of their Board of Trustees acted as a lawyer for then-fellow trustee Bill Cosby when Cosby first defended himself from accusations that he drugged and raped Andrea Constand while she was a Temple basketball employee. Last year, Temple spokesman Brandon Lausch said "Mr. [Patrick] O'Connor's representation of Mr. Cosby was disclosed and vetted in accordance with Board policy." I reached out to Lausch this week, and he told me the same thing. As of last month, O'Connor was still being quoted as a lawyer for Cosby.
Why do so many questions remain about what these institutions knew and when they knew it? In part, it's because they aren't required to give many answers beyond what their public relations departments deliver. Penn State and Temple are essentially exempt from Pennsylvania's public records laws, even though they receive hundreds of millions annually in direct public funding and even though they have done nothing to earn a nearly unrivaled protection from scrutiny.

While functionally public, under Pennsylvania law Penn State, Temple, Pitt, and Lincoln University enjoy an unusual status as "state-related institutions." Under Pennsylvania's Right To Know law, this means they're obliged to release only one thing each year, a report giving the following information:
(1) Except as provided in paragraph (4), all information required by Form 990 or an equivalent form, of the United States Department of the Treasury, Internal Revenue Service, entitled the Return of Organization Exempt From Income Tax, regardless of whether the State-related institution is required to file the form by the Federal Government.

(2) The salaries of all officers and directors of the State-related institution.

(3) The highest 25 salaries paid to employees of the institution that are not included under paragraph (2).

(4) The report shall not include information relating to individual donors.
That's all. All four universities can withhold pretty much whatever else they like, and they got this special standing with the help of lobbying from Graham Spanier, the former Penn State president ousted in the wake of the Sandusky scandal. Here he was arguing for it in 2007, as recounted by the Pittsburgh Tribune-Review.
Penn State President Graham Spanier told a Senate panel that adding the universities to the Right-to-Know law "would have serious unintended consequences not in the best interests of the commonwealth."

He cited concerns regarding contract negotiations, donor confidentiality and releasing details of faculty pay—including football coach Joe Paterno's salary, the subject of a lawsuit before the state Supreme Court.

"What we are concerned about is the impact that opening up university salaries would have on Penn State's ability to compete in a global marketplace for the best faculty and research scientists," Spanier said.
Despite all the horrific revelations over the years—how Sandusky used his charity to groom victims, how Penn State allowed Sandusky to keep using its facilities even after a police investigation in which Sandusky admitted to showering with young boys, the failure to treat what Mike McQueary saw as anything more than a PR problem, the file kept by the then-vice president labeled "Sandusky, Jerry" with the instruction that nobody look in it—Penn State has to release as little information as it had on the day Sandusky was arrested.