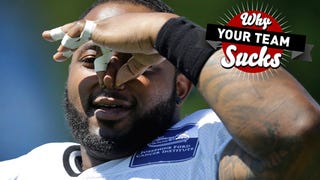 Some people are fans of the Detroit Lions. But many, many more people are NOT fans of the Detroit Lions. This 2014 Deadspin NFL team preview is for those in the latter group.
Your team: Detroit Lions
Your 2013 record: 7-9, with a 1-6 finish (including a kicker destroying them single-handedly) that led to the ouster of Jim Schwartz (he took all his Kid Rock CDs with him!) and the hiring of...
Your coach: Jim Caldwell. HOLY SHIT, JIM CALDWELL! You really did that. My God. I remember when the Lions made this hiring, I thought to myself, "You know, right before the season starts, I'm gonna remember that the Lions hired Jim Caldwell, and I will still be shocked." And I am. I'm flabbergasted. This is the single worst coaching hire since the Chargers hired Norv Turner. Go ahead and ask Chargers fans about the Norv Turner years. They will tell you that, even with a touch of modest success, they spent that entire time, wire-to-wire, waiting for Norv to be fired. And so it is with Jim Caldwell. He didn't even fire Gunther Cunningham! There's no hope here. There's just Caldwell staring off into space, like he's trying to summon a really deep thought that he can't quite capture. He'd be an awesome coach for, like, a river.
Keep in mind that Schwartz was fired mostly because the Lions are a talented but remarkably aimless team. For Lions games, referees use special penalty flags that shoot out very small additional penalty flags, like a roman candle for any time Ndamukong Suh decides to commit 60 personal fouls while holding. This team desperately needed a strong personality, and it's not like the job was unappealing. The Lions job came prefab with Megatron and Fat Stafford and everything. And yet, THIS was the best they could do. Even Ken Whisenhunt turned them down to go coach the Titans, and the Titans have a Pinto at quarterback. We are approaching Week 1 and the reality of Jim Caldwell as the Lions coach, and I really don't think you guys are emotionally prepared for it. How can you be? It's just gonna hit you like a brick.
Your quarterback: Matt Stafford, shown here going through his progressions.
I bet Matt Stafford is already looking forward to participating in celebrity golf pro-ams. That's the vibe he gives off. He is a man of leisure who just happens to occasionally play quarterback effectively. If he throws 15 interceptions in a crushing 45-44 defeat (the Lions obviously blow a 44-10 lead here), Stafford is probably just fine going back to his McMansion to dick around with his Brookstone putting green. Stafford is like a decade-long QB carousel encapsulated into a single player.
It's like Dave Krieg. Dave Krieg played in Seattle forever and didn't really accomplish anything, so fans hear his name and they're like, "Oh yeah! Boy, he was here for a while!" That's how Stafford will end up: The Guy That Was Here.
What's new that sucks: In case Stafford gets hurt reaching over to grab one of your French fries, the Lions signed Dan Orlovsky. I do believe I remember the last time he was here…
I don't quite know how he's still in the league. Anyway, in addition to Blind Freddy here, the Lions signed Golden Tate away from the Seahawks. Tate will bring all of Seattle's insufferability and none of its football acumen. (Also, he will bang your wife.) To support Stafford, the team also drafted tight end Eric Ebron, who dropped over 11% of passes thrown to him in college and says a "mental blockage" is preventing him from being able to secure the football in his hands. So that sounds promising. Why have one Brandon Pettigrew when you can have two?
To make matters worse, an epidemic of fatness is plaguing the Lions as a whole. Nick Fairley got busted down to second string for being overweight. And then there's former QB Scott Mitchell…
HOLY SHIT! He looks like he ate the sun. And here I thought you people in Michigan were destitute. Turns out you're swilling half & half by the gallon.
Anyway, this remains a team built exclusively for fantasy football purposes. Stafford will throw deep to Megatron a zillion times. Reggie Bush will have a few nice games before suffering some kind of nagging injury that stays with him for months and causes him to be a gametime decision at all times. And actual winning or losing will be completely beside the point. A Lions game in which Calvin Johnson scores twice is the real victory.