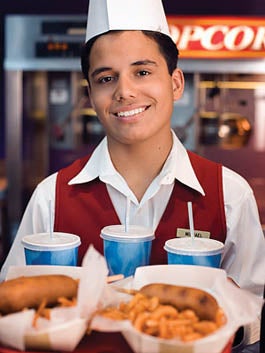 You can imagine my pride when I discovered that my two local baseball teams, the Giants and Athletics, were found to be among the worst transgressors in a recent survey of health code violations at stadium concessions. As far as Oakland's McAfee Coliseum goes, all I have to hear are the terms "overhead leakage" and "exposed food" to make me ravenously hungry. But neither the A's nor the Giants were the biggest slobs, according to a survey by Conde Nast Portfolio.com.
Let's see if you can guess the worst offending ballpark by the description of its recent health violations.
A major vermin violation forced the shutdown of one food stand in April 2007. A cockroach infestation was reported in the Stadium Club kitchen in August.
That's right, it's Angel Stadium in Los Angeles, home of 732 health code violations. McAfee was second with 493, and AT&T Park had 88. By comparison, the Mets and Yankees were hardly trying with 58 and 45, respectively. Although inspectors did report seeing "mice, rats and flying insects in food areas" at Shea Stadium, which is almost as impressive as that Indians' triple play.
Foul Ballpark [Portfolio.com]
Vermin, Roaches In More Filthy MLB Park Kitchens [SportsbyBrooks]