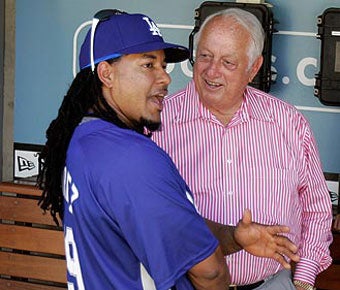 Depending on who you believe, a contract between Manny Ramirez and the Dodgers is "close", "imminent", "very close", "on the same page" or "a done deal." So why can't we just get this over with?
ESPN's crawl blazed last night with the news that Manny had agreed to a 2-year/$45 million deal, which I believe is the same deal he has already rejected 23 times. Then suddenly, they hadn't agreed to anything ... they had just "agreed," you know? Things were in motion, details have to be finalized, Scott Boras has to be Scott Boras and now ... who knows?
The latest report is that Manny is flying to L.A. to meet with the owner Frank McCourt and maybe have an In and Out burger or something. ESPNdeportes.com's Enrique Rojas is sort of standing by his story that the deal is all but signed, which makes sense, since Manny told T.J. Simers and the L.A. Times that "two years is fine with me."
"I cannot control what people might think," Manny says. "The economy is making everyone adjust. I will be happy to play for L.A., win and win a couple Gold Gloves just like Andruw Jones." At least he didn't say, "hit like Andruw Jones."
Yeah, I hope he sets the bar a little higher than that. But at this point, Manny has pretty much no choice but to sign with the Dodgers, even if he is going to try hard to keep his time at spring training to an absolute minimum. So there will probably be some hemming and hawing for a few more days, he'll sign the original contract they offered him months ago, and when he's demolishing the National League West in June everyone will be saying, "I can't believe it took so long to sign this guy!"
Manny Ramirez has some things to say [LA Times]
Manny, Dodgers to meet to close deal [MLB.com]
Sources: Manny Ramirez nears deal with Los Angeles Dodgers [ESPN]
Dodgers, Manny Getting Closer [MLB Trade Rumors]
ESPN.com Backpedals On Ramirez Signing Report [SbB]
Update: Did I say days? I mean an hour or so. Manny passed his physical and it's all over. [MLB.com]