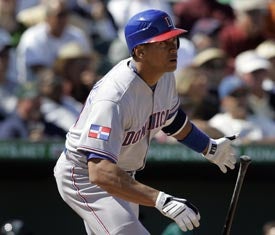 Alex Rodriguez is having a bang up year in 2009. The latest calamity? A bone cyst that may force him to bail on Team D.R. at the World Baseball Classic.
A-Rod will travel to Colorado to see a hip specialist and may miss this very important international exhibition. If that wasn't terrible enough, his manager Joe Girardi says that Alex had hip problems last season, but selfishly ignored that pain so that he could stay on the field. (Ok, I added the "selfishly" part.) Why can't he even get hurt properly?
Even worse than the stupid injury, however, was that A-Rod had the temerity to compliment his Dominican Republic teammate Jose Reyes—a shortstop and a Met—by saying, "I wish he was leading off on our team, playing on our team." Geez, why don't you just take out your cock and piss all over Derek Jeter's grave while you're at it? He also called David Ortiz—a Red Sox! (or is it Sock?)—a "true friend." Who does this a-hole think he is? Lou Gehrig did not get a disease named after him and then bravely die from it so that some roid rage freak could blatantly violate the chastity of New York Yankees baseball.
Is there anything this guy can't do wrong?
Yanks may ask A-Rod to skip Classic [MLB]
Girardi says hip bothered A-Rod last year [AP]
A-Rod: I wish the Yankees had Jose Reyes [Newsday]