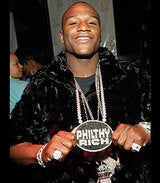 And on the seventh day, Deadspin posted one video of Floyd Mayweather apologizing to Manny Pacquiao and "everyone," while also linking to the video that made such an apology necessary.
For the kingdom, the power and the glory are the power-pellet-eating midget's now and for ever, Amen.
Floyd Mayweather apologizes for racist rant on Manny Pacquiao
What happened the other night:
Ohhh, hell no, this is America baby. We built on winning. Step your game up, f—t. ... That mother f—- Pacquiao, he can't speak no English. He never seen a contract he didn't like. Mother f—- signed with two companies [Top Rank and Golden Boy]. Look it up. And then this mother f—- with Nike only got 70 Gs. How stupid can a mother f—- be? Reebok gave me a million dollars for three weeks. I wore Reebok s— for a week for a million dollars. ... This mother f—-'s name is Emmanuel. He got a fake name, taking power pellets."

Mayweather also broke out into a bizarre song in which he called Pacquiao a "whore" and added: "When we do come back, we'll kick 'Poochiao's' ass. I'm gonna fight the Pacman when he gets off the power pellets."
Floyd Mayweather's Racist and Homophobic Ustream Rant [Gawker.TV]