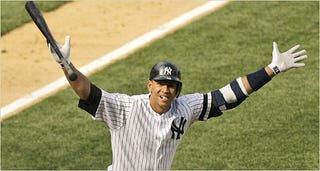 Well, we had to nominate one person whose very name makes you groan, and if we had picked Brett Favre, Drew would have never stopped stabbing me in the eye.
Nausea aside, it's difficult A-Rod hasn't earned the nomination.
Forget the steroids. He's breaking Simmons' heart by dating Penny Lane, turned Selena Roberts into Mike Nifong, deflowered a Spitzer madam, posed ridiculously and, in my favorite Roberts book excerpt, asked women at bars who they thought was hotter, him or Jeter?