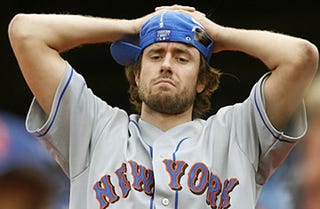 The New York Mets are not the worst team in baseball. They are not even the most ineptly run franchise in their own division. Yet, their 2009 campaign may have forever redefined the concept of losing.
Nothing has gone right for the poor Metropolitans in this calendar year. From the ownership down to the bat boys, the entire organization has been beset by financial issues, management missteps, injuries, errors, poor timing, and just plain bad luck. Every week seemed to bring a new crisis or terrible disaster and through it all, they constantly found inventive and entertaining ways to squander victory. And there's still a month left!
Join us now on a journey through the outer borough's season of hell, as we look back on the losingest bunch of losers who ever lost a baseball game.
January 15: The Mets kickoff 2009 by unveiling a commemorative patch for the upcoming season, their first at spanking new Citi Field. It is roundly and swiftly denounced.