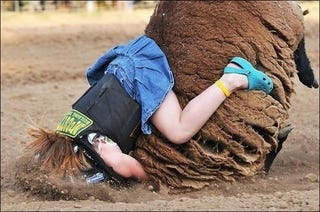 So the last month has been chock full of end-of-decade retrospectives in addition to the typical end-of-year remembrances. We'll do our own anyway. Today, to start: mutton-bustin'. Like you expected anything else.
It all started back in July, when the erstwhile Los Angeles Times published a stirring trend story about mutton bustin', which the reporter, Kate Linthicum, described as "a little-known but beloved rodeo event where kids a couple years out of diapers ride sheep just like the big boys ride bulls. Suburban parents put their kids in Little League. In the country, where rodeo is king, parents sign up their kids for mutton bustin'." God bless 'em. Truer, more influential sentences have never been written.
The world — and Deadspin — was forever changed.
• Let's remember, though, that mutton bustin' had inauspicious beginnings on this very site.