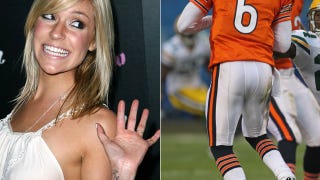 Get psyched, everyone: Cut-Cav is back on for real. They're engaged again, per Life and Style magazine:
Kristin Cavallari and Jay Cutler are engaged—again! After calling off his three-month engagement to Kristin on July 23, Life & Style can exclusively reveal that Jay has proposed for the second time—and Kristin has accepted!

"Kristin is over the moon with happiness," a source tells Life & Style. "She's already told her friends that the engagement is back on. They haven't set a new date yet."
UPDATE, 4:52 p.m. Kristin says on Twitter she's not engaged. She tweets, "New week new rumor. I'm not engaged u guys." Aww.
We told you earlier this month that Kristin and Jay were pretty obviously back together, because she was complimenting his butt on Twitter, and he was replying cordially.