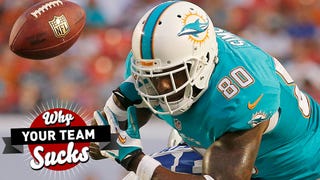 Some people are fans of the Miami Dolphins. But many, many more people are NOT fans of the Miami Dolphins. This 2014 Deadspin NFL team preview is for those in the latter group.
Your team: Miami Dolphins.
Your 2013 record: 8-8, but nobody remembers that. The only thing people remember is BULLYING. In the team encyclopedia, it should just list the record like so:
2011: 6-10
2012: 7-9
2013: BULLYING
By the way, the Dolphins found a way to lose both the alleged victim and the alleged perpetrator in that scandal, right in the middle of the season. They couldn't even pick a side correctly.
Your coach: Joe Philbin, whose solution to the Martin-Incognito affair was to, I shit you not, tuck the players in at 10:30 p.m. every night. Here's Peter King, who hasn't been this dazzled by an empty coaching gesture since Mike Munchak banned hats:
"This camp," Philbin said, "I'm doing every bed check. Every night. I knock on every door."

How many doors? Sixty.
NO WAY SIXTY DOORS MY GOD HOW CAN ONE MAN LIGHTLY TAP ON THAT MANY DOORS HE MUST BE SOME KIND OF GOD
At 10:30 p.m. nightly, Philbin knocks—ranking vets have singles, younger players have roommates—and checks. Some players, like quarterback Ryan Tannehill, are zonked ("I've been asleep every time he's come in the room")…
That's great. "I know we devolved into a complete laughingstock last year, but this year I'm gonna fix it by accidentally waking up the players who already know how to exercise self-discipline."
… but some, like defensive end Cameron Wake, engage Philbin in a daily Q&A about practice, or a current event. "You guys okay?" Philbin will ask, or "Ready for practice in the morning?" Or "Anything we need to discuss?"
Now those are some deep-ass questions. Nobody asked me if I was ready for practice tomorrow until coach came and reminded me. And now that I think about it … I AM!
"That," said Tannehill, "was a big shock to a lot of guys."
"Tannehill, do you know who the asshole is knocking on my door? That's our coach? Really? I thought he was equipment manager."
"I think I've been more vigilant," Philbin told me in his office Friday before the team's 8 a.m. practice. "I've probably had every player on the team sitting on that couch you're sitting on right now, and we just talk. About everything. I'll ask, 'What do you love most about being a Dolphin?'
I'll tell you what I love most about being a Dolphin: having the left guard text me about how he's gonna face-rape my sister.
Or, 'Tell me one thing we could do, anything, either on the field or off, that we can do to be better as a team or an organization?' Or, 'Tell me one way you think you'll be a better player this year.'
Holy shit, is Joe Philbin even human? Did they piece him together from old corporate retreat binders? This is just what I want from my coach: an awkward late-night interview, right as I'm trying to masturbate before going to sleep. How many of these check-ins ended with Philbin closing the door and the player inside going, "The fuck was that about?" I say 100 percent.
But say one thing for Philbin: If he was a terrible coach, with no control of his team, Miami wouldn't have gone 5-2 in the first seven games after the Martin affair exploded and threatened to rip the team apart.
I'm just leaving that there because Peter King is the worst. If Joe Philbin didn't have control of this team, why did he have control of this team after losing control of this team? Think about THAT. We'll discuss it at bedcheck. I have no faith in this Joe Philbin's ability to lead people.
Your quarterback: Ryan Tannehill, who was sacked FIFTY-EIGHT times last season, tied for the 10th on the all-time single-season sack leaderboard. That's what happens when half of your line disappears in the middle of the season. It's possible that we'll never know how good Tannehill can be because he'll get the life sacked right out of him before he even has a chance to breathe. Or he'll gradually improve (as he did from his rookie year to last season) and then get a broomstick shoved up his ass by Mike Pouncey.
What's new that sucks: The good news: Jeff Ireland is gone. The bad news: He was replaced by Greg Schiano's janitor. The first big move the Dolphins made this offseason? Knowshon Moreno! Yes, the Dolphins signed Knowshon right after he had a fluky revival season (it probably helped that he had the best QB in football there to ensure six-man fronts all day long). As soon as Knowshon signed with Miami, he went right back to being his usual bust. He's had knee surgery ALREADY. No beating around the bush for him. He may not even beat out Lamar Miller for the starting job. As someone who owned Lamar Miller in fantasy last season, I would just like to formally note: FUCK LAMAR MILLER.
In other news, defensive end Dion Jordan was suspended for the first four games of the season, a year after the Dolphins traded up to draft him (too high at No. 3) and then used him as a third-down specialist. They have fucked up Dion Jordan is four separate ways, and they're probably not finished yet. Safety Reshad Jones? Also suspended. Joe Philbin will curtail the PED usage by reading Frog & Toad to players every night at 9:30.
Somehow, it gets worse. The Dolphins also took a PR hit when they allegedly fired a scout for taking time off to care for his cystic fibrosis-stricken wife. They allegedly traded a player for trying to take paternity leave. And Mike Pouncey still keeps a framed Aaron Hernandez jersey in his house. Despite being accused of play-raping teammates in the Wells report, Pouncey remains on the roster and could reclaim his starting job if his torn hip is healed in time. So that's heartwarming. Hopefully he'll still be able to dole out $500 fines to fellow teammates for lookin' at him queer.
Defensively, safety Chris Clemons is gone (he was part of a $148 million contract spurge last offseason that ended with that 8-8 record), replaced by former Lion Louis Delmas. I assume the team's front office has watched NO tape of the Lions pass defense last year. Those guys are already good at turning a blind eye to shit. Speaking of turning a blind eye …
What has always sucked: Miami, the city itself, is currently in the process of being swallowed up by the ocean. Were you aware of this? Most Miami citizens are either not aware, or they simply would like the problem to magically go away on its own. I look forward to the Dolphins playing in eight home Lake Bowls a year 10 years from now. They may have to field a team of literal Dolphins in order to continue playing in Miami. That would almost certainly draw more fans than the Dolphins as presently constituted.
Few teams have failed as miserably as Miami has at maintaining a legacy. Dan Marino retired in 2000, and since then this team has done nothing right. They drafted Pat White so they could commit to running the wildcat, then Pat White almost died on the field. They drafted Jake Long, Ted Ginn, and Ronnie Brown in the top 10, and none of them is still on the team. Their best quarterback in the past 10 years was Chad Pennington, who was a Jet, and threw his shoulder out of his socket on a 15-yard pass. Jay Fiedler started their last playoff win. Their stadium was named after Jimmy Buffet's beer for a year. Dave Wannstedt. You name it, the Dolphins have monkeyfucked it. They're the NFL's Knicks: a team that still has fans and a certain sort of allure despite being huge losers since 1973. They're the Jets without the comedy.
And LeBron is gone. Don't try to shrug that off, Miami. You know it hurts. In the greatest game of FLORIDA or OHIO ever, he chose Ohio. Damn.
Also, fuck the '72 Dolphins forever. With a champagne bottle.
What might not suck: Tannehill was vastly improved last season, and the team focused most of its draft and free agency moves on rebuilding the line and making sure he doesn't get murdered. I'm not saying any of that will WORK, but at least they kinda sorta tried.
Hear it from Dolphins fans!
Matt:
Fuck Jeff Ireland.
Van:
The fact that my Dad STILL wears his Marino jersey (has never considered replacing it) really explains how god-fucking-awful this team has been. Try to remember one player, besides Marino, that has done anything relevant for the Dolphins. Go ahead, I'll wait. I wish I could go back in time to watch Dan throw into triple coverage and blow another playoff game.

Also have you been to a Dolphin's game? God it's a terrible experience. Out of the 200 people that show up, 170 leave at halftime because it's so fucking hot and Tom Brady has already thrown for six touchdowns.
Steve:
The Jets are way better than us.
P:
Every Dolphins player should wear the number 79 in celebration of how difficult it is to finish with that same record every year regardless of the personnel.
Tony:
1) Our new logo looks like a Chinese knockoff version of the original. Makes the Marlins logo look cool, which I thought was impossible.

2) We're more famous for locker room discrimination, shenanigans, and roid raged bullies than actual football.

3) Our head coach looks like he's the general manager of the local bowling alley.

4) Coaxing Don Shula and Marino out of retirement has actually crossed the minds of fans. As an actual fucking option.
Marc:
The Dolphins have been in the news a lot this year (did you notice?), and none of it for good reasons. To recap: Bullying scandal, Mike Pouncey is a human piece of garbage, Mike Wallace acts like TO and has done nothing to justify that attitude, two players made homophobic comments on Twitter, the team losing the last two games of the season to lose out on a VERY winnable AFC Wild Card spot. Also Brian Hartline was talking trash with Heat fans for losing LeBron (he's an Ohio guy, you see, so it's okay to kick your own fanbase while it's down).

But none of this is that bad. Or at least, that's what Stephen Ross seems to think. None of this really got ol' Stevie worked up. What really makes him mad? That PFT put the Dolphins as #31 in their power rankings. Never mind five years of Ireland as GM, Ross only realized this team had talent issues because a terrible football site pointed it out. He is dopier than he looks, which is actually kind of impressive.