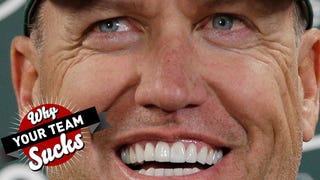 Some people are fans of the New York Jets. But many, many more people are NOT fans of the New York Jets. This 2014 Deadspin NFL team preview is for those in the latter group.
Your team: New York Jets.
Your 2013 record: 8-8, with a point differential of -97, just one point better than the 4-12 Browns. In other words, when luck is on their side, 8-8 is the best the Jets can do. The most heartwarming part of last season was when the team publicly decided to not fire the coach, even though that coach got an extension that isn't guaranteed past this season, which means he's still a lame duck, which means the Jets are in the exact same spot they were a year ago.
Your coach: Rex Ryan, who is terminally incapable of hiring a decent offensive coordinator (Marty Mornhinweg is the OC for the second straight season, a rare and completely unwelcome example of continuity at that post) or fielding a competent quarterback. It's baffling. How can he be so bad at finding offensive help? He's not like his old man, who intentionally belittled and injured his own offensive players because he was an idiot. Rex actually WANTS the offense to be good, and yet he fucks it up time and time again. I can't tell if it's his fault, or just the stink of the Jets crawling inside his brain and slowly eating away at it. Rex Ryan is a legitimately awesome dude who would be fun to pull for if he coached any other team, but the Jets do everything they can to suck the life right out of him. Case in point…
Your quarterback: Geno Smith, who became demonstrably worse as last season went on. After Week 6, Geno threw for six TDs and 13 INTs. How do you regress when you have no starting point to regress from? Only Geno Smith can pull that off.
To challenge Geno, the Jets brought in a bunch of TSA security guards. ZING. No, they brought in Michael Vick, who was destined to become a Jet at this point in his career. Now here's the fun part: The Jets have already anonymously complained about Vick not giving enough fucks to beat out Geno for the job. You're not supposed to start leaking shit like that until you start off 0-7. But the Jets, as always, aren't like other shitty teams. They waste NO time devolving into a complete mess. They drafted a quarterback, then threw that QB to the wolves, then brought in the one guy who didn't feel like challenging him, then cursed him out anonymously to the media. Somehow they have thrown two quarterbacks under the bus and the season hasn't even started yet. Only the Jets can do that.