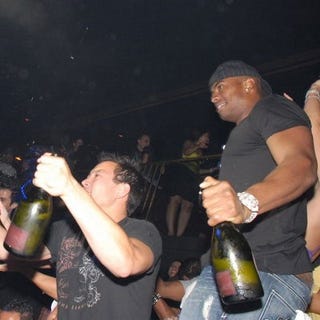 Okay, this makes absolutely no sense whatsoever, but it is "a statement" from Javon Walker about what he says happened during his infamous champagne-spraying night in Vegas. And which lucky media outlet gets the first quote from Walker? TheDirty.com, of course. Here's what Javon told the venerable +2 blog of record:
"I was just back at my room and at about 5:30 in the morning I got a knock at the door. I opened it and 3 guys with guns were there. They cracked me in the head a few times, knocking me unconscious. They then robbed me of everything I had; my watch, money, everything! Somehow they got me to a car and dropped me off in the street. That's what happened."
What's that smell? Did I just ride by an open pasture?
Regardless of what transpired that evening or how Walker ended up in this predicament, this statement is riddled with holes, which Florio pointed out in his item thanks to a little help from Jason Whitlock:
Also, and as our buddy Jason Whitlock has pointed out via e-mail since we initially posted this item, there are surveillance cameras everywhere in Vegas. So if Javon was staying at the swankiest hotel or at the Motel 6 at 707 Fremont Avenue, chances are that there's footage somewhere of the marauding gang of thugs who accosted Walker at his room and dragged his unconscious body to their car. The likely absence of such video evidence will blow his story out of the water.
To top it all off, the San Jose Mercury News' Tim Kawakami is already speculating that Walker could be one of Al Davis' greatest mistakes.
Can't wait to see how this plays out.
Exclusive: Javon Walker talks to The Dirty [TheDirty.com]
Raiders' Walker releases statement on robbery [AP]
Walker Speaks, Makes No Sense [PFT]