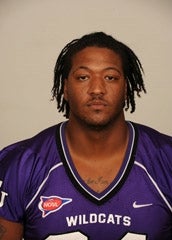 Tony Washington, an o-line prospect from Division II Abilene Christian, impressed at the NFL Combine. However, like many prospects before him, a crime committed in his teen years might derail him, only this one involves having sex with his sister.
SportsFanLive's Jenna Laine has the exclusive. It seems that Washington, now 24, is a registered sex offender in Texas, and according to Laine's sources, it's because he was convicted in May 2003 of having consensual sex with his 15-year-old sister. It's a sad story. A former coach says Washington comes from a "dysfunctional" home and that he "skipped a phase, so to speak, in his emotional development." Scouts seem to have some doubts about Washington. And I'll admit, this part does give me pause:
The sister does not wish to speak publicly on the case, according to Washington's agent, who added that the siblings are now on good terms.
Wasn't that the problem in the first place? Boom. Roasted.
Exclusive: Sex Offense Clouds NFL Draft Status Of Lineman Despite Strong Combine [Sports Fan Live]