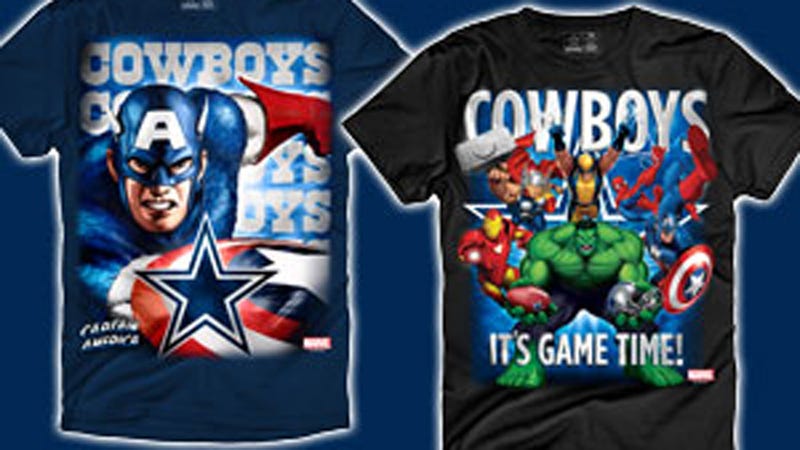 We saw yesterday that no lockout could thwart a spirited Cowboy staff game of beach football. Now we learn that Cowboys brass is still wheeling and dealing, signing a deal to co-brand some garish shirts with Marvel Entertainment, the kind of garment you expect to see on kids walking barefoot behind long-vacant K-Marts.
We'll quote from the press release, because it's not especially flattering to the Cowboys, or to this thing we have here that we call America:
Through an agreement that enables the Dallas Cowboys to license Marvel's Super Heroes, the team will develop co-branded merchandise featuring Captain America, Spider-Man, Iron Man, Thor, and many other Super Heroes decked out in Cowboys' team colors, logos and jerseys.

The Marvel/Dallas Cowboys collection for infants, kids, and adults will include t-shirts, sweatshirts, hoodies, caps and onesies. The line will debut this summer at mass, mid-tier and sporting goods retailers as well as at the Cowboys Stadium and Cowboys fan shops. Through their Dallas Cowboys Merchandising (DCM) arm, the Cowboys are the only major sporting team to design, manufacture, and distribute its own apparel and has an impressive 400,000 square foot facility which houses their corporate offices, distribution center and showrooms. The five-time Super Bowl champion Cowboys annually stand atop the NFL's team merchandise sales.
Any chance we could end this lockout soon, so that we might all go back to hating the Cowboys in peace?
Captain America's Team: Marvel Comics and Your Dallas Cowboys Join Forces. Again. [Dallas Observer]