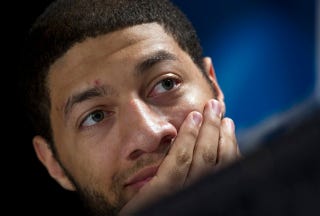 Indeed, as a mid-first round pick, there were high hopes that Royce White could ably compete in the NBA this season, despite the widespread acknowledgement and acceptance of the anxiety disorder that he has lived with for years. Now, the relationship between White and Rockets management has devolved into a series of back-and-forth accusations that appears far from finished.
In early October, White let it be known that he preferred to take a bus to Rockets road games, rather than have to confront his intense fear of flying. But apparently things haven't been kosher between White and the team for some time now, and when management tried to demote White to the D-League on Monday, he was unreachable, missing a game later that night as well as practice on Tuesday.
Here's the initial report from the Houston Chronicle's Jonathan Feigen:
Rockets owner Leslie Alexander, however, said there have been "internal repercussions which I'm not going to talk about."

More foreboding, Alexander's confidence in White's long-term prospects seemed shaken since his enthusiasm with White's potential during the summer league in Las Vegas.

"That's tenuous," Alexander said. "It's tough to talk about something like that. I think we're going to handle it internally. If he doesn't work out, well, it's tough to lose a draft choice."

...

[Kelvin] Sampson, serving as Rockets head coach with Kevin McHale on a leave of absence, directed questions to Rockets general manager Daryl Morey, but Morey did not respond to messages although issued this statement: "Royce is not available right now. We are committed to his long term success and we will continue to support him now and going forward."

"I'm not sure," Sampson said when asked why White did not attend practice. "I haven't talked to Daryl. I didn't realize he (White) wasn't here today until we got to practice. I'm not sure what's wrong right now. We talked to Scott and D-Mo last night. Royce wasn't at the game last night as far as I know."

White and his agent, Andrew Vye, did not return messages seeking comment.

Morey has often pointed out that White's anxiety issues had not caused him to miss games or practices at Iowa State. With the Rockets, however, he has already missed a week of training camp and several practices, though it was not clear if Tuesday's absence was related to his anxiety disorder.
On Tuesday night, as speculation began to grow about what was transpiring, White released a statement through his publicist, denying that the D-League demotion was the cause behind his absence:
In hindsight, perhaps it was not a good idea to be open and honest about my anxiety disorder, due to the current situations at hand that involve the nature of actions from the Houston Rockets. As a rookie, I want to settle into a team and make progress; but since preseason the Rockets have been inconsistent with their agreement to proactively create a healthy and successful relationship. At this point the Rockets are aware of my position and the reason for my absence. Any other response is inaccurate. This is important to me. It is a health issue. I must advocate for my rights. It is a player-commodity league. The failure to meet my requests for support will end with me being unhealthy and that is not a consequence that I am willing to accept to play any sport.
There's a lot more to come from this, but it's clear the Rockets are already posturing to cover their ass, disclosing that White has already missed several practices and kickstarting the narrative that he's become, at best, unreliable. At worst, there's an implication here that White's using his anxiety disorder as an excuse for avoiding demotion. White, for his part, has been quick and proactive (some would even argue he's been too vocal) to rebut the Rockets' claims and, instead, push the counter-narrative that the team has failed in its assurances to him.
White was extremely open about his anxiety disorder in the weeks leading up to the NBA Draft, and the Rockets knew exactly the player they were drafting, which presumes they would be equipped to accommodate whatever conditions White required to play at his best. There's little we can glean from the owner's cryptic comments, but it's clear that whether this relationship is reparable may hinge upon the actions (and attitude) of general manager Daryl Morey. How he proceeds from here is anyone's guess.