Towards the tail end of this past World Cup, more than a few readers emailed us looking for guidance on how to become a soccer fan. Never ones to disappoint our adoring readership, we've now obliged. Here's how we imagine that conversation would go.
Jokic? Embiid? The NBA MVP is obvious... right? | Keep it a Buck(et)
Hey guys, I really liked your soccer coverage during the World Cup, and I realized I actually like soccer now. But I need some help learning how to follow the sport. What say you?
Let me guess: you found yourself lounging around this summer, probably on school break, with your TV parked on ESPN per usual while you surfed the internet, and at some point you looked up and the shouting heads were gone. In their place was a bunch of grass and some miniature sprites skittering about while men with British accents narrated the proceedings.
Now, maybe you weren't planning on watching soccer. After all, you weren't a soccer fan, thinking of it more as an endurance contest than a real sport, filled with diminutive South Americans our football players could muscle to the ground with little more than a shrug of the shoulder.
G/O Media may get a commission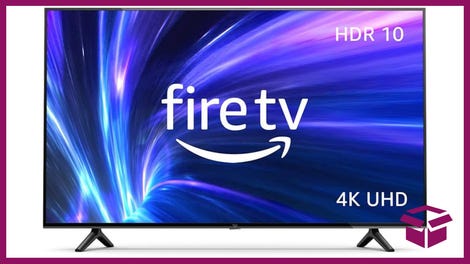 42% Off
Amazon Fire TV 50" 4K Smart TV
Instead of changing the channel, though, you stuck around, and you noticed something funny. Soccer was actually fucking awesome. The players may not have been as physically imposing as those in the NFL and NBA, but watching them dart their way past multiple defenders rivaled any stuttering crossover into the lane or shimmying of the shoulders that freezes a defensive back. The sport wasn't as high scoring as, say, basketball, but every time the ball even got close to a dangerous area you felt yourself creeping toward the edge of your couch, just waiting to explode should one of the attackers hoof the ball into the net. At every turn, what was supposedly so bad about soccer was exposed as a lie, and you now knew why the rest of the world loves this sport. You were hooked, and now you want more.
Well, some of your details are off there, but yeah, soccer is dope!
Yes, that's the important part.
So where do I go from here?
Straight to your TV, naturally. Soccer is basically a year-round sport, and things are already well underway—happily, all the big leagues are still very early in their seasons, so you haven't missed too much. Those leagues started up in late August, typically have the week's round of matches every Saturday and Sunday, and wrap up in mid-to-late May. At this point in the season, teams have only played about four or five of their nearly 40-game seasons. In NFL terms, we're basically heading into Week 3.
What you're going to want to do is latch on to either a team playing in one of the five best leagues in Europe, or just to one of the leagues.
Europe? Why not MLS?
Good one! As I was saying, the best soccer week in, week out is played in those top five leagues. They are: England's Premier League, Spain's La Liga, Germany's Bundesliga, Italy's Serie A, and France's Ligue 1.
Jesus, there are that many leagues?
You'll soon find out that the abundance of leagues makes things all the more exciting, since between the five there will be a handful of prime matchups every weekend. Think of it like college basketball, with each league as a different conference, each with its own comparative strengths, weaknesses, and stylistic nuances.
Like how?
England's Premier League is widely acknowledged as the world's best. That's because it has the most competitive title race, a very deep midtable, and even the dregs aren't as bad as what you'll find elsewhere. The play there is lightning quick, privileging brawn, high-end speed, quick passing, and immaculate first touch to parry an opponent's attack and get the ball to one of your guys, who can then capitalize on the space available and bomb towards goal.
More than anything, the Premier League is what it is because of money. Manchester United, Chelsea, Manchester City, Arsenal, Liverpool—these are some of the very richest sports teams in the world, and they all vie for the same title. Their battles are first fought in the transfer market, where each of those five clubs regularly lay out tens and even hundreds of millions of pounds trying to squeeze just a few more points out of their rivals. This means there are regularly at least five teams at the start of every season with a legitimate belief that this year is the one for their next league title.
Below that group, clubs like Everton, Tottenham Hotspur, and Newcastle (plus one or two ambitious sides with a little less money to fund their aspirations) earn and spend more money to improve their squads than all but the two or three richest clubs in any other country. These teams know that the title is outside of their grasp, but still fight to finish as high in the table as possible. As we'll point out later, there is more to play for in European soccer than just the championship.
And even outside of the top half of the table, the mediocre-to-bad teams can give the elites a run for their money any given Saturday. Put simply, England is where you want to watch if top to bottom competitiveness is your chief concern. If it's not every soccer fan's first favorite league, it's their second, so you might as well pay attention with the rest of us.
Spain's La Liga is the place the most technically gifted players in soccer go to express their talents. If the Premier League is the land of big-budget action flicks, La Liga leans more toward the art-house. Beauty is the currency of the realm, at times even more important than results. It's no wonder, then, that La Liga players are afforded more time and space on the ball to create their masterpieces than is granted in most of the other top leagues.
La Liga is home to Barcelona and Real Madrid, a top two unmatched even in the Premier League for consistent greatness. Those are the cities where Lionel Messi, Cristiano Ronaldo, Neymar, Andrés Iniesta, Gareth Bale, and many more of the world's most exciting players ply their trade. The third- or fourth-best player on either team would arguably be the best player in the entire league anywhere else.
Outside the top two, there are four or five teams that play very attractive soccer with some of the young superstars of tomorrow, but towards the lower half of the table the league's lack of depth is exposed. Follow this league if you want the biggest names, the prettiest soccer, and a glimpse of the next generation as it develops. But if you think you'd be put off by watching Real Madrid and Barcelona absolutely hammer the vast majority of teams 10-20 in the table, you might want to look elsewhere.
Germany's Bundesliga is closer to the Premier League in terms of physicality and speed, but also features more of the technical prowess abundant in Spain. You could argue that German soccer combines the best of both worlds, and point to the German national team, with its unrivaled combination of athleticism and flair, as strong evidence. The Bundesliga's midtable is the single best in the world, and there is more parity in the top half of this league than anywhere else in the world. It's virtually impossible to accurately predict how the top of the league will shake out every season. Not only that, the bottom few teams are competitive as well.
The one downside, if you can call it that, is that you know who will win the league for the foreseeable future. Bayern Munich has been the best team on the planet for a couple of years now, and no one can touch them. Only a couple years back, this wasn't necessarily true; Bayern's chief rival, Borussia Dortmund, managed to scrape by with savvy player additions and an eccentric genius for a manager, Jürgen Klopp. They actually won the league back to back years in 2010-11 and 2011-12, and met Bayern in the 2013-14 Champions League final. Alas, since Bayern have now snatched away two of Dortmund's three best players, this is no longer really the case.
I should note here that the next two leagues in what's considered the Big 5 are a noticeable drop in quality from the above three. The Italian and French leagues are good, don't get me wrong; they just aren't as deep in quality as the others. The biggest reason to throw yourself into one of those leagues is if you are an Italo- or Francophile.
With that being said, Italy's Serie A is the next best league to become a fan of. They have one of the world's traditional powers (Juventus), a couple of big teams that are almost always really good (Inter and AC Milan), and then a few more that are fun to root for, especially if you've visited the city, and every now and then can challenge the top three (Roma, Lazio, Fiorentina, Napoli). Outside of those teams and maybe a couple more any given season, there's not much else here.
The appeal of France's Ligue 1 is almost completely attributable to Francophilia. There is one team—the nouveau riche PSG, which has in the past couple years tried to buy up every single great player on the market, and more often than not succeeded—that you can count on to deliver greatness, and even they can't be trusted to show up for every match. This is because the hallmark of Ligue 1's play is their lack of effort. I don't remember where, but I once heard an interesting explanation for France's disinterest in the kind of strenuous effort common in soccer: the French, it was claimed, feel innate talent should be good enough to see you to victory, and that trying too much is a sign that you aren't good enough to roulette your way all the way to the goal. Still, PSG are amazing, teams like Marseille are regularly underrated, and there's a reason so many people love the country.
Well I want to watch the best, so I'll probably be picking the Premier League.
Again, it's not that simple, but that's as safe a choice as you could make. The Prem is so good because it has so much money, and it has so much money because everyone around the world watches it anyway. If you want to be a soccer fan, you're pretty much obligated to watch the Premier League.
Sweet, so how do I watch?
You are in luck! The EPL is easily the easiest league for the typical American fan to follow, in large part because of the league's US TV rights holder, NBC. NBC Sports, the channel that shows the games on TV, is probably already included in your cable package. If that's the case, you also have access to their awesome streaming service, available both on your computer and your phone (and on demand, to boot).
The EPL is also has the most regimented scheduling. Games are usually played on Saturday and Sunday, though once every month or so there's a round of fixtures on Wednesday and Thursday. On Saturday, there's usually one match on at 7:45 a.m. (all times EST, so adjust accordingly). A couple hours later, at 10 a.m., the bulk of the league's teams play. To cap that glut of games, the final match of the day starts at 12:30. They usually try to schedule one of the better match-ups of the week for that late game. Sunday has fewer games. There's an early match at 8:30, then one or two more at 11.
It's a piece of cake, really. Pretty soon you'll be automatically waking up at eight in the morning on Saturdays to watch the early game on your phone in bed, grabbing your laptop and making it over to the couch by 10 to turn the TV to one game while another streams in your lap, then hitting up the local soccer bar for some day drinking when the 12:30 game starts. Few things in life are better than the Soccer Saturday.
By the way, in case you change your mind and decide to follow one of the other leagues, here's how you watch them: the rights to La Liga, Ligue 1, and Serie A are all owned by beIN Sports, a channel you possibly already get if you have your cable provider's sports package. (If so, you can watch online via BeinSportsConnect.tv.) Like most of the soccer world, the bulk of these leagues' matches are concentrated on Saturday and Sunday, but the time slots aren't as regimented, and there are more midweek games.
The Bundesliga's rights are a little more tricky, as they are in the last year of their contract with Gol TV, a channel practically no service provider carries. (There are ways to stream, though.) The Bundesliga's rights will switch to Fox Sports next season, so hope for easy viewing on that front isn't too far away. They also are Saturday-Sunday primarily, and 9:30 am is their equivalent to the EPL's 10 am or the NFL's 1 pm.
Sounds good. Uh, who do I root for though?
That's an age old question with no easy answer. The easiest way to pick is to follow one/some of your favorite players from the World Cup. That's what I did. While watching damn near every minute of the 2006 World Cup—my first exposure to world-class soccer—a diminutive, teenaged sensation named Lionel Messi would come into games in the late stages as a sub and completely transform them. Watching him and the others in Germany that summer is what made me a soccer fan, and it's also what brought me to Barcelona.
There are a few options to follow after this season. You have James Rodríguez, who was hands down the breakout player from this summer. He now plays in Spain for Real Madrid, the most famous club in the world, home to fellow superstars Cristiano Ronaldo and Gareth Bale. It might be a match made in heaven, or an absolute disaster, but it's guaranteed to be fascinating.
Maybe it was Germany's goal-scoring, oft-screaming, doesn't-look-like-a-pro-athlete Thomas Müller who caught your imagination? In that case, he plays a key role for Bayern Munich.
Maybe that sprawling header by Robin van Persie inspired you to see what other kind goals he's capable of! If so, and you have a bit of a masochistic bent, Manchester United is the one for you. There are dozens of other players you could've fallen for. Just look up which team he plays for.
But what if I didn't have a favorite player?
Hmm. Did you at least have a favorite team? If you liked Chile running teams ragged on defense and transitioning almost immediately into attack, you might like Atlético Madrid. If you liked watching France pile on the goals against the little teams, then capitulating with curious ease when it mattered, you might not know it, but you're already an Arsenal fan. If you appreciated the good Brazil's defensive solidity coupled with some of the best attackers in the world, Chelsea are basically a better version of that same idea.
If none of that pointed you to an obvious club to support, my last suggestion is to watch the games without rooting for one team. Soccer leagues are a bit like the NFL; your team usually only plays once a week, so you end up spending most of your time watching the big games of the weekend anyway. It's easier to take time to scout a few teams you think might be a fit and see if any of them grab you. And not supporting a specific team isn't so bad a fate. I don't have an EPL team and it's still the league I watch the most of.
Got it. Next: how do I sound like I know what I'm talking about?
You mean learning about the actual sport? Yeah, you should probably do that. A good primer is just to Wiki-hop from team to player to stadium to club president and beyond. It's probably not a surprise that the Wikipedia entries on all kinds of the sport's historical minutiae are very, very detailed.
If you like your sources a little more authoritative, there are many great books about soccer. Try David Goldblatt's The Ball Is Round if you're interested in a comprehensive global history, or Jonathan Wilson's Inverting the Pyramid if you'd like to know about the evolution of strategy and tactics; they're both gripping, and neither requires any real knowledge of the game.
You'll also need a way to keep up with the day to day happenings. The quick and dirty way is to check out ESPNFC, the Worldwide Leader's effort at distilling the worldwide game on one front page. Some of the smartest soccer people from all over the world, like Gabriele Marcotti, Sid Lowe, Raphael Honigstein, and Michael Cox all contribute to the site. Most of the important news of the day will make it on there. They also have a fairly useful score tracking bar at the top to see what's happening at a glance. Also, if you already have the ESPN app on your phone, it's easy to set up all the leagues you follow from there.
If you have a bit of a sabermetric bent, sites like WhoScored, Squawka, and FourFourTwo offer great, incredibly detailed statistical breakdowns and analysis for every match in every big league. A site like Stats Bomb does even more interesting work, taking the numbers from the above sites and using them to try to suss out why things happen and what we should expect going forward.
Spend some time on those sites and Twitter pages and you'll get a good idea about what you should be looking for both on the pitch and in the stats sheet.
OK, I think I know which leagues to watch, which team to follow, and who's opinion to parrot at the local pub. Thanks for your help, I'm gonna go get to watching some soccer!
Whoa there, we still have some more to cover.
Like what?
For one, the different national leagues are only one component of the soccer year. You're already familiar with the international scene from the World Cup (though even internationals are year round, with scheduled breaks in the calendar so that players are free to join their national teams for games, some meaningful, some not), but it's the continental competition that really matters.
I get national leagues and international play, but what's this continental stuff?
In Europe, the one trophy to rule them all is the European Cup, bestowed up the winner of the Champions League. This tournament takes the best teams from each participating country's best league and pits them against each other in a three-stage contest to determine who's the best on the continent. (The other continents have their own versions, by the way; it's just that Europe's is the best since it is home to the best teams.)
Depending on the results of a given country's teams in past editions, each domestic league is allotted a certain number of spots to qualify for the Champions League. For instance, England and Spain have four spots in the tournament, given to the teams that finish in the top four of the league table. The top three go straight to the second phase of the competition, the group stage, while the fourth-placed finisher has to play a home-and-home series against another team to determine who makes it into the group stage. The lesser leagues around the continent all have fewer guaranteed spots, and often require even their national Champion to compete in a series of playoffs to make it into the group stage.
Once the contestants in the group stage are determined, UEFA (the body that organizes the Champions League) draws the remaining 32 teams into eight groups of four teams. Those four teams each play their group-mates twice—once at home and once away. The results are tallied exactly like every other table in soccer, and the two teams with the most points progress to the final stage: the knockout rounds.
The knockout rounds are again home-and-home playoffs. The team with the most points after both legs moves on. The final is played on a neutral field and is only one game.
So, it's like Europe's answer to America's playoff system?
That's a good way of thinking of it, for a couple reasons. One, because it features the kind of short-series and single-elimination games of the American playoff system. When stupid soccer haters try to put down the sport by saying it lacks playoffs, just point to the Champions League.
It also incentivizes teams in the big leagues to keep pushing on through to the end of their domestic seasons, even if they're out of title contention. Think of finishing in the top four in England or the top three in Italy and subsequently earning a spot in the next season's Champions League as locking up a playoff berth. As long as you make it to the dance, who knows how far you can go?
Why is it so important?
For a number of reasons. Of the sporting variety, it is the single most difficult competition to win. Like anyone familiar with the playoff system knows, head-to-head series aren't always the best determiners of superiority. The Champions League is more like the NBA Playoffs though, where the best teams tend to prevail more often than not. Plus, proving your dominance over such a harrowing stretch of elimination rounds is incredibly rewarding. By beating the best teams in Europe, which employ most of the best players in the world, the Champions League winner can rightly claim to have ascended to their sport's apex that season.
And then there is the baser motivation: money. The teams that make the Champions League group stage stand to rake in €8.6 million off top, and the prize money only grows from there. On top of that, there is even more money in TV rights, which is doled out in percentages to each league's participants depending on how well they perform. Add in the fact that the best players on the planet want to be playing in the planet's best competition, and will demand to leave teams that don't regularly qualify for said tournament, and you can see how most of the biggest stories every year in one way or another can be attributed to the Champions League.
In terms of watching the Champions League, its US rights are held by Fox Sports, so the biggest games are usually available both on cable and online to those with access to Fox Sports 1.
Damn, that's a ton of stuff to watch.
Yep, and you also have each country's national cup. In England it's the FA Cup, in Spain it's the Copa del Rey, German teams play for the DFB-Pokal, Italy's version is the Coppa Italia, and France's is the Coupe de France. These cups are unique in that they pit teams from all (or most) divisions in the country's soccer pyramid, meaning some third tier English club will get a shot to knock off Liverpool on their way to winning the whole thing.
(A note on the soccer pyramid: European soccer doesn't work on the American franchise model of sports leagues. Instead, the governing body of each country at one point drew up a sprawling, interconnected pyramid of leagues. At the bottom are small regional teams that play in regional leagues. Each level up the pyramid is a draws its teams from a wider geographic area with a smaller number of generally better teams. To keep competition at its highest, each tier promotes some number of teams at the top of the tier to the next higher one, while also demoting or relegating a number of teams at the tier's bottom to the one below. This means that, at least theoretically, an amateur club you started with your friends could win league after league after league to eventually compete in the Premier League, and an EPL team could lose league after league after league and eventually wind up in the Ismithian League, trying to best the other 71 teams split between three divisions to start the slow climb back up. Competitions like the League and FA Cups pit teams from disparate leagues against each other, resulting in either business as usual or mass hilarity.)
Usually, though, the big country's bigger teams tend to dominate. Since they face so many Little Sisters of the Poor, the big boys generally don't play their regular starters until the later rounds. And anyway, a loss isn't too humiliating, as in every case the national cup is a fairly distant third—though still regarded with some prestige, as Arsenal fans will attest—in the trophy hierarchy.
Still, man. This is overwhelming. Why should I invest all of that in soccer?
Because of what you saw. Every sport has its unique expressions of physical genius, be it Yasiel Puig whirling around the outfield like it was a child's sandbox, or Stephen Curry effortlessly flicking in threes from places on the court where most point guards wouldn't even have started setting up the offense yet, or the clock-like synchronicity with which 11 Seahawks, all different sizes of huge, orchestrate a perfect play. Just like there's no equivalent in any other sport to those feats, there's no equivalent to James Rodríguez chesting down, swiveling around, and chipping in a soccer ball with an absurd economy of movements, or Xherdan Shaqiri using his trunk-like legs and a waving arm to fight off a defender, shuffle across the field, then crack a shot into the one place the goal keeper couldn't stop it from scoring.
Soccer isn't objectively the best sport—no sport can claim that—but it does offer thrills unlike any other. So worry less about how you're watching and just watch.
Photo Credit: Getty