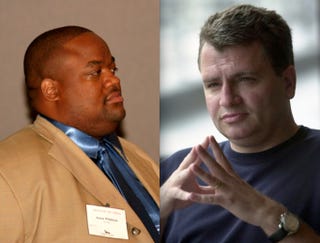 It's the media subregional! It is worth noting that the only two media folk to make the SHOTY final eight are both former ESPN employees. Well, then, the decks must be swabbed shiny clean over there then.
As always, it is not about the destination but the journey.
No. 4 Jay Mariotti
Bounty hunted.
Missed my bachelor party.
Arrested and charged with improper instigation of schadenfreude.
Freed on bail.
Ripped, grabbed.
Suspended. (And fired, really.)
Defended by quarterfinal opponent.
Inducted into Deadspin Hall of Fame.
Pled no contest.
Quit Twitter.