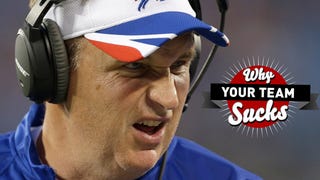 Some people are fans of the Buffalo Bills. But many, many more people are NOT fans of the Buffalo Bills. This 2014 Deadspin NFL team preview is for those in the latter group.
Your team: Buffalo Bills.
Your 2013 record: 6-10. Was it Tuel time last season? You're goddamn right it was. I want there to be an '80s cock rock band named TUEL so badly, I can taste it. Also, this happened: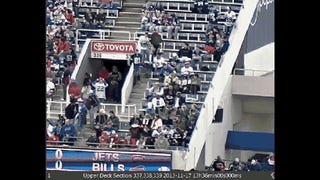 This was pretty much the next logical step for these fans, given what goes on in the Bills stadium tailgating lot. Unlike other teams, the Bills don't simply hurt you emotionally. You really do get maimed or killed if you enter the stadium. They should have a yellow warning sign in the concourse that says DANGER: FALLING DRUNK PEOPLE.
The other notable thing that happened last season is that one fan blew another fan for a Kiko Alonso jersey. THAT'S GREAT HUSTLE! Kiko Alonso is currently on the PUP list and not expected to play this season. Also, this:
Your coach: Doug Marrone, who has cancer! No wait, that was a typo. Marrone isn't happy with the Bills current backup-quarterback situation. If only there were a long stretch of time in which no football is played, and you could sign AGENTS who are FREE to sign with other teams, in order for you to secure a decent backup. An OFFseason. Yes, that's it! That sure would come in handy! Marrone also got pissy with Sammy Watkins for talking candidly about his injuries. Congratulations, Buffalo. You get all the paranoia of Sean Payton with none of the playcalling acumen.
Your quarterback: EJ Manuel, who missed six games last season due to various injuries. Good thing the Bills sorted out that backup-QB situation. Maybe they can call up Kevin Kolb and have him boat into practice while shitfaced.
What's new that sucks: Ralph Wilson died. You should have seen all the people praying for his death in last year's installment of this series. Now, don't you people feel shame? Anyway, now that the old man is gone, the Bills can go about the process of fumigating the joint, selling off the Wilson's prized collection of antique nightstands, and organizing a proper sale of the team. Of course, these are the Bills, so that process instantly became a county-fair raffle featuring the likes of Donald Trump and Jon Bon Jovi, whose sole qualification to be an NFL owner is that he is bros with Robert Kraft. Bon Jovi's bid was too low for the NFL. That's right: The Bills got lowballed by Jon Bon Jovi. They couldn't even get Bruce Springsteen to bid on this team. They had to get Springsteen's private-label equivalent. I would have enjoyed Bon Jovi acquiring the team and then the Patriots using the Bills as their own personal munitions supply. May as well have made it official.
The sale has been such a clusterfuck that no bidder offered more than a billion dollars for the team. This is an NFL franchise, mind you. It could be located in Fairbanks and still rake in hundreds of millions of dollars in revenue. The Clippers just sold for $2 billion. THE CLIPPERS! But here are the Bills, so sad and helpless that they can't even fetch half that price. The league may have to start the process all over again. "If we just add marble countertops to the kitchen and redo the hardwood floors, we'll be able to sell it for DOUBLE the asking price!" They should sell the team on Craigslist. I just imagine people going by the listing and being like, "Christ, that's STILL on the market?" It's like trying to sell a house someone OD'd in. Even Donte Hitler is trolling Bills fans now:
The Bills also traded their first-rounder next season (oof, outsmarted by Cleveland) to move up in the draft and pick Sammy Watkins. They have publicly stated they would have picked Watkins No. 1 overall, because apparently the Bills are the only franchise that hasn't learned about building a roster from the middle and then out. It's one thing to mortgage your future when you're the Falcons, and you want Julio Jones around to help out Matt Ryan. But the Bills don't have Matt Ryan. They have the black Jake Locker. They can't even keep Watkins healthy, and the season hasn't started yet. Everyone is fighting. What is this team doing? Is there any plan at all? Will any fan be sober enough to notice? (No.)
There was only one piece of good news from the Bills offseason and that is that Jim Kelly says he is now cancer-free. I flipped on SportsCenter a while back and they showed Kelly in a hospital bed with his wife, and that Sam Smith song was playing, and I had to turn the channel instantly or else I would have died from sadness. It's like the Bills are trying to be a Nicholas Sparks novel at all times.
Also, talented defensive back Jairus Byrd is gone, as is Stevie Johnson. I think it's safe to say that Bills fans are glad they don't have to sit around hating Stevie Johnson's guts anymore.
What has always sucked: This is the outlet-store NFL team. Everything on display is discounted and/or blemished. Here's a used Brandon Spikes! And a Mike Williams refurb! Would you like the floor model of Mario Williams? We can give you that! You'll get used to owning a quarterback born without legs! THESE ARE ALL GREAT VALUES.
This was a team left to rot as Wilson grew older, and you can see it in both the roster and the fanbase. I can barely tell the difference between a Bills tailgate and a 1970s Manchester coal-plant union protest. There is decay and unhappiness pretty much everywhere you look. The team even issued instructions for cheerleader vagina maintenance, because I guess that's a genuine health issue in the Buffalo area. Sammy Watkins may crack 50 ribs this season, but the Bills will be damned if they let any vaginas smell up the joint.