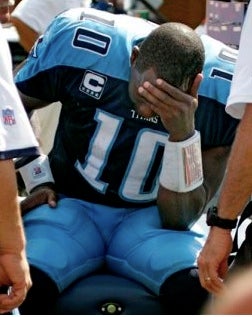 Although Vince Young schizophrenically told Esquire he'd be enshrined in the Hall of Fame and the next black quarterback to win a Super Bowl, it appears only his mother and the voices inside his head believe him.
Dallas Morning News columnist Jean-Jacques Taylor was one of those awestruck by Young when he dominated the college game as UT's quarterback but he's now convinced that that VY's glory days have passed him by in the blink of a young shirtless brother's eye.
For back up, Taylor used Roy Williams' body language:
Roy Williams needed nearly 10 seconds to figure out a way to describe his former teammate's career.

First, Williams smiled. Then he paused. Then he shrugged. Then he looked upward.

Then he smiled awkwardly. Again.

Finally, Williams spoke.

"I wish the best of luck to the guy," he said. "We all know he can play and we all know the things he can do when his head is on right."
Yes. When Vince Young's head is on right, he can pick apart Tampa Bay's second-string defense.