We wrote a lot of long stories this year that you probably didn't have time to read. Now is your chance to get caught up.
Barefoot and frightened, Nicole Holder walked as fast as she could through the darkness, and the moment she saw the cops she ran. She headed west on Fifth Street toward North Church, away from the Charlotte., N.C., apartment of Greg Hardy, a star defensive end then with the NFL's Carolina Panthers. Minutes earlier he had, she said, thrown her against a tile bathtub wall, tossed her on a futon covered in assault rifles, and choked her until she told him to "kill me so I don't have to."
---
G/O Media may get a commission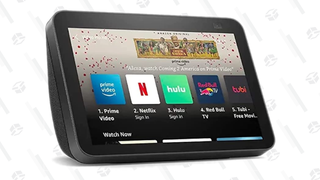 When the Miami Marlins sent Marcell Ozuna to the minors on July 5, there was more in play than just giving the slumping third-year outfielder a chance "to get his rhythm back," as Ozuna's agent Scott Boras said he was told. Whether Ozuna becomes eligible for arbitration after this season or next depends on how much MLB service time he's accrued. A minor-league stint of any longer than about five weeks would have saved the Marlins money—and cost Ozuna and Boras. Ozuna stayed down for six weeks.
---
You've seen a painting of Norbert Grupe. A heavy, creased brow and shoulder-length hair framing a frightening scowl, the massive work hung in the fictional Manhattan Museum of Art in Ghostbusters II. When the medieval sorcerer pictured within the painting begins to physically manifest, it is on the Ghostbusters to rally the city's positive emotions and trap him back in the painting forever. Most people will only ever know Norbert Grupe as Vigo the Carpathian. But Norbert Grupe—a Nazi soldier's son, boxer, professional wrestler, failed actor, criminal, and miserable human being who was never so happy as when he could make someone hate him—was once a man so beautiful that other men wanted to paint him.
---
My name is Mouse. For years I've been smaller than everybody else my age. I'm 17 years old, 4-foot-9, and I weigh 60 pounds. My pediatrician, Dr. Glenn, says I'll never get much larger. My size is the reason guys at school call me Mouse. That and the fact I have stand-up-high ears and a small nervous mouth that sits way back behind my too-big nose.
---
Bronson Arroyo was in some small town near Los Angeles, the name of which he doesn't remember, and he was thinking about getting old. He and a friend had stopped at a diner to get a bite to eat, and he couldn't help but notice all of the old men seated around them. He recalls this moment a few weeks later, standing in his kitchen on a hot September afternoon. He remembers taking the old men in, and then turning to his friend to say, "It doesn't matter what we do—it doesn't matter what we do—we're gonna look like that."
---
On the same day a federal judge approved a billion-dollar settlement in the NFL concussion litigation, Rickie Harris told me a story I'd wanted to hear for a long time. It's a legend from his days with the Florida Blazers, possibly the worst-managed franchise in professional sports history.
---
When Mark Gambardella learned last week that Jericho Scott, one of his PONY league baseball players, had died—that the 16-year-old had been shot two doors down from his family's home—the coach wept. Then he headed to the Dom Aitro Field in New Haven, Conn. It was Sunday morning, and one of Gambardella's younger teams had already started to play. He pulled aside the kid who was wearing the number 12, Jericho's number, and asked for his jersey. Gambardella hung it on the park's fence, next to the concession stand, and added a cardboard sign: "Jericho Scott, August 27, 1998, to April 19, 2015. God must have needed a pitcher and shortstop."
---
Protect yourself at all times.

—Anybody who knows shit about boxing
---
Just more than 24 hours ahead of their Memorial Day fight this year, UFC middleweight champion Chris Weidman stepped up to his opponent, Vitor Belfort, in public, ready to accuse him of cheating.
---
The Mekons aren't a band in any normal sense, may not exist, and can be accurately described only by using the sort of superlatives that would make most normal people throw up their hands in skeptical exasperation, all of which makes them a problem for those who love them. After all, I can tell you that at their best, they're as good as your favorite band, that they could change the way you feel about things that matter to you, and/or that they offer solutions to some of the more serious internal conflicts felt by any ordinary citizen living under late capitalism—all (maybe) true!—but there's no real reason for me to expect you to believe any of it, and in fact you probably won't. With nearly everything ever written or recorded now instantly available to nearly everyone, it's very easy to assume that everything that deserves to succeed either already has or is in the process of doing so, and so that failure, of whatever kind, is deserved. If the Mekons were what you claim they are, in other words, everyone would already know and acknowledge it. That they don't is proof you're wrong.
---
Even before the World Series got under way Wednesday, it was shudderingly clear that one result was as predictable as bunting on the commissioner's box: Millions of television and radio listeners, whose eardrums may have healed in the year since the Cardinals-Red Sox Series, are once again going to be exposed to a feverish clamor coming from a Cardinals delegate to the NBC broadcasting team. It was equally certain that across America the baseball public would then divide into two camps—those who exclaimed that by God! Harry Caray was almost as exciting as being at the park, and those who prayed he would be silenced by an immediate attack of laryngitis. Caray, should you be among the few who still have not heard him, is an announcer who can be heard shrieking above the roar of the crowd when a hitter puts the ultimate in wood to the ball: "There she goes...! Line drive...! It might be...it could be...it is! Home run...! Ho-lee cow!" You may not know that with a second home run his more dignified colleagues have preferred to flee the broadcasting booth before the ball has cleared the fence.
---
"Down in Los Angeles," says Garry Schumacher, who was a New York baseball writer for 30 years and is now assistant to Horace Stoneham, president of the San Francisco Giants, "they think Duke Snider is the best center fielder the Dodgers ever had. They forget Pete Reiser. The Yankees think Mickey Mantle is something new. They forget Reiser, too."
---
The Cricket World Cup begins this weekend in Australia, and the rest of the globe will be paying attention as India defends its title in what should be the biggest sporting event of 2015. Domestically? We can expect, well, crickets.
---
Jesus Christ, the music industry won't stop trying to make this dude happen. Not only do they let him leech off actually successful and talented acts, they even deny the obvious order of things (Young Thug >>>>>>> Travis Scott, under any criteria imaginable) in promoting a new co-headlining tour as "Travis Scott and Young Thug: The Rodeo Tour." Uh, excuse me if this is stating the obvious, but doesn't everyone know that he's a shameless biter?
---
Deion Sanders knows better than most that there's power in a nickname. When he was still just a skinny cornerback at Florida State University, he dubbed himself "Prime Time" and birthed an alter ego that would earn him fame, riches, and a place in the pantheon of the 20th century's greatest athletes, not to mention greatest egos. Yet for Sanders today, nicknames are more a matter of convenience than a conscious act of branding.
---
THE COACH: Why should I win? Why should I feel fine tonight? Why should my friends and the ones who think they're my friends stand out there pretending to wait for the traffic to thin when they're really waiting to pump my hand because it says 65 under Home and 60 under Visitors?
---
As long ago as it now seems, it was only this past July when Roger Goodell decided to suspend Ray Rice for two games after the Baltimore Ravens running back cold-cocked his future wife in an Atlantic City casino elevator. There was outrage, but not enough to change the NFL commissioner's mind. He needed to see the hit happen—and he did, along with the rest of America, when TMZ got the footage. And just like that, as the image of a woman crumpling to the ground played over and over in living rooms and on laptops, the NFL's man of Teflon briefly seemed vulnerable. His next moves were bold: getting Rice as far away from the game as possible while pledging to have the NFL "do more" on domestic violence.
---
Patrick Reed: Twenty-four years old, built like Babe Ruth—short, heavy, barrel-chested, with a build that makes you think "stocky" and "powerful" rather than "fat"—quick to anger even by pro golf standards, and a born winner.
---
He steers the van over the rolling folds of county Route 579, a two-lane road flanked by fields once neatly tilled and sown, now increasingly given over to development. But the landscape still carries the flavor of open country in the deep dead of night. His headlights find the sign for Woolf Road, and he turns down a curving, narrow lane; here the trees lean in close on both sides. A half mile later, he takes another left and creeps down a blind driveway, curling right, until his beams alight on an incongruous sight in the wooded blackness: two ornate white gates. Sculpted lions perch atop the columns that anchor them. The letter J is patterned into the gate on the left, a W into the other. Between the gates stands a brick wall. Set into the brick is a plaque. From a distance, it looks like a Hall of Fame plaque, Cooperstown bronze, but this plaque is slightly different. It depicts a man's head and shrugging shoulders, his hands held out, palms up, as if to say, Who knew? And these are the very words printed below:Who Knew? Estates.
---
The man who took one of the most famous photos in Olympic history wasn't a professional photographer. Tony Duffy was on vacation at the 1968 Olympics in Mexico City, and with nothing more than an amateur's bravado, he casually wandered into the Athletes' Village—which should have been off limits to him—and first heard the name of the man who'd make his career.
---
The Naismith Memorial Basketball Hall of Fame is the most idiosyncratic of the major sports halls of fame, in part because its mission is to celebrate the game of basketball in its many incarnations, as opposed to just the NBA. That independent spirit is readily apparent this weekend, when Springfield welcomes its 2015 class of players, coaches, and referees. Among the inductees are "Little Louie" Dampier, a star guard from the ABA, and big man Spencer Haywood, whose accomplishments off the court often overshadowed his remarkable career on it. Lisa Leslie joins a lengthy list of women inductees.
---
It definitely ain't over 'til it's over. The 116-win 2001 Seattle Mariners were one of the greatest teams, in any sport, to not win a championship. Led by Lou Piniella, the team was built for success: they boasted great pitching, an impeccable knack for getting on base (their .360 OBP was the highest in the majors), a historically good defense, and absolutely dominated the American League. Yet on Aug. 5, 2001—14 years ago today—they lost a game that should have been impossible to lose.
---
BERLIN – Let me say something obvious: fighting someone is exhausting. The switch—or whatever you want to call it—that flips when the lizard part of your brain tells the rest of you to hold off on metabolizing or thinking is inescapable. When you're a novice fighter like me, the only thing you can think about is hitting and then, very quickly after the first time you get cracked in the nose or temple, not getting hit. I found out that self-possession is a cornerstone of boxing. The best guys are the ones who can delay that switch from taking over. Panic will drain you and then kill you. And I panicked a lot.
---
In May I was at a bar in Portland, Ore., with two of my brothers, watching the U.S. women's national soccer team play the first of a series of pre-World Cup tune-ups. At first, we were the only people there—it was Mother's Day, around brunchtime. A little after halftime, an older couple sat down at the other end of the bar. They weren't there for the game, but soon they were drawn in, perhaps because the three of us were shouting at the screen.
---
THIMPHU, Bhutan – Six to zero. 6-0. The final score of the June 16 China-Bhutan World Cup qualifier was six to freaking zero in favor of the Chinese. And do you know what the Bhutanese fans did after the game? They sang to the players. They cheered. They screamed with absolute joy when the keeper, Hari Gurung, unofficial Man of the Match, left the stadium. They poured into the streets after the game, not to burn Thimphu to the ground, but to celebrate.
---
It was arguably the biggest moment in the history of American women's sports, and the single most memorable and reproduced image of the celebration. Brandi Chastain had just converted the penalty kick that cemented the 1999 Women's World Cup for the United States over China. She then experienced a fit of irrational and spontaneous exuberance: perched on her knees on the turf of the Rose Bowl, the white jersey that she'd whipped off her torso clenched in one hand, screaming to the heavens as over 90,000 fans (including President Bill Clinton and, um, me) roared their approval and her teammates and coaches raced to embrace her.
---
Everyone knows someone who's run the marathon. Today's big-city races—in places like Boston, New York, Berlin, and London—draw Olympic hopefuls competing for hundreds of thousands of dollars and hordes of weekend warriors raising money for their favorite charities or just hoping to check off "complete a marathon" on their bucket lists. Marathoning has birthed an industry of energy supplements and performance gear, training manuals and glossy magazines, corporate sponsorships and fitness expos. And nearly half of marathon entrants are women.
---
More winter Friday nights than not through my first few years of high school, I was in my usual seat at the local arena, three or four rows up behind the home team's bench. On the ice, the Ontario Hockey League's Ottawa 67's, a group of—boys, really, aged 16 to 20. A handful of them would go on to be drafted by NHL teams; one or two would actually make it. But for most, this would be the end of the line.
---
It was almost endearing how an ink-smudged, deadline-addicted newspaper editor of yore would squint through the smoke from his cigarette and ask a bright young man why the hell he wanted to write sports. An editor like that was usually about as sensitive as a bolt cutter, but he couldn't resist the urge to protect someone he considered so misguided. The sports page was no place for serious acts of journalism, not in the eyes of a hard case who had come up covering crime or politics or some combination of the two when greed almost inevitably trumped campaign promises. Mention sports to an editor like that and his mind automatically went to the hacks who littered their game stories with clichés and bromides while their bosses were too busy taking bribes from wrestling promoters to insist even on semi-literacy.
---
The brands have spoken, and they want you to know that domestic violence and sexual assault are bad. In fact, the brands not only think they're bad, but have a theory as to why they persist: the issues of domestic violence and sexual assault don't have a strong enough brand. So, to help get America talking about these issues, the brands created a brand, and partnered with other brands to promote this brand. And this is how No More—a more or less imaginary brand made by brands to help domestic violence and sexual assault with their brand problem—came to be.
---
There is a photograph of a pile of pink and white paper hearts atop Mandi Koba's Facebook page. She cut the hearts out of hard copies of a 1996 police report from Phoenix, Ariz. The cops, according to the vintage report used in the arts and crafts project, were investigating "a celebrity involved in a reported child molestation."
---
Last week, the Daily Mail ran a story about a financier who had given up big-game hunting for conservation.
---
Anybody afraid of law enforcement should stay out of Northern Virginia for the next few weeks. And anybody familiar with the police in Northern Virginia should be afraid.
---
The 19-year-old male died of an apparent heart attack at work. His work was fucking.
---
The African American Mayors Association, led by Kevin Johnson, opens its annual meeting today in Washington, D.C. The former NBA star and current mayor of Sacramento has been the president of the association since its founding in 2013—when, as president of the Atlanta-based National Conference of Black Mayors, he declared the older group bankrupt and resigned from it.
---
A couple of weeks ago, a group called the Elephant Protection Association (EPA) sent an email to a Maryland woman with elephant-hugging tendencies after she'd registered for membership online. There was an important measure coming before the General Assembly in Annapolis, HB713, which would restrict the sale of ivory in the state, and the EPA wanted its members to be ready for its March 4 hearing.
---
At approximately 8:35 p.m. on July 24, 2012, the police in Baltimore County, Md., received a 911 call regarding a suspicious car. A local couple had spotted a silver sedan parked in a pull-off area of some property they owned by the intersection of Ebenezer Road and Pulaski Highway, near White Marsh. According to the police account, the callers saw a man walking outside the car and an older woman in the backseat.
---
How many Hall of Famers are out there refereeing junior varsity games? At least one, apparently: Adrian Dantley showed up at his old high school, DeMatha, to work last night's game against Archbishop Carroll.
---
Two months ago, just after the end of a long holiday weekend, Jason Whitlock convened a morning meeting at the Los Angeles offices of his ESPN-backed black-interest site, The Undefeated, which is slated to go live this summer. Five days before, to coincide with the NBA All-Star Game, the site had introduced itself with a feature story on Charles Barkley and race written by former AP entertainment editor Jesse Washington. It was the first published proof—a year and a half after the site had been announced as a black-led, black-culture-themed counterpart to ESPN's prestige outlet, Grantland, built around the personality of sportwriting's preeminent controversialist—that The Undefeated existed.
---
Monday afternoon, video emerged of a white man approaching a small, black girl sitting in a classroom, noosing a thick arm around her neck, slamming her to the ground while she was still entangled in her desk, picking her up again, throwing her some distance across the room, and then again pinning her down. "Put your hands behind your back," he said. "Give me the hands. Give me the hands. Give me the hands."
---
Last month, The Atlantic published an 18,000-word article by Ta-Nehisi Coates called "The Black Family in the Age of Mass Incarceration." It was the second epic piece in what appears to be a series in which Coates examines the toll of white supremacy as American policy on black life in the United States. The article was every bit as harrowing, illuminating, and infuriating as its famous predecessor, "The Case For Reparations," which investigates the damage dealt to blacks through this country's long tradition of housing discrimination.
---
Black Jesus is dead.
---
Yesterday morning in Roanoke, Va., a man named Vester Lee Flanagan walked up to newscaster Alison Parker and cameraman Adam Ward as they were filming a segment for local TV station WDBJ, and, using a handgun, shot them to death. (He also critically wounded Vicki Gardner, the woman Parker and Ward were interviewing; after fleeing the scene, he shot and killed himself.) We know this, because we saw this. The murders were captured by Ward's own camera; Flanagan also recorded the murders from his perspective.
---
A week and a half ago, presidential candidate Bernie Sanders was speaking in Seattle, Wash., when he was interrupted by two young, black protesters. Marissa Janae Johnson and Mara Jacqeline Willaford, representing the local chapter ofBlack Lives Matter, called on the Vermont senator to publish his campaign platform for police reform. Much to the chagrin of the audience, the women took over the microphones and solicited a four-and-a-half-minute silence to commemorate the shooting death of a black, unarmed teen named Michael Brown in Ferguson, Mo., a year earlier. They refused to relinquish the stage, and the rally was cut short. The protest was an unqualified success for everyone involved.
---
On Saturday, Irish fighter Conor McGregor will face Chad Mendes for the Ultimate Fighting Championship's interim featherweight championship. The bout will be the final chapter of a saga over two years in the making.
---
Six months ago, Ken Shamrock bought an RV. Two months ago, he parked it nine hours south of his family home in Reno, Nev., right by a mixed martial arts gym, where the 51-year-old is training for his heavyweight fight tomorrow night against Kimbo Slice.
---
Last Saturday, Walter Scott was driving his Mercedes in North Charleston, S.C., when he was pulled over by police officer Michael Slager for driving with a broken taillight. Scott had a complicated life, as many of us do. He wasemployed and engaged; he owed back child support; in all likelihood he reallydidn't want to go to jail. When Slager approached, Scott ran.
---
On Saturday night, undefeated UFC women's bantamweight champion Ronda Rousey took on Cat Zingano, a strong and undefeated fighter in her own right, and one of maybe two women alive who, on paper at least, possibly had a chance to at least maybe show Rousey something. Then the fight started, and it became immediately obvious that Zingano had no chance.
---
Here is an inclusive list of things rappers like to rap about: weed, money, luxury consumer goods, spending money on weed and luxury consumer goods, places they've visited that just so happen to rhyme with whatever they rapped about in the previous line, their exceptional prowess between the sheets, and Billy Joel. Yep, having been fortunate enough to interview many fine rappers over the years—say, enjoying a civil chat with Rick Ross while splitting a bottle of bubbly, or taking a piss in Mr. Muthafuckin' eXquire's rancid bathroom, or downing pints with the elusive MF Doom (while he kept his mask on)—I've learned that if you ask most rappers what music they were listening to while recording their latest opus, they'll plump for the Piano Man.
---
When NBA owners locked out the players four years ago, it didn't come as a surprise. For months before the league shut down in July 2011, both sides engaged in all sorts of public posturing meant to increase their negotiating leverage and convince the public of their righteousness. Some of it worked.
---
The biggest revelation from Roger Goodell's decision upholding Tom Brady's four-game suspension was that Brady's cell phone was destroyed shortly before meeting with Ted Wells and his investigators, even though he knew Wells wanted access to the contents of his text messages. Here is how Wells described his request to Brady during the hearing of the appeal of his suspension:
---
I remember practice better than games. This is probably because I was never good enough to actually PLAY in games, but still. Of all the team sports in the world, it's football that probably has the highest practice-to-game-time disparity. In baseball, you get to play a game nearly every day. In the NBA, you can do summer league games and get into pick-up games that very closely resemble the real deal if you feel like it. Full-contact football is too dangerous and too logistically annoying to let you do anything similar. It's a game where you do an awful lot of practicing for an awfully tiny bit of actual live action.
---
I have three kids. They don't fucking listen. One day, God as my witness, they will listen. They will stop, turn around, not talk for five seconds, and say to me, "Wow, I never thought of it that way before. Thanks, Dad!" I swear it will happen. I will destroy entire countries if I have to make it so. But until then, every last bit of handy, fatherly wisdom I have to impart on these people goes right down a fucking black hole. It's nothing but CAN I HAVE A TWIZZLER?! in response to anything I say.
---
As it turns out, the way you stop Allen Iverson is with cheap domestic beer and a good divorce lawyer. Journalist Kent Babb published a biography of the former superstar this week (I recommend it), and there are stories in it about Iverson being, at times, a complete shitbag. To wit:
---
Oh, God. Grad season. THE WORST. Yes, it's that time of year when colleges around the nation pay $50,000+ a pop for some celebrity or politician or (God help the children) author to come in and spray hot knowledge all over the senior class before the kids can finally stand in line for a diploma and get on with their miserable lives. You got President Bush at SMU (of course), Tim Cook at GW, Matthew McConaughey at Houston, Condi Rice at William & Mary … everyone gets in on the gravy train, even assholes like me who proffer advice without even bothering to ask you if you wanted it.
---
I never took an AP course in high school. I'm pretty sure it was because I never qualified for it (I went straight B-minuses throughout my high school career), but it was also because I went to school back when taking AP courses wasn't the dire necessity that it is for today's students. According to this article, taking just one AP course now doubles your odds of getting a college degree; according tothis other article, "Approximately 85 percent of selective colleges and universities reported that they looked at whether or not a student had taken an AP course to make their admissions decision."
---
I have a son who turned six a few weeks ago, and we needed to do something to acknowledge the milestone, even though turning six doesn't really mean anything. I have long been an advocate for the abolition of BIG BIRTHDAY, but kids have a knack for teaming up with the Birthday Industrial Complex to wear you down. One second, you're saying there will not be a party, and then your kid cries, and then you tell the kid, "Okay, we can do a little thing with two or three friends." And then your wife says, "But we have to invite the neighbors!" And then the kid tells eight other moron kids about his party even though they weren't invited, and suddenly you're fucked. That is how I ended up at Chuck E. Cheese's at 10 a.m. on a Saturday morning, surrounded by enough flashing lights to fill a Tokyo porn district.
---
Rondel Menendez wants to play. It's Sept. 3, 1999, and the Atlanta Falcons are playing their final preseason game, against the Cincinnati Bengals. It's the last opportunity for players on the bubble to earn a place on the roster. Menendez has already done enough to show he's one of Atlanta's 53 best players, but wants to get into the game anyway.
---
Jack Johnson's financial troubles came to light in November, when the Columbus Dispatch revealed that the Blue Jackets defenseman had filed for bankruptcy after his parents—who had been in control of his money since 2008—created eight figures' worth of debt for him. But it wasn't just poor management: according to a source close to both Johnson and his family, his parents knew exactly what they were doing from the very beginning.
---
At the intersection of all the annoying things a rock star can be—messianic, pretentious, vapid, dumb, old, creatively bankrupt, grandiose, utterly bereft of self-awareness, calcified into a grotesque oily wire-rack-in-the-grocery-store knockoff of himself, part of U2, et cetera—there sits Bono in his stupid housefly glasses, playing with his dick. He is, in the words of Deadspin's own Tim Marchman, "the worst music man of all time." He is puke, and I want to punch him in the ear.
---
I do not think that the world is in any danger of running out of people who believe winning is the only thing worth feeling good about. I think the world has absorbed Vince Lombardi's deranged ethic quite well.
---