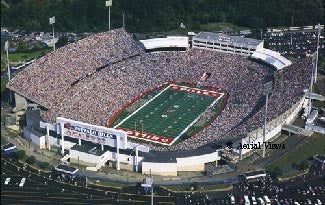 • That ESPN Town Hall Meeting did not go well.
• Weed!
• This is not a good way to impress Jim Tressel.
• Nobody is better at Photoshop than Russian topless dancers.
• Brett Favre, champion of jorts.
• The Isiah Thomas Case is almost over. Sad.
• Erin Andrews is a diligent interviewer.
• "Remembering" Bill Wirtz.
• Furries-Klingons: It's on, bowlers!
• ESPN and MLB, scufflin'!
• Goodbye, Barry.
• Roy Williams knows what a lady wants.
• Sweat soda.
• Bird poop.
• Oops.
• JJ Redick's bro has some nasty thumbs.
Fun week. We're off the, of all places, Buffalo this weekend to enjoy that thrilling Jets-Bills game. We're really looking forward to it, actually. You're in the warm, open hands of Matt Sussman this weekend, so have fun. If you want a prediction, we're gonna say the Cubs, the Phillies and the D-Backs will clinch ... and the Padres are gonna play the Mets on Monday in a tiebreaker. But guessing is no fun: Let's just play. Oh, and go Bills. See you Monday.