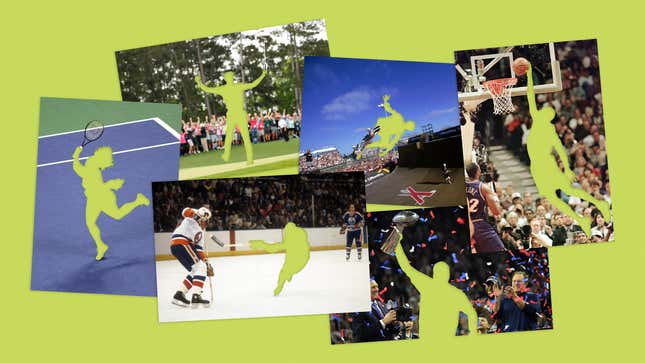 There's no denying that GOATs are great for a sport when they're still active. Michael Jordan, Tony Hawk, and other best-to-ever-do-its pushed their sports to popularity not seen since, but led to fans coming down off a trip so perfect that they were left fiending for the next fix of greatness personified.
Air Jordans are more American than McDonald's French fries | Deon Cole's Ultimate Sports Fantasy
We always want to know who's next in line to take the throne, and more often than not the line of successors is filled with false idols. Sure, the NFL post-Tom Brady is doing fine, but that's the Shield, and while it, like soccer, is probably immune to Post Traumatic GOAT Syndrome due to sports' popularity, Patrick Mahomes helps (as does Kylian Mbappe).
If No. 15 wasn't around, fans would be talking themselves into Josh Allen or Joe Burrow, and those two aren't on Brady's block let alone in his city. Mahomes is at least close, which is fortunate for the NFL. When the falloff following a GOAT is so striking, it can send fans into a malaise until a successor proves worthy.
After Jordan retired from the Chicago Bulls for good, the NBA dipped into a funk that only LeBron James could help them out of. Adam Silver is facing an oncoming reality without LeBron, and soon thereafter Steph Curry, and that should scare the shit out of him.
I find the post-GOAT dip fascinating for a variety of reasons, but the main one is can a player be too great? At what point does an athlete become so celebrated that they're bigger than the game? In some instances, when a superstar moves on, so too does some of the fanbase. So with a number of GOATs recently retired, or on their way, now seems like a good time to look at life after greatness.
I don't know if I'm onto something, or just on something, but indulge me. (Maybe take a gummy, too. I don't know.)
What happens when a GOAT sets off for greener pastures?
The subsequent years after a GOAT retires are often filled with existential crises for their sports. There's an inevitable dip in popularity because 20 years of storylines don't accompany every playoff game, and we're used to legacy-defining stakes. Think about the best meal you ever ate, sex you ever had, or party you've ever attended. Now think of your last meal, romp, and soiree. Congrats to you if one of them was the best, but also, I'm sorry, because now you will measure everything with that standard in mind.
It's going to take a minimum of five more years for Mahomes to tie Brady's Super Bowl mark, and that's assuming he runs off the next five straight. That means we're not going to get Super Bowls of GOAT-making proportions until 2028, but likely way beyond that because I doubt we get back-to-back 20-year dynasties.
Think about the distance that Brady and LeBron put between themselves and the next guy as far as the record books go. It's wild. Luka Dončić and Mahomes only need another 15 to 17 healthy and prime or prime-adjacent seasons to get there.
Not every GOAT is created equal, and the level of impact determines the level of PTGD. Because I'm the foremost scientific mind in this made-up field, I separated the GOATs into three tiers — tier one being the entry-level and three being the Master Class — to illustrate the risks of perfection.
GOAT Tier 1
The first tier features players whose records are breakable, and honestly, there are not a lot of those still around for a number of reasons but mostly the lifespan of sports. The UFC has probably had the most GOATs this century, and that's because MMA's popularity is new relative to other sports.
Men's tennis is the other sport this century where the GOAT belt has changed hands a few times. Rafael Nadal, Roger Federer, and Novak Djokovic each have their own claim to a surface — clay, grass, hardcourt, respectively — and their collective dominance ushered in a Golden Era. Now, it's on Carlos Alcaraz to follow their acts, but he's already had a few health issues despite looking like a composite of the Three Musketeers.
There will definitely be a hole left when the last of that trio retires, yet three different guys were able to each hold the Grand Slam record over the span of a few years, so it's reasonable that Alcaraz or a player to be named later could win more because they won't be vying with two other peers for hardware. Thus the Tier 1 status for Rafa, Federer, and Djokovic, because their feats feel attainable despite being the standard.
GOAT Tier 2
This is Mount Olympus, with figures so untouchable their true believers will never disavow them. Jordan and LeBron are up here. So is Wayne Gretzky. Whoever tops the list of best baseball players ever is on here even though there isn't a unanimous GOAT of MLB.
There are patron saints, and their devout followers worship them as if they were GOATs, so Hank Aaron, Nolan Ryan, etc. technically qualify. Be that as it may, baseball has such a complicated history with stats, and is so team-reliant, that there's not a discernible path to the top. A lot of the most prestigious records are unbreakable, and all that shows why MLB is hustling backward. (More on that later.)
Tier 2 GOATs are titans of their sports, and leagues want to keep these athletes around for as long as possible. They rewrite the record books season after season, and are always a ratings draw. There's a reason Brady and LeBron have been the faces of their league's promos for the past five to 10 years. The sport is more popular when they're in it, just like the NBA is more popular when the Lakers and Knicks are good.
The retirement of Tier 2 GOATs prompts panic attacks in commissioners, and often the response is to hype up the next logical challenger regardless of the meaning of "generational talent." There aren't many other exit strategies because there's no dressing up "Our biggest name of the past 20 years, maybe ever, is retiring."
GOAT Tier 3
In niche sports, the star can burn so hot that it turns into a sun and sparks solar systems. When that star goes dark, the sport loses its gravitational pull on the mainstream. Has skateboarding ever been as popular since Tony Hawk's 900? As much as he sucks, Shaun White's gold medal runs at the Olympics were probably the peak for snowboarding. He's retired (good riddance), but it's challenging to name another pro snowboarder.
Golf and tennis will never fall out of the mainstream like extreme and/or Olympic-specific sports because too many rich people regularly pick up a racket or a driver. (They ski, too, but not as many.) I bring up those country club activities because Tiger Woods and Serena Williams are so incredibly popular that it's going to take years, decades, maybe longer to replace the viewership those two routinely brought, and in Woods' case kind of still brings, to major tournaments.
They were physically and mentally stronger than the field, and dominated in a way that made good players look like hacks in comparison. Combine that with their ability to cross racial barriers few, if any, Black athletes in tennis and golf did before them, and you get demigods that go by one name.
Tier 3 GOATs lead to golden ages, and if not golden ages, at least the most public and profitable eras of those sports. Muhammad Ali is a Tier 3 GOAT. There are a lot of reasons why boxing isn't what it used to be, but one of the main factors in its downfall is that nobody fights each other when they should. It's hard to have a pound-for-pound greatest when the gloves can't speak for themselves.
You never want fans reminiscing over "When such-and-such sport was still great" like they talk about the Rumble in the Jungle, the Tiger Slam, or either Serena Slams. A lot of times it's obvious when a sport is peaking, and that kind of high leaves leagues chasing something that will never be duplicated again.
When the greatest of all time isn't replicable
Human empathy and emotion have thrust pitcher safety to the forefront of baseball's mind, which is great. It's also preventing guys from ever coming near the records that would vault them into GOAT territory. Statisticians can serve spin rate and exit velocity all they want, but records for complete games and wins, among others, make chasing history impossible. The pursuit of ultimate, unquestioned greatness is the most magnetic storyline in sports, and when that theater is eliminated, it's hard to regain a hold over fans.
The GOAT-est of accomplishments is the home run record. Barry Bonds holds both the single-season and career marks, and his vilification has forever tarnished the record books for some. Hammerin' Hank is still the greatest home run hitter to many baseball historians, and Yankees fans will tell you Aaron Judge is the true regular season home run king. As crotchety and stupid as it sounds to say that questionable bloodlines among certain home run kings have dampened MLB's popularity and its potential for ever regaining the moniker, America's Pastime, it's true.
I'm a known Yankees hater, and even I think Judge's 2022 season should've been a bigger deal and meant more. It didn't take despite the live look-ins because everything that happened with Mark McGwire, Sammy Sosa, and Bonds turned fans into cynics.
Do you see the problem?
It's fairly obvious, but I'll say it anyway: No one cares about the race to be second (third, fourth, fifth, sixth, or seventh) best.
Longevity is great, but how entertaining is it?
The argument against GOATs is shorter careers, and constantly keeping the product fresh and new. It's a dumbass argument, which is why leagues placate their GOATs, and we end up getting Roger Clemens and Brady holding franchises hostage while they figure out if it's finally time to eschew the costumes. The way athletes/GOATs are extending their careers only serves to strengthen leagues' reliance on them.
If I were Dana White, I'd be a raging lunatic, but I'd also want the UFC GOAT belt to change hands with regularity. Jon Jones' problems outside of the octagon have left the door ajar for another fighter to reach and surpass his legend in a decade or so, and that's a valuable asset not every governing body can boast about its sport. (Ditto for the WNBA as its inaugural season was in 1997.)
A lot of the qualifying stats and achievements to become GOAT eligible are so difficult to reach that challengers have a visible limp during the last days of their pursuit. If LeBron plays another three to four years, that's basically a quarter-century pursuit.
It's rare for Brady and LeBron to be title worthy at such advanced ages, but in other cases, we're begging guys to retire for no reason other than letting the sports move on. This is the issue currently facing the PGA with Tiger. He's still the biggest draw, but as soon as his tournament goes south because the lower half of his body is in shambles, fans tune out.
It's impossible to move on in any facet of life if you're still clinging to the past. Letting go is hard, but letting go knowing it will never be that good again is painful — and probably why a lot of athletes have such a difficult time stepping away.
The thirst for who's next, and ways to juice the system
Alexander Ovechkin is going to break Gretzky's career goals mark, which is legendary in its own right, and will be the storyline in the NHL's regular season until it happens. Yet I don't think he ever got the next Great One vibes like Connor McDavid. The NHL squandered Gretzky's popularity before he retired, and should be very smart about how they handle the game while McDavid is active.
Brady became the undisputed best QB by his play, and with the help of adjustments to the passing game and player safety. I'm not saying it was a flawless move because there's been some pushback on the preferential treatment of offenses. If you go by the ratings though, the NFL has never been stronger.
While Gary Bettman might be willing to trade integrity for rules changes and has a veil of safety to hide behind if he made the game more scoring-friendly, he doesn't have the vision, or the backbone to stand up to puck fanatics. I also don't know enough about hockey to know if what I'm proposing is even possible, but I think my thought process is sound.
The next best thing rarely pans out to be the best, and is more likely to kick off a spell of mundane or average things that simply happened to follow the best. So, when there's a candidate for the next GOAT, the powers that be should Americanize the shit of them — be unapologetically capitalistic about marketing, bend the rules to hit the numbers, and rig the system for people who won the genetic lottery.
Fans look for any excuse to dub 16-year-olds the next Jordan — and usually, the excuse is so they can tear them down when they fall short — but the other reason is that they know what it's like to be a "Witness," or at least want to be privy to one in their lifetime. Watching history is an incredible feeling, and the more you can pitch that to your fans, and have it be true, the better.
The future of GOAT chasing
Seeing as fans won't have legit challengers to the unified GOAT belt in any major American sports for another decade-plus, morning shows looking for hot takes have made the arguments more specific. In addition to talking about every 12-0 NFL team's chances of going undefeated, there's no shortage of hyperbolic conversations as soon as a stat juxtaposes Friday night's OT thriller with Game 4 of the 1987 NBA Finals.
Sports fans will entertain debates like the clutch GOAT, the comeback GOAT, or GOAT dunk contests because of recency bias, but also because they're within the realm of possibilities. An argument has to be realistic because people only tolerate so much blasphemy, and that's what it's like to speak ill of the GOATs. (That doesn't mean ESPN and league marketers won't make the case however hollow.)
Judging by the record books, and the length of time it took to write them, sports are about to enter a long, GOATless winter, and I'm fascinated to see what happens in the five to 10 years after Lionel Messi, Cristiano Ronaldo, Serena, Brady, LeBron, Tiger, Djokovic, Federer, and Nadal.
Athletes are always getting bigger, stronger, and faster, and as much as that boosts sports' entertainment value, it also levels the playing field. While fans say they want parity, the public loves greatness almost to a fault. Look at all the idiots who jump from team to team following Lebron. What are they going to do when he retires? Latch onto the next guy? Get together and drink Kool-Aid laced with arsenic in a display of devotion?
I'm not saying sports, as a whole, have peaked — that's a think piece for a different sativa — but we're a long way away from another wave of athletes approaching certified GOAT-dom, and it'll be compelling to see how each league moves forward without its North Star.