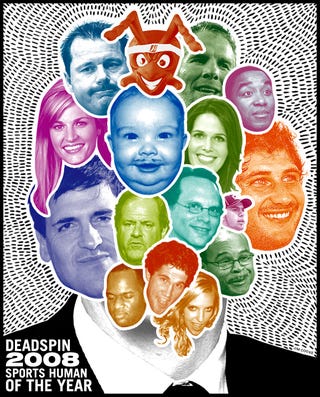 It's the day before Thanksgiving, and it's difficult to imagine much that would be more enjoyable than voting in the 2008 Deadspin Sportshuman Of The Year tournament. Like you're doing any work today anyway. In fact, you're probably not even in the office right now. Are you reading this from the future? Voting will remain open until the end of the first round ... so let's start it while you're still here. It's No. 2 seed Roger Clemens vs. No. 15 Vince Young. A look at the nominees' 2008 resumes:
No. 2 Roger Clemens
Held
a press conference, kind of.
Feuded
with Andy Pettitte, kind of.
Told
Congress about bleeding through his pants.
Gaped
as old flames reared their heads, ugly and otherwise.
Got
boners.
Sold
a car to Bret Michaels.
No. 15 Vince Young
Danced
as if, in the future, the government will ban shirts.
Wanted
to retire.
Melted
down.
Hushed
his mom.
Didn't
try to kill himself. Talkin' turkey! Who makes the Elite Eight?