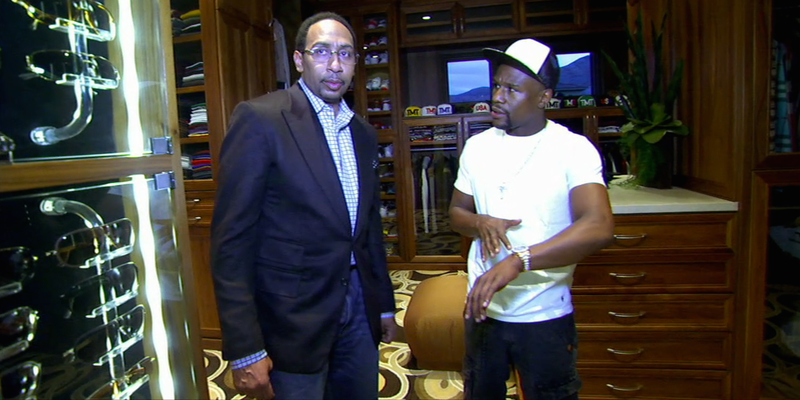 Stephen A. Smith is the ultimate low-hanging fruit. His job is to be low-hanging fruit; just noticing anything he says feels like dead-horse beating. But over the past few weeks, Stephen A. has transformed himself from garden-variety shill and troll into a kind of cartoonish super-troll. He's the ultimate embodiment of a comment section men's rights activist crossed with some sort of distorted, unentertaining version of Virgil, the unquestioning bodyguard of wrestling's Million Dollar Man. He is Super-MRAn.
Stephen A. has been in Floyd Mayweather's pocket for a long time. Back in 2010, Mayweather found out that Josie Harris, the mother of his three of his children and his former fiancée, was dating NBA guard C.J. Watson—a matter he confirmed by going through her iPhone without permission to find text messages. Mayweather and Harris were no longer a couple at this time, and Mayweather was living with and engaged to another woman, but, still unable to contain his jealousy, he went to Harris's home at 5:00 a.m., with a member of his entourage in tow, and proceeded to beat her and threaten her life in front of two of their children. (Both subsequently confirmed the matter to police and in recent interviews). Mayweather fled the home before police arrived but took the cell phone, a common tactic of batterers, to prevent Harris from reaching out to her new boyfriend. The evidence against Mayweather was overwhelming and damning—he eventually copped a plea to avoid more serious charges—and given his already-lengthy rap sheet for domestic violence, the whole affair was unfortunately entirely in keeping with his character. Except, apparently, to Stephen A:
Stephen A. Smith had trouble believing that Floyd Mayweather, who had already been involved in six incidents involving five different women that led to arrest or citation before the Harris beating took place, had "put his hands on a woman." He mocked the idea that Floyd had stolen an "iPod," when in fact he'd engaged in the common batterer tactic of stealing his victim's only means of communication with her support network. And, worst of all, he suggested that Josie Harris, lying in the hospital with cuts, bruises and a concussion, the mother of three of Floyd's children, was inventing the story to extort money from the boxer. It was repulsive on every level.
Smith's position on domestic violence didn't mature after that rant, either. Most famously, last year, when discussing the Ray Rice controversy, he suggested that it was common for battered women to provoke the violence against them. (He was implying that Janay Rice was responsible for having been knocked unconscious.) This led to an immediate and deserved outcry, culminating with popular ESPNer Michelle Beadle publicly expressing her disgust at having to share an outlet with Smith. The network had no choice: it suspended Smith, who offered a lame apology and briefly kept his mouth shut on the subject.