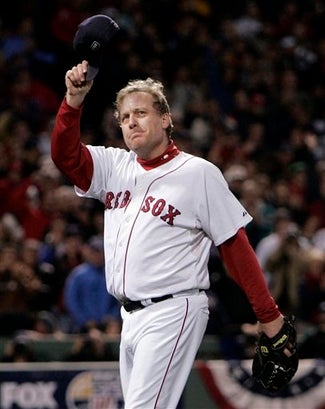 For confusing adventures in sports blogging, take a look at this entry from Curt Schilling's 38 Pitches on Sunday, concerning rumors that he might be headed to the Chicago Cubs:
I have said to no one, including myself, that I am definitely coming back, because it's not true. However if I did, the Cubs, and Tampa, were they to need a starting pitcher for the 2nd half of the season and into October, would be 2 situations I'd be very interested in.
Not exactly sure what that means (was he denying that he talked to himself?). But my guess is that he's trying to debunk rumors that he's coming to the Cubs or the Rays; rumors that he started with quotes to the Orlando Sentinel while at an ESPN function at Disney World on Saturday:
"Absolutely I'll come back," he said at Disney World, where he was appearing in ESPN The Weekend activities. "The challenge would be in a place like Tampa Bay or Chicago," he said.
This got a rise out of at least one person: Lou Piniella:
"This guy, he's a pro," Piniella said. "I don't know how accurate [the reports] are, but if you get a pitcher with his credentials and his winning habits, it would be something to explore."
So Schilling was misquoted: He's not making a comeback. Unless of course he is. And if he does, the Cubs and Rays would be suitable for him. If they want him. Which Piniella does. Meanwhile, Cubs fans wait in breathless anticipation:
If they can't get Schilling, I heard Hall-of-Famer Jim Bunning may soon be leaving the U.S. Senate and he has never had arm trouble. — Bob J
Oh, and an important Curt Schilling fact from Thursday:
2) Shonda and I have moved over 40 times, I have moved over 50, since my career started.
Lou Pineilla Interested If Curt Schilling Wants to Be A Cub [Chicago Tribune]
Tape Recorders Are Good Because .. [38 Pitches]
Curt Schilling Declares He Wants to Play For The Chicago Cubs ... Or Tampa Bay [Orlando Sentinel]