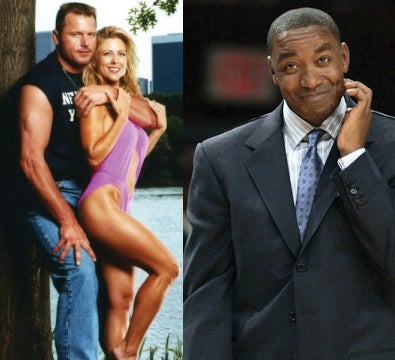 All right, all the votes have been tallied, and we have our final eight.
The first round goes a lot faster under Daulerio's stewardship than it did under mine; seems like we went into April last year. Anyway, we're ready to start knocking these puppies out. Two old faves battling it out this happy Friday.
First, a look at the bracket to this point. (Thanks, Happy Pants Jim Cooke.)
Voting will remain open through next week ... so let's go. It's No. 2 seed Roger Clemens vs. No. 7 seed Isiah Thomas. A look at the nominees' 2008 resumes:
No. 2 Roger Clemens
Held a press conference, kind of.
Feuded with Andy Pettitte, kind of.
Told Congress about bleeding through his pants.
Gaped as old flames reared their heads, ugly and otherwise.
Got boners.
Sold a car to Bret Michaels.