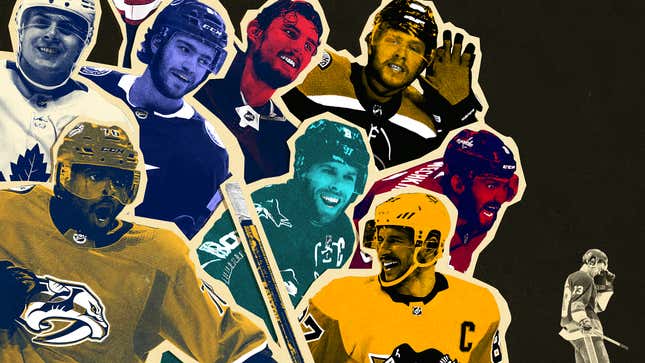 Hell yeah, hockey is back! After suffering through three months of sports that do not involve ice, and night after night of 90-degree temperatures with no A/C (though that one might just be me), the most beautiful and fun game in the world has returned to save you from five-hour ALDS games and lopsided Alabama football wins, and also heatstroke.

Bass' ERA stinks, but not compared to who he is off the mound | Worst of the Week Countdown
This is going to be an extremely fun season, and I'm not just bullshitting you to try and get you to scroll through a stupidly long blog about a relatively unpopular sport. By my count, there are as many as 22 NHL teams worth caring about—or at least watching on League Pass a few times—as we head into 2018–19. I'm excited to see all of them except for the vile and villainous Boston Bruins, so read this thing and get excited too.
Teams are listed in some vague semblance of best to worst:
Teams You Might Be Watching Until June:
Tampa Bay Lightning
Why are they good? Holy shit, there are so many reasons. Now-former Tampa Bay GM Steve Yzerman has built a juggernaut, stacked with youth and talent as far as the eye can see. They're so good that Steven Stamkos—one of only two players to have a 60-goal season in this millennium—isn't even the main offensive guy to focus on anymore. And it's not because the 28-year-old captain is anywhere near washed up. Nah, it's just because his linemate Nikita Kucherov, the 25-year-old right winger from Russia, has been consistently getting more and more outstanding over his four full seasons in the league, culminating with a 100-point year in 2017-18. Gaze further down the lines and you'll continue to see a seemingly never-ending group of top-notch homegrown players in their mid-20s—many of whom were unheralded as prospects—until you get to the promising young goaltender Andrei Vasilevskiy. Nobody can touch the firepower of the Lightning.
Will they get better? Well, the Lightning basically didn't get anyone new this offseason, because they've already pretty much maxed out their cap space by locking up most of their core for the foreseeable future. But unlike almost any other team, a lack of roster improvement doesn't matter in Tampa, because they're already championship quality. Previous versions of this squad have made it to the Stanley Cup Final once (in 2015) and come within a game twice (in 2016 and 2018), and almost every key player is young enough that he projects to keep getting better. The Lightning were one good Vasilevskiy performance away from facing the Golden Knights in the Final last season. This season, they should have everything they need.
Who's a guy to know? Brayden Point, a 22-year-old center who the Lightning essentially got by playing Moneypuck back in 2014, drafting a first-round scorer who had fallen to the third round because he was tiny (only 5-foot-9 at the time). Point has grown a few inches since then—enough to evade the dreaded label of "scrappy"—and he burst onto the scene in his sophomore season last year, racking up 32 goals and 34 assists as the leader of the Lightning's second line. He's quick, has a good wrist shot and he's committed to chasing those juicy pucks right in front of net. He's also set to make less than $1 million this season, before he becomes a restricted free agent in the summer of 2019. It's unclear exactly how the Lightning would manage to keep Point for his prime, but they better do everything they can short of sawing off one of Alex Killorn's legs and putting him on long-term IR, because this kid will immediately become the centerpiece of any other team lucky enough to get him.
Nashville Predators
Why are they good? Well, for one, the wild bachelorette party/hoedown/college football tailgate atmosphere of Nashville home games would make them a team worth caring about even if the on-ice product was simply decent. But luckily for heavily bearded dudes in Taylor Lewan jerseys shotgunning beers on the concourse, anyone coming to a Preds game gets plenty of hockey-related excitement, too. Led by the lovable P.K. Subban, who appears to be a perfect fit for Tennessee, the Predators also boast two of the most dynamic young scorers in the league in Victor Arvidsson and Filip Forsberg, which helped win them the Presidents Trophy (that's best regular season record, bandwagon fans) for the first time in team history. The defensive pairing of Ryan Ellis and Roman Josi is also one of the best values in the league at $6.5 million total, at least until Ellis's contract extension kicks in next year and the Preds have to find money to pay Josi, too. Goaltender Pekka Rinne struggled at times when it mattered most last year, and his shaky play gave Nashville an earlier-than-hoped-for exit from the playoffs. But if they had only drawn an easier second-round opponent than Winnipeg, the second-best team by record in 2017-18, the dead catfish wouldn't have stopped flying so soon.
Will they get better? *Apologetically shrugs while grimacing* Nashville's been on an incredible run since the 2017 playoffs, when they made the Finals almost out of nowhere, and far be it from me to call the cops on the NHL's best party. (Don't ever call the cops on parties.) But unless the hyped-up Finnish teenager Eeli Tolvanen enters his first full season as a fully grown adult contributor or one of their random acquisitions like, uh, Rocco Grimaldi? somehow immediately becomes a crucial piece on this roster, we've already seen the Preds play the best hockey they can play. That's not to say they can't keep winning boatloads of games in the near future, and they could easily improve on their playoff finish if the puck bounces at the necessary angles. But from a purely aesthetic point of view, and not a results-based standpoint, it doesn't get any better than it's already been in Nashville.
Who's a guy to know? I have a big stupid crush on Filip Forsberg, who scored like three of the best goals of last year's playoffs and would have had at least a few more had the Jets not stood in his team's way. He is smooth and wonderful and creative but also tough and defensive-minded when he needs to be. However, though it breaks my heart, I'll be the first to admit that 26 goals (half of them on powerplays) and 64 points in 67 games last season doesn't exactly set the ice ablaze like the best of the best do. But that point total was enough to lead what was a pretty communist Predators statsheet last season. Also, Forsberg's only 25 and played just two-plus seasons so far, so cut him some dang slack and watch him develop into a fully realized graceful beauty.
Winnipeg Jets
Why are they good? Nobody interesting actively chooses to play in Winnipeg if they can help it, but the team formerly known as the Atlanta Thrashers overcame the minor obstacle of their undesirable location to notch over 50 victories and get their first two playoff series wins in franchise history before they were stomped by the Knights. They did this thanks in part to a breakout year from goaltender Connor Hellebuyck, who became their undisputed rock for the future; by riding a career-high point total from 31-year-old Blake Wheeler, who's been with the team since Georgia; and—most importantly—by basking in the glow of Patrik Laine, a well-bearded boy from Finland who just exited his teen years but is already one of the NHL's elite scorers, with a murderous wrist shot and a mature ability to position himself exactly where he needs to be on the ice. I'll say it: He's Ovechkin-esque. And even though he's yet to sign a contract extension on his expiring entry-level deal, it sounds like he wants to stick around and be the franchise guy on a team that's never really had one of those before.
Will they get better? They should. Even though the Jets couldn't hold on to midseason acquisition and strong playoff performer Paul Stastny, who is currently attending a Liberace hologram concert or whatever it is one does in Vegas, this is a young and improving team that just gained the valuable experience of getting their asses handed to them in a conference final. As long as the kids don't feel the build-up of games too hard and hit a wall of fatigue this year, the Jets are obvious contenders.
Who's a guy to know? It's Laine, but I'm going to be a shameless homer and go with the Michigan product Kyle Connor. He's almost as young as Laine, and along with Nikolaj Ehlers—who came from the Halifax Mooseheads and not Ann Arbor, which makes him less important to me—he shapes up to be one of the key supporting cast members on what is about to become the Patrik Laine Show (assuming Connor doesn't ditch Winnipeg first chance he gets). Connor is an absurdly fast skater with already brilliant stickhandling ability, but he's also a hard-working all-around defensive forward too. The 21-year-old was second only to Laine on the team with 31 goals in his first full season, and his future looks even brighter.
Pittsburgh Penguins
Why are they good? Come on, it's the Penguins. Remember them? They won back-to-back Stanley Cups in '16 and '17? Yeah? Cool. So this is basically the same old team you've grown to either despise or grudgingly respect. Sidney Crosby still takes your breath away; Evgeni Malkin keeps scoring goals; and Phil Kessel—well, he actually doesn't seem to love hot dogs as much as previously thought—but entering his 30s he looks better than ever. This is the NHL's sure thing.
Will they get better? Probably! Alex Ovechkin and company gave the team the gift of an early vacation in 2018, which sucks for the Penguins since I bet they were hoping to win the Stanley Cup again (this is the good hockey analysis they pay me for). But also, this team played approximately 1,000 games each year that they won the Cup, and that mileage showed in a slow start to 2017–18. On a relatively elderly team, the layoff should be beneficial. The Penguins also gave a five-year deal to veteran defenseman Jack Johnson, who is generally pretty well-respected around the league but gets absolutely torn to shreds if you deign to glance at his shot-attempt differentials. Still, even if that's a stupid move from GM Jim Rutherford, the Penguins are too good for it to tank their 2018–19 season. 2022? Maybe it hurts. But for now, they're extremely fine.
Who's a guy to know? For real, Jake Guentzel continues to fascinate me. He's nothing spectacular, but if you're watching the Penguins in April or May you'll inevitably hear his name a ton—he scored four goals in Game 6 against Philly!—so I'm making you learn it now. Guentzel probably wouldn't be worth saying shit about if he played for, like, the Blues. But the former Nebraska-Omaha Maverick (I had him on my fantasy team back then) just happens to be the type of winger who fits perfectly alongside Sidney Crosby, and that's become especially apparent in the playoffs, where Guentzel has earned 42 points in 37 career games. The video below won't inspire awe. It's just a compilation of a reliable finisher who doesn't get scared in big moments. But as LeBron James would surely be quick to tell you if you somehow conned your way into his inner circle, sometimes those consistent secondary contributors are the most important guys on your team.
Toronto Maple Leafs
Why are they good? Ughhh. They're good because they won the John Tavares sweepstakes over teams that are way less up their own ass about their unimpressive histories, like the Sharks or Lightning or Canucks. So the Leafs now get to pair the former Islanders captain and most sought-after free agent of 2018 with Auston Matthews, the 20-year-old American center who basically has as much talent as Connor McDavid but puts up slightly less gaudy point totals since he's a normal human and not shy Jesus Christ on skates.

Will they get better? Oh absolutely. Even though goaltender Frederik Andersen struggled with his consistency, the Leafs were good enough to earn over 100 points and at least hang with the Bruins for seven games in the first round last year. And despite losing top goalscorer James van Riemsdyk in free agency, the signing of Tavares was the single highest-impact move that any NHL team could have made this offseason. And with the new guy locked up long term and surrounded by a gaggle of enticing young point-getters like William Nylander and Mitch Marner, Toronto beats out San Jose and wins the "most improved" offseason award that I just made up. Maybe it'll actually help them win a playoff series for the first time since 2004.
Who's a guy to know? Mitch Marner! I mentioned him directly above as an "enticing young point-getter," but if that wasn't enough, what if I added that he's a quick, assured 21-year-old winger who's unselfish and doesn't turn the puck over? Not bad, huh? Marner won't be the star of this team, but he's going to be a consistent 20-goal scorer (if not more) for the next decade, and perhaps more importantly, Marner will be a fantastic setup man for either Matthews or Tavares—whichever center is lucky enough to get him on their line.
Vegas Golden Knights
Why are they good? Aside from going nuts with the Medieval Times–themed pregame shows, Vegas also looked pretty damned decent on the ice in its inaugural season, embarrassing all of the more established teams in the Western Conference by making it all the way to the Finals. They did this by swiping a bunch of average-to-underachieving players in the expansion draft and watching them blossom. William "Wild Bill" Karlsson led the team with 43 goals, or 28 more than he had scored in his two previous seasons combined with Columbus. Erik Haula more than doubled the point totals he had in any year with Minnesota. And Marc-Andre Fleury, the Eli Manning of hockey, somehow emerged as more than just a hot French-Canadian face to sell tickets and turned in a career year in net. I know, I still can't believe it, either!

Will they get better? Normally the answer to the question, "Can an expansion team somehow repeat one of the most shocking and fabulous seasons in NHL history to return to the Stanley Cup Final?" is a resounding, "Hell no!" But Vegas put in the work this offseason to try and avoid going the way of the 1990s Florida Panthers. The Golden Knights traded a prospect in Nick Suzuki and a failed deadline acquisition in Tomas Tatar to Montreal in exchange for Max Pacioretty, who put up four straight 30-goal seasons until a down 2017–18. They also signed Paul Stastny, whose presence is a little bit more intangible than points-based at this moment in his career but should still partially cover for the departures of James Neal and David Perron. Fleury, coming off such a surprising year, is obviously a big question mark, particularly after they committed to a shockingly expensive new contract for him. Another potential liability is the defense in front of him, which aside from Colin Miller and potentially Shea Theodore leaves a lot to be desired. But despite the tough Pacific Division and the expected regression, Vegas should at least have enough real, reliable talent to carry them into the playoffs, if not all the way back to the Final.
Who's a guy to know? Jonathan Marchessault is impossible not to love—not that ill-advised 55-hour Vegas marriage kind of love but a real, legit lifelong commitment. He speeds, he snipes, he drives sexy cars, and he scored major goals all throughout the playoffs. What else could you ask for in such a cute little 5-foot-9 package?
Washington Capitals
Why are they good? They're the defending champs and I'm sorry Pittsburgh but you're going to have to continue to call them that until after you win your second-round revenge series in 2019, when you should continue to do so but in a sarcastic, mocking way.
Will they get better? Nah, man. I mean, for one, they can't really do any better than hoisting the Cup at the end of the season. But also, 2017–18 was a magical year for the Caps near the end of their window, and they're not set up to be a dynasty. Even though Evgeny Kuznetzov keeps getting better and will soon overtake Alex Ovechkin as the team's best player, it feels foolish to believe that guys in their 30s like Nicklas Backstrom, Matt Niskanen—and yes, even Sasha—won't start to take steps backwards. The only relevant new blood this season is Sergei Shumakov, a 25-year-old depth scorer who's more interesting to us Americans than a comparable lame NHL free agent only because he comes from the KHL (oooooh), which means you haven't been able to watch him eat shit on TV yet.
Who's a guy to know? Alexander Ovechkin is a one of the NHL's best snipers, and watching him camp out at the top of the circle to the goalie's right and then fire a blistering one timer into the back of the net remains one of the game's most beautiful sights. He's also been partying and drinking like a madman all summer, and he loves the song "My Neck, My Back," so you know he's a good leader.
...It was either Ovechkin or attempt to extol the guilty pleasures of watching Tom Wilson wreck his opponents, and I'm not yet prepped for that hate mail.
San Jose Sharks
Why are they good? The Sharks were merely "pretty good" as they exited the 2017–18 season nursing their wounds from their second-round loss to the Golden Knights. But since they made the blockbustingest trade of the summer by jailbreaking Erik Karlsson out of Ottawa in the final year of his deal, they've upgraded from "solid West Coast team you're obligated to half-heartedly notice" to "hey, you might actually want to stay up to watch these guys." Karlsson, a top-five, game-changing defender when playing at 100 percent, joins long-established Sharks like wild animal/perennial all-star defenseman Brent Burns, former Team USA captain Joe Pavelski, and Logan Couture, who recently locked in a pricey long-term deal with the team. There's also still big, old Joe Thornton, who's 39 and coming back from a knee injury this season, and Evander Kane, a smart mid-season acquisition who should provide consistently solid goal-scoring for the foreseeable future. They may not have one single game-changer at forward in the mold of Ovechkin or Kuznetzov, but the Sharks project to be interestingly similar to last season's Capitals. who had also spent a lot of time getting disappointed in the playoffs before breaking through with a veteran-heavy squad.
Will they get better? No shit, as long as they're healthy.
Who's a guy to know? Aside from the long-term Sharks whose names you're already sick of hearing, Timo Meier doesn't suck. At 21, he's the youngest guy on a pretty old roster, and Meier put up a more-than-respectable 36 points and 21 goals in his first full season last year. Meier's got a solid mix of physicality and skill, pairing a brutally accurate wrist shot with a pretty beefy six-foot, 216-pound body. At the moment, he's the token young kid on a win-now team, but don't be surprised to see him playing his way into more and more ice time.
Boston Bruins
Why are they good? No team can truly be "good" in the moral or virtuous sense while they continue to employ a hideous ogre like Zdeno Chara. But the Bruins win hockey games more often than they lose them, which I suppose is the most relevant criteria for "good" in an NHL preview. David Pastrňák is, regrettably, a world-class forward at only 22, and counting the playoffs he put up 100 points in 94 games last season. The Bruins are lucky to have Pastrňák's emergence coincide with the back half of Brad Marchand's and Patrice Bergeron's primes, because together, they make a fearsome trio. And when those guys are combined with a stout defense—which the Bruins have even though Tuukka Rask is less of a beast than he used to be—Boston should easily return to the playoffs.
Will they get better? I certainly hope not, and fortunately, that seems plausible. The Bruins barely edged out division rivals Toronto in both the regular season and their seven-game first-round series, but now Toronto has added a superstar and the Bruins have mostly stood pat throughout the offseason, putting them firmly behind other true contenders like Tampa and Pittsburgh. They'll need big leaps from at least a couple of their youngsters (like Jake DeBrusk, maybe, or Danton Heinen) to keep up with the big boys of the East.
Who's a guy to know? Ryan Donato, who had a brilliant debut late last season and picked up nine points in his first 12 NHL games. Did you know he went to Harvard? Smart boy, that Ryan Donato. And an Olympian, too! Why don't you invite him over for dinner sometime?
---
Teams You'll Probably Only Have To Bother With For, Like, Five Playoff Games:
Los Angeles Kings
Why are they okay? The Kings of 2018–19 are eerily similar to the Kings that won the Stanley Cup back in 2014, and at the top, they even still share their biggest names with the Cup-winning Kings of 2012. Jonathan Quick remains the goalie, and he had himself a solid bounce-back season behind a league-leading defense after missing most of the previous season due to injury. And Anze Kopitar, Dustin Brown, and Drew Doughty—the top three point-getters last season—have all been on the team since at least 2008. The continuity, however, has only done so much for them lately. The Kings have won one playoff game in the past four years, and got swept out of the first round by the Golden Knights in 2018.
Will they get better? The burden of that answer falls on Ilya Kovalchuk, whom you've surely heard of but likely haven't seen play professional hockey since at least 2013, when he left the New Jersey Devils and a farcical 17-year, $102-million contract to go get even more money (at the time) from SKA St. Petersburg in the KHL. Kovalchuk's stint back home went well, and peaked when he and the "Olympic Athletes From Russia" won a gold medal against a bunch of non-NHL players earlier this year in Pyeongchang. At 35, the all-time great Atlanta Thrasher is coming back to America, where he'll play with the Kings for $6.25 million per year over the next three seasons, and inject some new(?) blood into this roster. Everything else in Los Angeles will be pretty much the same, so Kovalchuk is the difference-maker.
Who's a guy to know? It's Kovalchuk. I don't watch the KHL because why would I, so it'll be fascinating to see what the exchange rate is for a guy who scored approximately a goal every other game in Russia. Is he more of a third-line veteran presence who struggles to keep up with younger players? Or will he meaningfully impact the Kings' place in their division by providing much-needed scoring? Either way, it's cool to have him playing in the one real hockey league again.
Columbus Blue Jackets
Why are they okay? Artemi Panarin is cool as hell, and far and away the best thing about a Blue Jackets franchise that has yet to win a playoff series in its 17-season existence. Granted, each of the Jackets' playoff losses in the past two years have come to the eventual champs, but they have yet to give any reason to believe they're more than a fringe wild card team at best. In net, the Jackets boast two-time Vezina winning goalie Sergei Bobrovsky, and on the bench, they have thin-skinned blowhard John Tortorella doing the coaching and making the headlines. But Panarin is the guy who deserves most of the attention. Coming over from the Blackhawks in the 2017 offseason, Panarin quickly asserted himself as the offensive producer this team had been missing, setting a franchise record with 82 points. He also has an adorable dog. But if the Jackets aren't winning games early, look for him to be on the way out. Panarin, who's a free agent after this season, has reportedly been making some noise about a trade before then, probably to a place that's less landlocked and hosts fewer Ohio State alums.
Will they get better? There are only like nine decent teams in the East so the Jackets should make the playoffs again, if not do much when they get there. They picked up a couple of depth guys—most notably Boston's Riley Nash—to replace outgoing depth guys like Matt Calvert. And polarizing defenseman Jack Johnson finally left and went to Pittsburgh, which might be addition by subtraction. More importantly, they do have at least one legitimately fun young man on their roster—Pierre-Luc Dubois, who's 20 years old and broke the team's rookie scoring record (set by Rick Nash) with 20 goals last season. He'll be suddenly thrust into that "franchise guy" role if and when Panarin breaks up with Columbus.
Who's a guy to know? Professional dignity prevents me from naming another young Michigan kid in this slot, so I'll skip Zach Werenski and go instead with his slightly older, slightly better fellow defenseman Seth Jones. Jones, age 24, already sees the ice well from the blue line and knows how to make an impact in the attacking zone. His 16 goals and 41 assists last season were more Jackets points than anyone but Panarin. Jones plays smart, composed defense, and he's starting to add some beef to his previously lanky frame—he's 6-foot-4 because his dad is former NBA player "Popeye" Jones—so he can push people around in the corners. too. He and the 21-year-old ex-Wolverine Werenski form perhaps the best young defensive partnership in the game.
Minnesota Wild
Why are they okay? The Ryan Suter/Zach Parise era was a huge, huge disappointment if you made the mistake of caring about the Wild, as the formerly landscape-changing free agent signings haven't been able to get Minnesota past the early rounds of the playoffs for six straight years together. Those two rich men matter less to this team now—particularly the increasingly fragile Parise, who only played 42 games last season. But if the high-scoring version of Eric Staal hadn't been raised from the dead when he came to the Wild in 2016, this team would be even more screwed than they are currently. As it stands, they're uninspiring first-round fodder.
Will they get better? Jordan Greenway is a fun guy to pin some hopes on, since you already know him from Olympic Team USA, but the 21-year-old is at least a few years away from developing into anything more than a role player, if he does at all. Forwards Mikael Granlund and Jason Zucker are the team's best players under 30, but Granlund seems to have settled in as a merely solid assist-first winger, and Zucker, at age 26, needs to prove that his career-best 2017–18 season represents a new normal and not an aberration. These aren't your heroes, Minnesota; they're just some decent point-producers.
Who's a guy to know? Matt Dumba, despite measuring in at a somewhat puny six feet, 184 pounds, is a 24-year-old defenseman whose power is his most exciting feature. He can fire blistering slap shots from distance, and he isn't afraid to knock down superstars or get into fights with bigger men. The "defense" part of his game still has to develop a bit more, but with the new long-term contract he just signed, the Wild will give him every chance to get better. On a team mostly bereft of interesting young guys, Dumba is at least one reason to be optimistic about the future.
Colorado Avalanche
Why are they okay? The Avs are a mediocre team gifted the final playoff spot in the West last year by their one true shining star, Nathan MacKinnon. This former powerhouse squad of the pre–lockout era (the first one) still has yet to actually win a playoff series since 2008, but MacKinnon alone gives you enough reason to check them out sometimes. He looks ... how do I put this? More like a guy who sticks around for last call at Applebee's than a first-class athlete. But looks deceive. The former first-overall pick back in 2013 finally hit his full potential last season, making magic with the puck on his stick and concocting highlights seemingly at will, for a total of 97 points.
Will they get better? Eh. The Central Division and the West in general is going to be cutthroat competitive once again. Since their few great players already look fantastic, it's hard to imagine the Avs having any higher ceiling than the 95 points they reached last season, unless the guys who had career years in 2017–18 haven't already shown us the best they can be. Division mates St. Louis and Dallas finished one and three points respectively behind Colorado last season and didn't make the playoffs. That order could easily be jumbled in 2019.
Who's a guy to know? Mikko Rantanen, a 21-year-old winger who is, quite literally, Nathan MacKinnon's right-hand man. The Finn more than doubled his rookie campaign points total by notching 84 last year, thanks in large part to 55 assists. Big and smart and already a top-level passer, Rantanen looks like the ideal sidekick for a generational talent. He's more of a playmaker than a big-time creative scorer, sure. But on that first line alongside MacKinnon, any desire for more goals just feels sinful.
Dallas Stars
Why are they okay? The Stars really kind of blew it last year, wasting yet another prime season of one of the best duos in hockey—Tyler Seguin and Jamie Benn—by missing the playoffs for the second time in a row. It wasn't Seguin's or Benn's fault—everyone else just let them down. Those two wonderful scorers combined for 76 of Dallas's 231 goals last season, and aside from a strong first-line defensive pairing of Esa Lindell and John Klingberg, there wasn't much else supporting a very shallow Stars team. Still, they're committed to their core, as Seguin signed a massive eight-year extension this summer, which means he and Benn together are attached to whatever mess or success Dallas will be through at least 2025.
Will they get better? It will be an unmitigated disaster if they don't. Keep an eye on Alexander Radulov to see if the 32-year-old Russian's 72-point season was a fluke or nah. If the latter, the occasional KHL guy will continue to anchor the second line, probably alongside the intriguing and much younger Russian winger Valeri Nichushkin, returning to the Stars from CSKA Moscow this fall.
Who's a guy to know? I'm entirely aboard the Miro Heiskanen hype train, and I can't wait to see the 19-year-old Finnish defender get on NHL ice for the first time this season. Heiskanen was the third overall pick of the 2017 draft, and even though the jump from his home country's league to playing in Texas with the best in the world will surely be dizzying, his tremendous arsenal of speed, confidence, and stickhandling should translate just fine. Of course, he's a teen and you can't expect a teen to completely have his shit together like he's Ray Bourque in a child's body. But at least on initial examination, this kid's going to grow up to be a flawless player.
New Jersey Devils
Why are they okay? It's all about Taylor Hall—or, the reason I assume Connor McDavid lies awake at night and ponders why God allowed a bumbling franchise like the Oilers to win the 2015 draft lottery and not, like, the Maple Leafs. Edmonton GM Peter Chiarelli (who unbelievably still has a job!) dealt Hall for an average defenseman named Adam Larsson back in 2016 in a trade that even then seemed ignorant to analytics-savvy observers, and now looks like one of the NHL's biggest boners of the last decade. Hall, who was already well established as a good young winger in Edmonton, was the best player on a terrible team his first year in Jersey, then went on to win the goddamn MVP in 2018! Hall's 93 points were 41 more than the next-best guy on the Devils, and thanks to him they made their first postseason since 2012. You'll have to scroll down further to see what happened to the Oilers, but uh, spoiler alert, they're not in great shape.
Will they get better? Hm. Probably not. This is sort of a Russell Westbrook/Thunder type situation where one guy does everything and makes an otherwise puke team tolerable, but can't raise their abilities so much that they actually become contenders. Hall is good, but he won't repeat as MVP, and the Devs should go out in the first round for the second year in a row.
Who's a guy to know? In keeping with the "young dudes from chill-seeming European countries" trend that's developed, how about Switzerland's Nico Hischier? He was the first overall pick in 2017, and in his rookie year the kid did the jobs of the actual adults on the team by providing real offensive support to Hall. Hischier had 20 goals and 32 assists as a 19-year-old with a hand injury, and his scoring abilities project to improve. They better, at least, if New Jersey wants to continue pointing and laughing at the Rangers and Islanders.
---
The Lunatic Fringe; Or, Some Oddball Teams Into Which It Might Be Worth Investing Some Time:
Anaheim Ducks

Why are they weird? The Ducks missed their window, which opened around 2012 and slammed shut when the Sharks thrashed them in last season's first round, leaving nothing but the memory of two conference finals losses. Corey Perry, Ryan Getzlaf, and Ryan Kesler—those very good yet also borderline dirty instigators you loved to hate if you watched west coast hockey—are all basically washed or about to be. The new era of Ducks hockey will be built around Rickard (not Richard) Rakell, a 25-year-old winger who was already the focal point of the offense last season, and young goaltender John Gibson. But that plan won't get out of first gear until like 2020. Meanwhile, let's remember a good quote from Predators center Ryan Johansen, talking about Ryan Kesler during a 2017 playoff series the Preds eventually won:
"His family and friends watching him play, I don't know how you cheer for a guy like that," said a flustered Johansen. "It just doesn't make sense how he plays the game. I'm just trying to go out there and play hockey, and it sucks when you've got to pull a stick out of your groin every shift."
To which the Livonia, Michigan, native Kesler coolly replied, "I play the game hard. Obviously he doesn't like that." Man, these guys suck, but I'm going to miss them.
Will they get better? I don't see how, though they could still sneak into the postseason.
Who's a guy to know? I will continue to avoid all North Americans and anyone over the age of 22, and there's nothing you can do to stop me. Ondřej Kaše is a high-scoring Czech winger who got drafted in the seventh round back in 2014 but took a massive leap forward in his sophomore season, notching 20 goals in 66 games. Watch his good shooting and stickhandling:
Philadelphia Flyers
Why are they weird? Led by an absolutely killer resurgence from Claude Giroux—actually not even a resurgence but probably his best season ever, at age 30—the Flyers exceeded expectations and earned 98 points in the 2017–18 season before losing to the Penguins in the first round. Nobody should really believe Philly will better that success in 2018–19. But Giroux remains one of the absolute must-see talents in the NHL, and if paired with the younger center Sean Couturier, he forms a terrifyingly effective offensive partnership. Between Brian Elliott and Michal Neuvirth, the Flyers don't have an undeniable number-one goalie, however, so that offense will likely be sorely needed.
Will they get better? I can't help but shake the feeling that ironman Giroux is finally going to pick up some big injury this season. I don't have any basis for this prediction besides my own pessimism. But if Giroux does suffer any type of drop-off, it mostly goes to shit for the Flyers, even if James van Riemsdyk has returned from Toronto to take some of the production load off their captain.
Who's a guy to know? Nolan Patrick. There. Finally, a prospect whose name you won't have any trouble pronouncing. Happy? Anyway, the precocious two-way center just turned 20 and earned 30 points in his rookie year. He's fine, especially as a playmaker right around the net.
Edmonton Oilers
Why are they weird? They completely suck except they also have one of the best players in the world, Connor McDavid, as well as his extremely good sidekick Leon Draisaitl. It's kind of depressing. Scratch that, it's very depressing. Last year was supposed to be this team's breakout season, after making the playoffs for the first time since 2006 and pushing the Ducks to seven games in the second round. Instead, it all went to hell, because even though McDavid had a transcendent 41-goal, 108-point year that would have won him MVP if only his team made the postseason, the Oilers finished closer to last place than playoff position because their GM makes almost exclusively bad decisions and their defense could barely stand up on the ice.
Hold on one second.
Mm. What were we talking about? Oh right: The Oilers are a tragedy.

Will they get better? I'm going to cry if they don't, because it's really not fair to Connor if he keeps wasting 100-point seasons while the idiots behind him can't even do the courtesy of stopping the other team from scoring sometimes. But if goaltender Cam Talbot refuses to recover from his 2017–18 campaign in which he inexplicably decided to play every game with his head upside down in a dumpster—or unless the newly arrived KHL netminder Mikko Koskinen does all right—nothing will change in Edmonton.
Who's a guy to know? Would it be cruel to say it's Taylor Hall? I can't in good conscience try to sit here and convince you that, like, 2016 first-round pick Jesse Puljujärvi will be anything more than marginal to the Oilers' success this year, so let's talk more about my love, Connor McDavid. (I'm only 1.5 years older than him, don't worry.) This boy singlehandedly makes watching any random Oilers game worthwhile. Even if we get a couple months into the season and we realize that the Oilers can't win any games and this whole era of the franchise is a failure, you should still check them out at least occasionally in that late-night window, on the very good chance McDavid does something jaw-dropping. Watch these highlights in the meantime, while we still have some optimism:
Florida Panthers
Why are they weird? Man, did Vegas ever fleece the Panthers. Jonathan Marchessault, one of the most important players to Vegas's Finals run, was left off the Panthers' protected list most likely because of his expiring contract. He got snatched up and was eventually offered a massive extension. Reilly Smith, meanwhile, got nearly a point per game after Florida traded him to the Knights for a measly fourth-round draft pick and the promise to take Marchessault. It's not a stretch to say that, had those two guys been on the Panthers' roster, they would have made the postseason, seeing as the team only finished one point out of the wild card without them.
Will they get better? Despite those questionable moves, which were done more for financial reasons than failures in talent evaluation, the Panthers do sort of have an impressive core locked up for the long term. Aleksander Barkov has been playing for the team since he was 18, and at 23, he's already their top offensive player and brand-new captain. His on-and-off partner dishing out assists—head coach Bob Boughner broke up the line halfway through the year—is Jonathan Huberdeau, whose hands are exceptional. And second-line center Vincent Trocheck is only 25 and coming off a career-best 75-point year. There's also Mike Hoffman, who came over from Ottawa and promises to score some goals as long as his wife stays off Instagram. Goalie is still a question mark, as Roberto Luongo is getting too old and James Reimer took a step backwards last year, but the Panthers at least have it in them to get back to the playoffs after two seasons away.
Who's a guy to know? Aaron Ekblad seems like a fine enough choice, given that he's a youthful defenseman who isn't shy about scoring goals. Four seasons into his career and 22 years into his life, his full potential is still a mystery. But Ekblad's improved every year, using both his size and passing ability to control the ice for the Panthers—particularly on the power play.
St. Louis Blues
Why are they weird? The consistently okay Blues just barely missed the playoffs last season for the first time since 2011. But nobody was mourning that loss, because they pretty much never did anything when they got in. Vladimir Tarasenko is still their best goal scorer, and you should care about him. Otherwise, despite some attempts at immediate improvement this team's offense is anemic until proven otherwise and not worth your effort.
Will they get better? The Blues had a goalie controversy last year, and resolved it by allowing the older but more effective Carter Hutton to move to Buffalo and recommitting themselves to a shaky Jake Allen, on whom a lot of pressure now rides. Of their new free agent signings, the most exciting is left winger David Perron, who returns to the team after getting plucked up in the expansion draft by Vegas and proceeding to produce a career-best year. They also paid the massive expense of three players and two draft picks just to get sad Sabre Ryan O'Reilly, who could possibly be the epitome of a good stats/bad team guy but regardless will likely get to be the number-one center. With solid enough play from Allen, the Blues will be back to winning exactly two playoff games in no time.
Who's a guy to know? If you're watching the Blues, you're watching for Tarasenko's spectacular snipes. Click on his highlights when he makes them and skip the rest.
Vancouver Canucks
Why are they weird? The Canucks fly under the radar because they've missed the playoffs four out of the last five years and they play late at night unless you live on dirty hippie time. But if you ignored them last year, you missed the emergence of Brock Boeser, who became easily the best player on the team at the age of 20. Boeser, a natural offensive winger if there ever was one, couldn't help the Canucks finish better than any team in the West not named the Coyotes, but this prodigy is the future of hockey in British Columbia.
Will they get better? The Sedin twins, who were carrying too much of the production load for 37-year-old near-retirees, are gone, so this is the time for a fresh start in Vancouver. Aside from Boeser, the team's new face, Elias Pettersson is a 19-year-old forward who's coming over after winning MVP last season in the Swedish league. Yes at age 19. So he'll probably be at least halfway decent in North America, where he's already doing pretty things. Plus, he helps keep the Swedishness levels high with the loss of the Sedins. The rest of the roster remains thin as hell, however—probably even more than before, without Henrik and Daniel—so don't expect anything more impressive from the Canucks than the occasional flash of a well-played game.
Who's a guy to know? Bowie "Bo" Horvat is 23 years old and the team's best center, whatever dubious honor that might be. Horvat had back-to-back 20-goal seasons in the past two years, and he's a tough two-way player with strong face-off skills. He pairs well with all the other kids on the Canucks.
Buffalo Sabres
Why are they weird? Like a shittier version of Edmonton, Buffalo is a chilly town with a terrible hockey team except for one stud who commands attention—the unstoppable center Jack Eichel. Eichel is stuck here but nevertheless managed to valiantly battle past a mid-season sprained ankle to put up new career highs in goals and assists while barely being old enough to get drunk. Still, this Sabres team hasn't quire figured out how to stop the deliberate losing that netted them Eichel in the first place, and earned a league-worst 62 points in 2017–18. Trust the process.
Will they get better? Rasmus Dahlin, baby!!! The reward for Buffalo's most recent tanking effort is just this absolutely incredible Swedish teen two-way defenseman who was completely dominant in his homeland's league despite the fact that most kids his age should just be wasting their time getting high and climbing things. Obviously, his Swedish opponents were just flailing tube men compared to what Dahlin will face in the NHL. But for as long as everyone is 0-0-0, it's perfectly fine for Buffalo fans to fill their heads with fantasies that Dahlin will be able to own the entire ice and lift this team into tolerability.
Who's a guy to know? The Sabres already have another decent defenseman named Rasmus—Rasmus Ristolainen. It's probably best to know him just so you don't get confused.
---
Boring Trash:
New York Rangers
Why do they suck? Henrik Lundqvist is never going to win a Stanley Cup as a starting goalie. That fact and that fact alone is the only thing that should make you sad about the Rangers' tumble into rebuilding mode. After a reasonably solid playoff streak of seven years with one Finals appearance, the more prestigious New York team bottomed out and finished last in the Metropolitan Division (that's for all the teams who play in cities) in 2017–18. The road back will be long and likely paved with high draft picks who have yet to join the team. Longtime Rangers like Ryan McDonagh, Rick Nash, and J.T. Miller all got sent away at the deadline, leaving behind ... not much immediate talent of any sort, besides a very lonely Mika Zibanejad, who is presumably eating jumbo slices of thin pizza all by himself right now in a Hell's Kitchen apartment.
Will they get better? Didn't you read directly above? Not for quite a while.
Who's a guy to know? I like Jimmy Vesey. He's another Harvard kid so whatever but he did win the Hobey Baker Award in college, which is impressive, and in his first couple of NHL seasons he's shown at least a knack for scoring goals in bursts, if not consistently. He also bleeds when an opponent cuts his face with a skate, so you know he's human. I'm not calling him good, mind you, but he's as much as this Rangers team deserves and nothing more.
Carolina Hurricanes
Why do they suck? The Hurricanes have maybe like two players worth noticing, tops: Sebastian Aho (no, not that Sebastian Aho) and Teuvo Teravainen. Teravainen is a 24-year-old, rapidly improving forward who the 'Canes got in a trade with the Blackhawks a few years back because they sucked and didn't care about taking on Bryan Bickell's salary. He's a bit waifish for a hockey player, but he creates prime goal-scoring opportunities for Aho, who's even younger and led the team in points as a sophomore last year (beating out Teuvo by one). There. That's probably more than you'll ever need to know about the Carolina Hurricanes this season.
Will they get better? You know, they actually could. They were 14 points out of the postseason last year, so there's some work to do. But how many great players do you really need to score an 8-seed? Three? Someone could break out and help give the 'Canes a brief playoff berth.
Who's a guy to know? We talked about both. And yeah, Teravainen and Aho are both restricted free agents after this year, but the 'Canes are flush with cap space, so nah, your team's not coming close to getting them.
Chicago Blackhawks
Why do they suck? Jesus, remember when playing "Chelsea Dagger" after every goal was a thing? They still do that in Chicago, believe it or not, but the Blackhawks' 2017–18 record of Who Cares–They're Trash meant that nobody really noticed enough to get annoyed. Last place in the division was a steep drop for a core that's won three Cups, and since the Hawks have Patrick Kane, Jonathan Toews, Duncan Keith and Brent Seabrook all locked up for a combined $33 million per year until 2022, they won't be reversing course anytime soon. This will be a season for Chicago to look wistfully at old photos of Stanley Cup celebrations, and pretty much ignore the team in its current form.
Will they get better? Relatively speaking, that seems like a reasonable goal. With the possible exception of Duncan Keith, it's not like all these experienced winners just completely lost their hockey talents overnight. But they still likely won't do more than sniff the playoffs.
Who's a guy to know? Alex DeBrincat, who is short and nice, and I know this both because he is a clearly adorable 5-foot-7 and because he finished seventh in Lady Byng voting even though most 20-year-olds are assholes. DeBrincat led the team in goals as a rookie in 2017–18 thanks in part to three hat tricks, which is maybe a little bit embarrassing for Patrick Kane specifically but overall extremely impressive considering DeBrincat was often playing on lower lines. Of course he might hit a wall this season, but DeBrincat was a consistently absurd points-getter with the OHL's Erie Otters before arriving in Chicago, so it's not like his stellar play comes out of nowhere.
Calgary Flames
Why do they suck? The Flames are mediocre, but more important to the future of the franchise than anything that happens on the ice this season will be the shit that could go down with the Flames' arena while the players are busily finishing fifth in the Pacific again. Calgary's been playing at the Saddledome since 1983, which means old rich dudes have been practically jizzing themselves at the thought of knocking it down to build a shiny new suite-holder with public funds. The NHL and Gary Bettman tried their best and failed to advance this agenda by attempting to unseat Calgary mayor Naheed Nenshi last year. But even though talks broke down when Nenshi won a third term, they've appeared to warm back up again this summer. I love the shape of the Saddledome but I've never been, so I can't speak to its viability as an NHL arena. But so far, the voters and politicians of Calgary have done an excellent job rejecting the stupid expectation that cities should pay the bill for millionaires' over-extravagant toys. Calgary has previously offered a more-than-fair three-way cost split of $185 million from the city, $185 million from a ticket surcharge and $185 million from the Flames, which the hockey team rejected. It'd really suck if the city were to agree to a worse deal than that.
Will they get better? Johnny Gaudreau is a bona fide stud and Sean Monahan has struggled with injuries but looks to have all the skills necessary to be the team's long-term number-one center. Still, the division and the West's wild card race will likely be too tough for the Flames to make any real noise this year.
Who's a guy to know? Matthew Tkachuk. All you need to know about Matthew Tkachuk is that he is the inspiration for a lovely Youtube video titled "12 minutes of Matthew Tkachuk pissing people off as a rookie."
Arizona Coyotes
Why do they suck? I'm not being hyperbolic in the slightest when I say that this team should be contracted. Like, I'm sorry if you're an Arizona Coyotes fans and you scrolled all the way down here just to read that your team is better off dead, but it's true and it needs to be said. They shouldn't even move to Seattle because Seattle deserves a fresh start rather than a hopelessly pointless, debt-ridden franchise whose only 20-goal scorer last season was a teenager named Clayton. At least the city of Glendale knows what's up and refuses to give in to the Coyotes' insane demands that they be allowed hundreds of millions in public money to play their brand of semi-professional hockey in a decadent new arena. This team is the fucking worst.
Will they get better? Is an ASU freshman sober?
Who's a guy to know? Zane Covey is a 25-year-old left winger recently arrived from the German league, and with a powerful shot, occasionally flashy dekes, and an impressive poke check ability for a forward, he slots in to be a reliable second liner at least. Just kidding, I made him up.
Detroit Red Wings
Why do they suck? Henrik Zetterberg is for all intents and purposes dead because of a bad back, and this Red Wings season is going to be even more soul-crushing than the last, because we all know exactly how it's going to go. The Red Wings were previously the NHL's Old Faithful, making the playoffs for 25 straight seasons and winning four Cups in the span. But 2017–18 was the second straight year they missed the postseason, and it's going to be a threepeat. There are some exciting young guys, most notably 22-year-old leading point-getter Dylan Larkin. But overall, too much loyalty to veterans and year after year of low draft positions has sapped the Red Wings of their formerly fearsome consistency. It'll be a long, long way back, and I'm not sure that journey has even started yet.
Will they get better? More like Dead Wings.
Who's a guy to know? Red Wings legend and now-former Lightning GM Steve Yzerman surely left his role with an immaculately constructed Tampa Bay team before they won a ring because in the very near future he is gunning to replace Ken Holland and get the Wings hoisting every single Stanley Cup like they used to. There's no other logical explanation and don't even think about arguing with me on this one. I'm desperate.
Montreal Canadiens
Why do they suck? This is a team in unapologetic full-on rebuilding mode after a dreadful 71-point 2017–18. Cornerstone goalie Carey Price is on the decline after a really good decade in net, and the offseason trades that sent Max Pacioretty to Vegas and Alex Galchenyuk to [shudders] Arizona mean the Canadiens have maybe two players who could currently and confidently be described as "good at hockey on an NHL level." Montreal is going to be awful, and it'll be hell to watch. The season hasn't even started yet and they're already aggressive and angry.
Will they get better? "Things have to get worse before they get better," someone said once. So, no.
Who's a guy to know? This roster is a wasteland, but I guess Jonathan Drouin isn't completely irredeemable. In three full seasons since his debut as a teenager on the Lightning, the young winger has yet to put together a truly eye-popping season. But he's agile and creative and especially good as a passer, which means he'd likely have some impressive assist totals if only anyone on this team could score.
Ottawa Senators
Why do they suck? From their assistant GM's sexual harassment case to the alleged cyberbullying of former franchise player Erik Karlsson's wife, Melinda, by his former teammate Mike Hoffman's girlfriend, it's all been a never-ending horror show for the Ottawa Senators since they just missed out on making the Stanley Cup Final in 2017. A lot of this can be blamed on inept owner Eugene Melnyk, who obliterated the last good thing about this team when he sent Karlsson and his expiring contract to the Sharks this offseason. The Sens are going to try and pick up the pieces and start something new this year, but without the ability to attract good free agents, they're well positioned to be the league's long-term laughingstock.
Will they get better? No. Check back here in like five years.

Who's a guy to know? Ottawa, just ignore this team and root for the Jets. I promise I won't tell anyone.
---
New York Islanders:
New York Islanders
Why? A guy named John Tavares crash landed there in 2009 and remained completely isolated until this past offseason, when a daring free-agency escape brought him to Toronto, Canada. Among the company of other professional hockey players for the first time in his life, Tavares is slowly reacclimatizing to humanity and is expected to make a full recovery with the reintroduction of competitive hockey to his life. His former home, which was mysteriously located somewhere between Brooklyn and Nassau County, remains deserted, save for the brave and recently begun expedition of defending Stanley Cup champion coach Barry Trotz.
Will they get better? They're fucked.
Who's a guy to know? Poor, poor Mathew Barzal is cute and stylish and just won rookie of the year with a very good debut campaign, but now the face of the franchise is gone, and suddenly he's the guy needing to carry the exhausting burden of every sad Islanders fan's hopes and dreams. He probably won't completely crack under the pressure and do something like try to eat his stick in the second period of a February home loss to the Panthers. But I can't predict the future.
Okay, so, get out of here and watch the damn games! They start at 7:00 EDT tonight with the all-Canada match-up of Toronto and Montreal, ahead of the 7:30 banner-raising of the Capitals hosting the Bruins. If I were you I'd tune in early to CBC* for the season opening hype video. If you don't think you have CBC because you, like, live in the South or something? You're wrong and you're not trying hard enough.
Bye!
*Update: The Canadian games are actually on Sportsnet tonight for some unholy reason. I have less of a solution for you there.