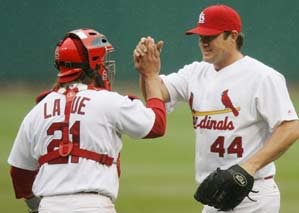 • Opening Day!
• President Bush would have been a better commissioner.
• Look: Daulerio works here now.
• Matt Leinart once, and Matt Leinart twice.
• Andy Roddick, doing OK for himself.
• We miss Davidson already.
• Stuart Scott on the microphone.
• Joel Zumaya, bringing rock.
• Larry King really, really wants his kid to win.
• How to avoid a DUI.
• Goodbye, Chris Henry.
• Davidson's blue balls. Oh, and Stephen Curry's mom.
• Steve Lyons' questionable litigation.
• Rick Reilly, on and on.
It's nice having Daulerio around, isn't it? Matt Sussman will take you through the Final Four this weekend, and we'll be back on Monday. See you then.